Bet Against Risk by Investing in Volatility
The funny thing about risk is that it spends so much of its time being invisible.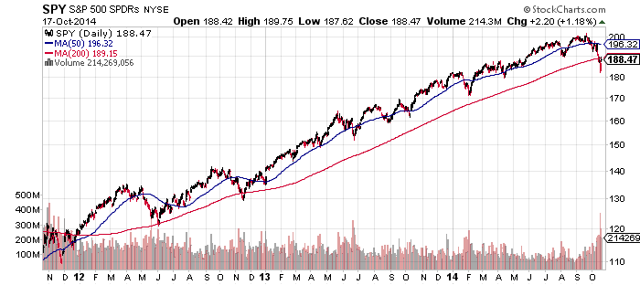 For almost 2 years, the S&P 500 (NYSEARCA:SPY) has been engaged in a steady ascent until the events beginning last month (September 2014).
The recent precipitous declines in the S&P and other major market indices (SPY, QQQ, IWM) have served as a reminder to investors that while volatility has been largely absent from the markets, risk has not. In fact the risk has been there all along, hiding beneath the surface, and it is by using this knowledge that an investor can protect his or her portfolio.
The good news is that the risk is measured and priced by the market in terms of volatility, despite risk and volatility being different phenomena. It is this distinction which allows investors who are long the market to cheaply insure against losses on their portfolio.
Rising Markets & Rising Risk
Until the events beginning last month, the S&P 500 (and almost all other North American equity indices) have climbed almost without interruption since late 2012. We will use the S&P 500 as the exemplar.
Some of this rise can be explained by improving fundamentals:
During this time, S&P 500 constituent profits rose.
As well book values also increased, which explains some of the rise.
However, the remaining increase in index value can be attributed to multiple expansion. Compared to the increase in the index, the rise in profits and book values is modest.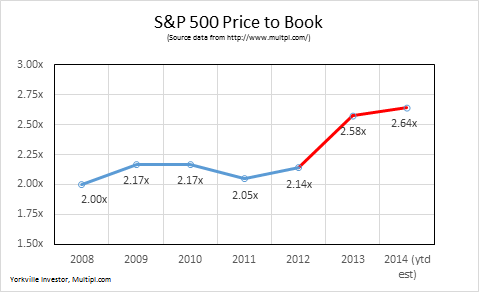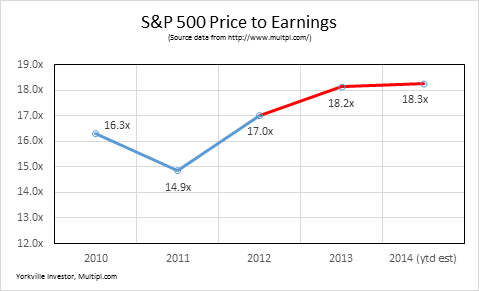 As we can see from the charts above, in late 2012, as well as in 2013 and 2014, prices rose far more quickly than fundamentals, hence the increase in price to book and price to earnings multiples for the index.
As valuations move further away from their basis in book value (in terms of P/Book), and further from their historical average in terms of P/E (about 15x from the last 140 years, from various sources including Bespoke Investment Group) it would stand to reason that the risk of holding the SPY was probably increasing, not decreasing.
Yet this is not what we see from the VIX. Broadly speaking, the VIX is a measure of volatility which is used as proxy for risk. Until very recently, the VIX had been declining all while the market had been rising: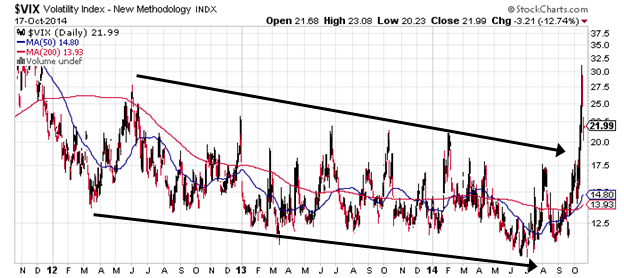 Volatility is Not the Same as Risk
In simplified terms, the VIX can be used as an indication of options prices. Higher volatility leads to higher options prices, as it costs more to insure against a more volatile instrument.
However, in some ways the VIX is blind. The VIX does not take into account that the market has been steadily creeping in one direction for years, and that the market may be overly sensitive to downward pressures (we ignore other instruments here, such as put/call ratios here, which provides directional insight).
Risk is not the same as volatility, but because the price of avoiding risk has a cost determined by volatility, you can hedge against risk for prices which are determined by market volatility.
This is why you must buy hedges when markets are calm.
The Point
The point here is that risk can exist without volatility. It can lurk beneath the surface and you would not know it until it rears its ugly head and damages your portfolio. It was present for the last two years even while nobody noticed it.
Up until September 2014, the market was fraught with risk, but exhibited little volatility. Before September, you could cheaply hedge your portfolio against downside risk by buying some cheap long-term puts on the SPY. These puts will now cost you far more money.
Most investors need not concern themselves with call options: This is because aside from certain hedge funds, most investors (particularly individuals) are structurally long equities. This means that call options are not really a necessary component of a hedging plan, because you already own the underlying stocks.
Puts on the index (in this case, the SPY) however, should be part of most investors' portfolios, as most investors are indeed interested in protecting themselves against catastrophic downside risk.
As such, when volatility is low, and options are cheap, we recommend allocating a small percentage (1%-3%) of a portfolio to out-of-the-money put options insuring against general market risk. This applies particularly to those who own index ETFs such as the SPY which can be directly hedged and have a very liquid options markets.
Note that by the time the risk is obvious (like it has been in the last few weeks), those options will be more expensive.
In terms of a risk-reward calculus, owning such out-of-the-money put options is especially valuable when the market has risen so much and for so long with such little volatility.
Note: since this is an article about hedging index risk, we ignore a discussion of the rising value of options simply because of an increase in implied volatility of the option itself.
Disclosure: The author is long SPY.
The author wrote this article themselves, and it expresses their own opinions. The author is not receiving compensation for it (other than from Seeking Alpha). The author has no business relationship with any company whose stock is mentioned in this article.
Additional disclosure: Author owns SPY, as well as puts and calls on the index.