Picking H&R Block (NYSE:HRB) long on Thursday is a lot like paying your taxes. You're damned if you do and damned if you don't. At least that's based on the stock's history following after-hours earnings events (see earnings results here and earnings transcript here).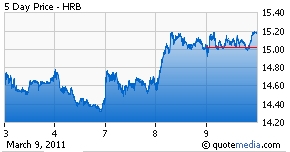 H&R Block advanced 6% to 16.15 in Wednesday's after-hours trade after beating Q3 estimates.
HRB is evenly mixed when it comes to its post-earnings performance. The stock has seen an earnings driven after-hours gain in 6 of the last 11 quarters tracked in our MT Pro database. 50.0% of the time (3 out of 6 times) the stock followed through in the same direction by the close of the next day's regular session compared to the extended hours "effective close". When it followed through, the price closed further in the same direction on average by 3.9% (in 3 events) from the "effective close".
In the three events where it reversed its gains, the price closed in the opposite direction on average by 3.4% (in 3 events) from the "effective close".
What we see supporting the long side in Thursday's trade is some decent buy momentum that rolled into HRB shares through much of Wednesday's after-hours trade, mostly between 15.56 and 16.10, a wide range but an area where a base support could form for some attempts to pop back into the lower- to mid-16s.
In Wednesday's after-hours trade, HRB recorded a steady rise through the first-half of night trade, advancing from 15.23 to a high of 16.41. It narrowed its gains to between 16 and 16.39 through the bulk of its evening trade.
A pre-bell open Thursday may have potential surrounding the 16.20 area.
Disclosure: I have no positions in any stocks mentioned, and no plans to initiate any positions within the next 72 hours.