Last month, Spectrum Pharmaceuticals (NASDAQ:SPPI) released preliminary results for Q4 2010. During the quarter, SPPI reported strong Fusilev sales, totaling $20 million (+/-) due to an ongoing shortage of a generic competitive drug.
For more details on Fusilev, take a moment to review my February 16 article.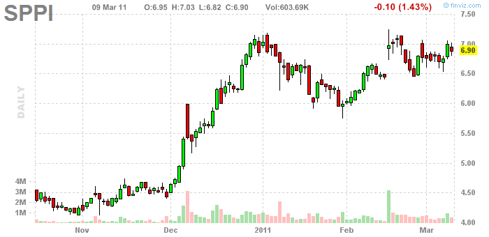 Here are the unaudited results released by the company on February 15, 2011.
images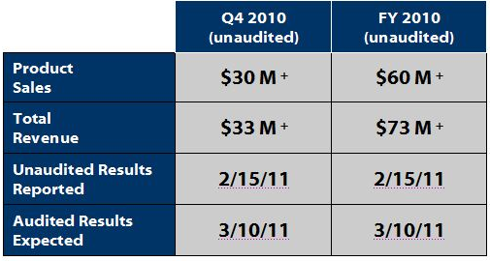 So, I was curious to see whether Wall Street analysts had adjusted their estimates following the company's mid-February announcement.
Apparently, most analysts, for whatever reason, haven't raised estimates. Surprised? No. Analysts are cautious. As such, their projections tend to be conservative and most are slow to recognize growth until after it is realized. They're not investors. So, it shouldn't be a surprise that most elected to maintain their existing estimates like SPPI had never said a thing.
Ok, let's take a look at how the analyst community sees the world with respect to SPPI.

For Q4 2010, SPPI brought in a cool $33 million (+/-) in revenue and beat analysts' estimates by a whopping 68% ($13.43 million). As for FY 2010, product sales and other sources of revenue totaled $73 million, 22% ($13.27 million) above what analysts' were expecting.
Seriously, that's impressive.

Analysts' are also expecting SPPI to report a loss of nickel per share for the quarter. Since the company generated $33 million in total revenue, I think it's highly likely that SPPI will close out 2010 in the black.
Buy the Rumor, Sell the News?
With all of the progress that SPPI has made over the past year, it still appears that larger investors are sitting on their hands.
Whether SPPI will be rewarded for the beat is hard to tell. The Q4 results have been known since mid-February, yet on Wednesday, March 9 trading, SPPI closed down $0.10 to $6.90.
Notably, shares gapped up on heavy volume and closed with a gain of 8% or so after the company released the unaudited results three weeks ago. Hmmm.
With resistance seen at and above $7.00, this sure looks like a buy the rumor, sell the news play. As it is counter intuitive to our expectations, this particular tactic often confuses and frustrates investors. However, it shouldn't be persuasive.
CONCLUSION
Investors should anticipate the unexpected. SPPI may pullback some. If so, I would view it as a buying opportunity (add or initiate). Shares will likely recover quickly.
Bottom Line
If you have stuck it out with me over the past several months, stay the course. I am confident that your patience will be rewarded. If by chance things don't roll our way, there's no need to get distracted by the potential short-term noise.
Disclosure: I am long SPPI.