On Monday morning in The BCMI Flash email and blog, we warned oil and gold equities were vulnerable to a correction.
I am recommending taking profits on oil equities because we have had a big two week move on WTI ($90 to $105) and nothing has changed in the glut of oil in mid North America. NYMEX WTI futures have gained a large speculative long position.
The next move on oil will probably be down and it will be savage when it occurs.
We recommend taking profits on Nexen (at $26.70-$27), Talisman (at $24.35-45) and Cenovus ($38.60-80). All prices in Canadian dollars.
Seems like that was a pretty good call so far.
Two and a half trading days later, the Canadian oils were hammered, with Suncor (NYSE:SU) down from its February 27 high of $47.27 to $42.98 as of this writing and Canadian Natural Resources (NYSE:CNQ) at $46.03 down from $50.50 on Monday. All stock prices are in Canadian dollars.
Nexen (NXY) $25.43 down 11 cents
Talisman (NYSE:TLM) $22.82 down 52 cents
Cenovus (NYSE:CVE) $36.55 down 19 cents
The S&P/TSX index was down 165 at 13,848 as of this writing
The index would be even lower but the Canadian banks have had a great couple of days, buoyed by strong non cyclical earnings and dividend increases from TD (NYSE:TD) and ScotiaBank (NYSE:BNS). My favorite bank is the CIBC (NYSE:CM) and I was a buyer Wednesday at $82.45-52 as it went "ex" a juicy 87 cent dividend on March 24.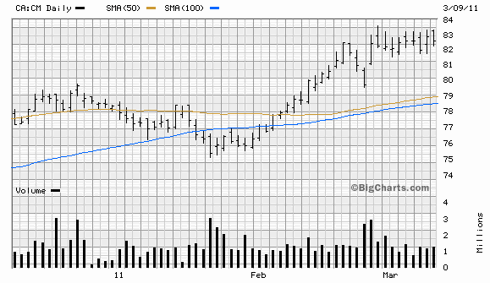 I suspect foreign investor involvement underlying the powerful rally in the leading Canadian bank, the Royal, although it is more accurate to call it a financial conglomerate (NYSE:RY). I believe foreign investors are finding our strong currency and economy attractive. The Canadian banks have rising earnings and dividends and the stocks are rising in a strengthening currency. There is a lot to like about the Canadian banks.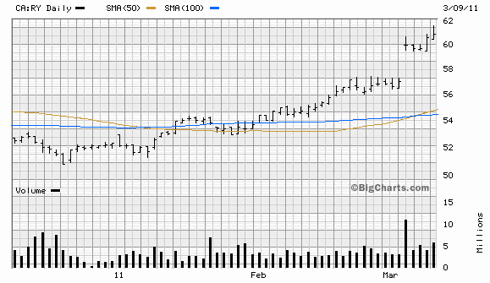 Banks are a good way to play those themes, as the strong CDN undermines resource stocks.
April WTI crude was at $104.11 Wednesday, down 91 cents.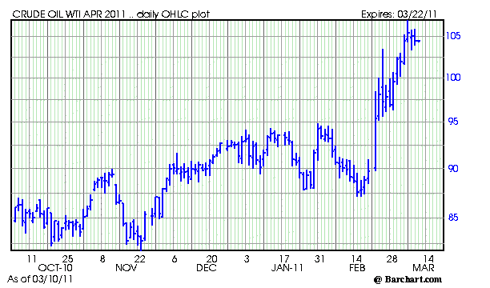 April gold was up $2.50 at $1,429.70.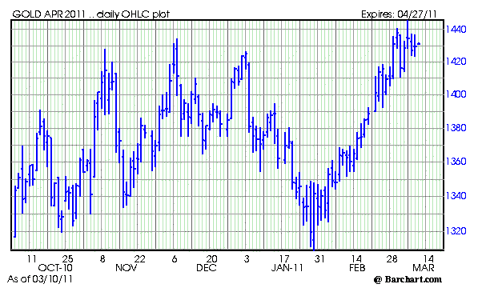 But Barrick Gold (NYSE:ABX), the leading global producer was down almost a $1 at $49.84 CDN.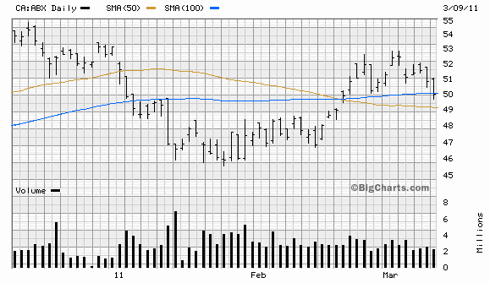 What's going on here?
Quite often, I have seen energy and metals equities trade off the expected "next move" in the commodity, contrary to the actual direction of the underlying asset.
For six solid months, from September 1999 to March 2000, I watched energy equities tread water in the face of a rising oil price because the market thought the next move was "down". As we know now, the rest is history – a ten year bull market.
So the energy stocks have had a good run and the stocks are selling off hard even though the commodity hasn't really dropped that much.
In fact, April Brent crude is up a solid $2.64 to $115.70 due to the bombing of oil facilities in Ras Lanuf in Libya.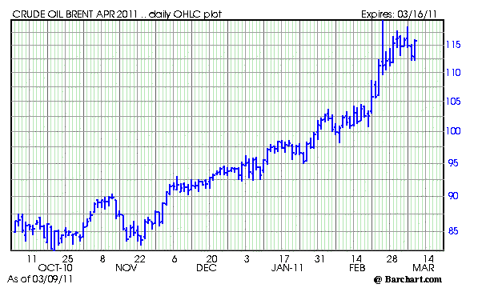 Patience is required if you missed my Monday sell signal because I think the energy equities are gearing up for another rally after the dust settles (here that is).
Some of the decline was stock specific –
Talisman dropped due to the Province of Quebec government announcing a ban on shale gas "frac" drilling. Talisman has 700,000 net acres of land leases in Quebec for frac drilling with partner Questerre Energy (QEC on the TMX), the latter getting hammered Wednesday.
In the big scheme of things, the ban on Quebec drilling isn't a deal for Talisman, which has interests in several other North American shale gas plays, as well as lucrative international oil production in the North Sea.
Much more interesting was Talisman's deal to sell Sasol an interest in some of their Montney shale field for the future production of GTL (gas to liquid).
Now we are talking and putting natural gas, trading at less than ¼ the energy value of crude oil, into our fuel tanks.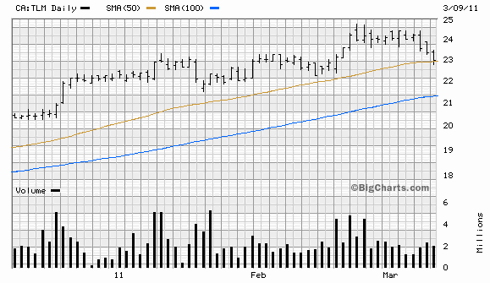 Nexen is making a lot of money from their UK oil field. In fact, 77% of their cash flow was from the North Sea in the last quarter of 2010. I expect them to make an additional $200 million in cash flow in Q1 based on average Q1 Brent prices to date. That equates to 38 cents CFPS on top of the $1.04 they generated that quarter, or $1.42. And production from the North Sea will be at full rates, whereas they had a maintenance turnaround in Q4 to put in place sulphur-removing equipment.
The stock is a buy here.
Nexen could earn $1.50 in CFPS, yet the stock is weak, probably because the Long Lake SAGD operation had bitumen numbers for February that could be disappointing. (I have no idea if this is true, but the market has been conditioned to expect the worse.) Opti-Canada reports the monthly numbers and I have contacted them to find out when exactly we can expect the release.
Nexen is also weak because of the civil war that could break out in Yemen any day now, which we have been warning for some time now. Yemen is a complicated matter because the US cannot afford to take the laissez faire attitude it has practiced with Egypt and Libya. So President Saleh thinks he has the USA in his back pocket and is therefore not negotiating with the opposition seriously.
This could blow up in his face and the headlines would drive oil higher because Yemen is on the Arabian Peninsula. It would heighten the risk to the Arab contagion, spreading to Saudi Arabia and Oman, both significant crude oil exporters. Saudi has a "Day or Rage" scheduled for Friday after the traditional pre-Saturday holiday, now a weekly date for protests in these repressive regimes.
If the strife continues in the MENA countries, we expect Brent to remain elevated and Nexen could earn $6.00 of CFPS in 2011. Nexen stock is a hold at these levels.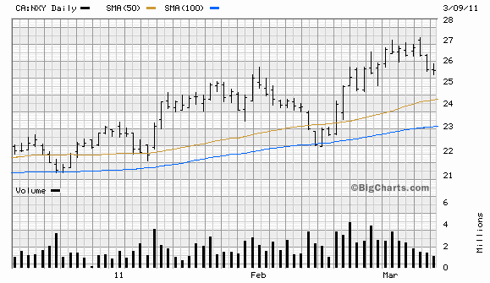 Finally, Cenovus took an 8% tumble from where we sold it on Monday at $38.80.
But Cenovus refines oil with its partner Conoco Phillips (NYSE:COP) at Wood River Illinois and Borger, Texas. The EIA petroleum inventory numbers released Wednesday showed a big drawdown in RBOB (5.5 million barrels) and Distillates (4.0 million barrels) and healthy implied demand for products (19.5 million barrels per day) for the week ending March 4. Gasoline crack margins are probably going to be very good.
Cenovus EVP makes a presentation to the First Energy/Societe Generale conference today at 8:50 am if you wish to understand more about this excellent low cost bitumen producer.
Cenovus stock pays a 20 cent CDN dividend on Friday so I would not be selling it at these levels. It's a buy.
Disclosure: I am long NXY, TLM, CVE, CM.
Additional disclosure: The information above was disseminated to clients and subscribers of the BCMI Report and the BCMI Flash anywhere from 12 to 48 hours before appearing on Seeking Alpha.