* All data are as of the close of Friday, October 17, 2014.
After more than five and a half years of relentless upward motion since the start of the economic recovery in March of 2009, the energy sector finds itself in one of its sharpest corrections in all that time. Since the end of June, the price of crude oil has fallen more than 23%, taking down stocks from producers to transporters and all in between.
The cause of the recent plunge in oil depends on whom you speak to. Generally we have two explanations to choose from: a) the new fracking extraction process being used in the U.S. over the past several years has finally produced an oversupply of oil and gas, filling up inventories and causing the price to drop, and b) Western governments are colluding with certain oil producing nations in the Middle East to exert pressure on Russia to withdraw from Ukraine, and on Iran to cease its nuclear program - both of whom are major oil exporters and highly dependent on high oil prices.
Far be it from me to give in to conspiracy, but one is left to wonder… with fracking having been used for several years already, only now does it produce an oversupply of crude? And to such an extent all at once, driving down the price of crude by 23% in less than four months?
Chances are very high that the current retreat in oil prices is not related to fracking, given the continual increase in oil and gas consumption the world over, year after year. We can, therefore, fully expect the prices of energy to rise once again in due course, lifting the prices of energy stocks right back up again.
However, the fracking situation does raise an interesting point for investors to consider. Since fracking is rather expensive, the prices of oil and gas need to be at a certain level to justify the added costs of fracking. At current oil and gas price levels and below, many wells employing the fracking process would not be able to continue operating. Thus, if crude prices remain low or volatile, as some are expecting, the oil and gas producers may not be a profitable industry in which to be invested.
However, the oil and gas transporters still would be quite viable even with persistently low oil and gas prices. Since consumers would keep consuming, transporters would keep transporting, even if some extractors are not extracting.
The Oil & Gas Pipelines industry, therefore, should remain a lucrative area in which to invest for years to come even as it has been since the recovery began, as shown in the graph below.
Where the broader market S&P 500 index [black] has grown some 180% and the Energy Select Sector SPDR ETF (NYSEARCA:XLE) [blue] has gained about 115% since March of 2009, two of our three Oil & Gas Pipelines companies - U.S.-based Williams Companies Inc. (NYSE:WMB) [purple] and Canada-based Enbridge Inc. (NYSE:ENB) [orange] - have outperformed both the energy sector and the broader market with gains of 540% and 220% respectively. Meanwhile, the largest of the three - U.S.-based Kinder Morgan Energy Partners, L.P. (NYSE:KMP) [beige] - has managed just 120% over the same period.
On an annualized basis, where the S&P broader market has averaged 32.24% per year and the Energy sector fund XLE has averaged 20.60% per year since March of '09, Kinder has averaged a comparable 21.49%, Enbridge has averaged a flowing 39.40%, while Williams has averaged a torrential 96.72% per year!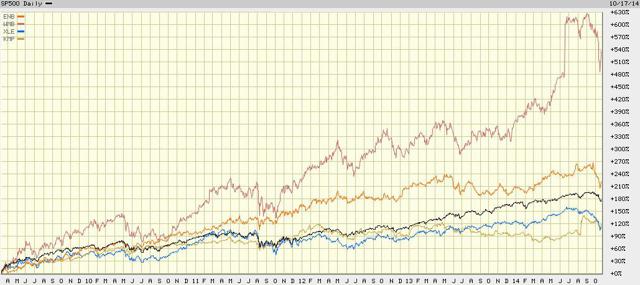 Source: BigCharts.com
Even so, while the Oil & Gas Pipelines industry is seen outperforming the broader market S&P marginally this Q3, it is expected to underperform substantially in 2015 before returning to near comparable growth rates over the next five years, as tabled below where green indicates outperformance and yellow denotes underperformance.
Compared to the overall energy sector, the Oil & Gas Pipelines industry is also seen underperforming in 2015, yet outperforming beyond. It is important, therefore, to be selective within the industry to pick the right companies with the better prospects, as not all pipeline companies are created equal.

Zooming in into the Oil & Gas Pipelines industry, our three highlighted stocks of Kinder, Williams and Enbridge are expected to beat their industry peers, but with split performances, as tabled below. Where Kinder's earnings are seen underperforming the industry in 2015, Williams and Enbridge are expected to outperform substantially, with Enbridge continuing to run ahead over the next five years while Williams slowly slips behind Kinder.

Compared to the broader market S&P 500 index, our three highlighted stocks are still expected to be outstanding growth vehicles as noted below, though each in its own time.

Hence, with vibrant growth potential and solid dividends ranging from 2.90% to 6.40%, all three of today's highlighted stocks will continue to hold a place in many growth and income portfolios as profitable investments with long-term benefits. But how do they compare against one another, and which makes the best investment?
Let's answer that by comparing their company fundamentals using the following format: a) financial comparisons, b) estimates and analyst recommendations, and c) rankings with accompanying data table. As we compare each metric, the best performing company will be shaded green while the worst performing will be shaded yellow, which will later be tallied for the final ranking.
A) Financial Comparisons
• Market Capitalization: While company size does not necessarily imply an advantage and is thus not ranked, it is important as a denominator against which other financial data will be compared for ranking.

• Growth: Since revenues and expenses can vary greatly from one season to another, growth is measured on a year-over-year quarterly basis, where Q1 of this year is compared to Q1 of the previous year, for example.
In the most recent reported quarter, Enbridge provided the greatest revenue and earnings growth of the three by an overwhelming margin, while Williams saw shrinkage.

• Profitability: A company's margins are important in determining how much profit the company generates from its sales. Operating margin indicates the percentage earned after operating costs, such as labor, materials, and overhead. Profit margin indicates the profit left over after operating costs plus all other costs, including debt, interest, taxes and depreciation.
Of our three contestants, Kinder operated with the widest of margins, while Enbridge had the narrowest.

• Management Effectiveness: Shareholders are keenly interested in management's ability to do more with what has been given to it. Management's effectiveness is measured by the returns generated from the assets under its control, and from the equity invested into the company by shareholders.
In returns on assets and on equity, Kinder's management team performed best, and by a substantial margin, while William's team fared worst.

• Earnings Per Share: Of all the metrics, measuring a company's income, earnings per share is probably the most meaningful to shareholders, as this represents the value that the company is adding to each share outstanding. Since the number of shares outstanding varies from company to company, I prefer to convert EPS into a percentage of the current stock price to better determine where an investment could gain the most value.
Of the three companies compared here, Enbridge provides common stock holders with the greatest diluted earnings per share gain as a percentage of its current share price with Kinder not far behind, while Williams provides the least.

• Share Price Value: Even if a company outperforms its peers on all the above metrics, however, investors may still shy away from its stock if its price is already trading too high. This is where the stock price relative to forward earnings and company book value come under scrutiny, as well as the stock price relative to earnings relative to earnings growth, known as the PEG ratio. Lower ratios indicate the stock price is currently trading at a cheaper price than its peers, and might thus be a bargain.
Among our three combatants, Enbridge has the cheapest stock price relative to forward earnings and 5-year PEG, while Kinder's stock is cheapest relative to company book value. Williams' stock, however, is the most overpriced in all three metrics.

B) Estimates and Analyst Recommendations
Of course, no matter how skilled we perceive ourselves to be at gauging a stock's prospects as an investment, we'd be wise to at least consider what professional analysts and the companies themselves are projecting - including estimated future earnings per share and the growth rate of those earnings, stock price targets, and buy/sell recommendations.
• Earnings Estimates: To properly compare estimated future earnings per share across multiple companies, we would need to convert them into a percentage of their stocks' current prices.
Of our three specimens, Enbridge offers the best earnings percentages in all four time periods, while Williams offers the worst EPS percentage over current stock price in all four periods.

• Earnings Growth: For long-term investors this metric is one of the most important to consider, as it denotes the percentage by which earnings are expected to grow or shrink as compared to earnings from corresponding periods a year prior.
For earnings growth, Williams outgrows the others in three time periods while Enbridge beats in two. Kinder scores the slowest growth, with outright shrinkage in Q3 and Q4 of this year.

• Price Targets: Like earnings estimates above, a company's stock price targets must also be converted into a percentage of its current price to properly compare multiple companies.
For their high, mean and low price targets over the coming 12 months, analysts prefer Enbridge's stock over the others, while Kinder's stock is believed to have the least upside potential and greatest downside risk. However, it must be noted that Enbridge is already trading below its low target. While this may mean increased potential for a sharp move upward, it may instead trigger a reassessment of future expectations.

• Buy/Sell Recommendations: After all is said and done, perhaps the one gauge that sums it all up are analyst recommendations. These have been converted into the percentage of analysts recommending each level. However, I factor only the strong buy and buy recommendations into the ranking. Hold, underperform and sell recommendations are not ranked since they are determined after determining the winners of the strong buy and buy categories, and would only be negating those winners of their duly earned titles.
Of our three contenders, Williams is best recommended with 5 strong buys and 9 buys combining for a total of 82% of its analysts, followed by Enbridge with 6 buys representing 75% of its analysts, and lastly by Kinder with 2 strong buy and 3 buy recommendations from 35% of its analysts.

C) Rankings
Having crunched all the numbers and compared all the projections, the time has come to tally up the wins and losses and rank our three competitors against one another.
In the table below, you will find all of the data considered above plus a few others not reviewed. Here is where using a company's market cap as a denominator comes into play, as much of the data in the table has been converted into a percentage of market cap for a fair comparison.
The first and last placed companies are shaded. We then add together each company's finishes to determine its overall ranking, with first place finishes counting as merits while last place finishes count as demerits.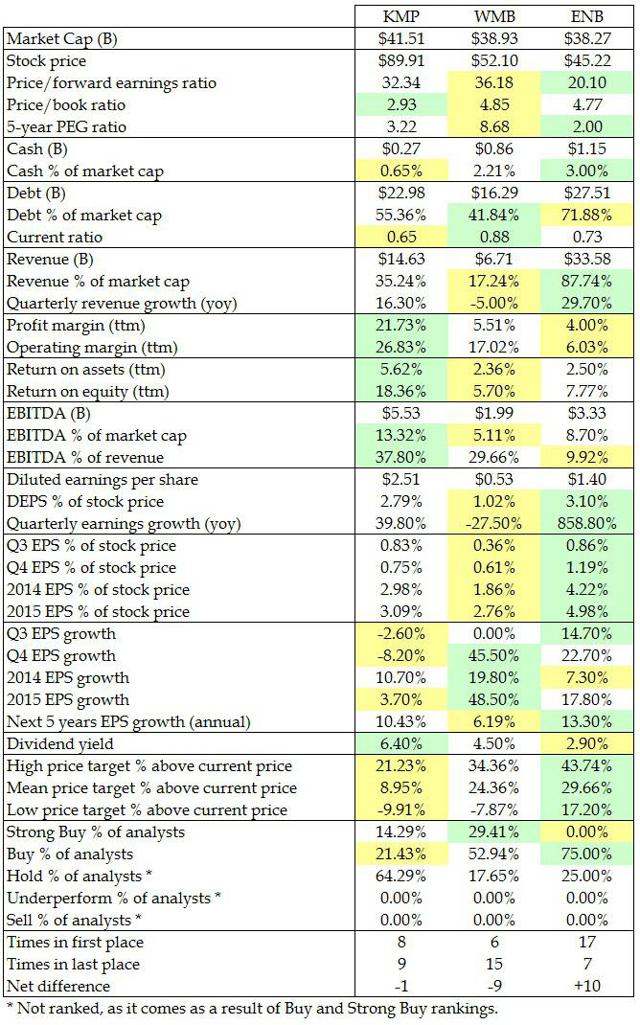 And the winner is… Enbridge by a washout, outperforming in 17 metrics while underperforming in 7 for a net score of +10. Kinder places second, outperforming in 8 metrics and underperforming in 9 for a net score of -1. Crossing the finish line last by quite a distance is Williams, outperforming in 6 metrics and underperforming in 15 for a net score of -9.
While the Oil & Gas Pipelines industry is expected to outperform the S&P broader market marginally this Q3, underperform significantly in Q4 and 2015, and underperform marginally beyond, the three largest North American companies in the space are seen putting in a split performance.
Though they all have attractive earnings growth potential, with Williams' being the best in 2015 while Enbridge's and Kinder's are better beyond, William's stock is quite overpriced, which means the benefits of its earnings are watered down relative to the investment we have to put forth to purchase its stock. Meanwhile, Enbridge also offers strong earnings growth, but with a low stock price that screams better value.
Each company, it would seem, offers something different: Kinder its stellar 6.40% dividend and outstanding margins, Williams its robust earnings growth over the near term, Enbridge its low stock price and strong earnings growth over the longer term. All are viable choices, with Enbridge being the more attractive - all fundamentals considered.