Third quarter profits were recently announced by PNC Financial Services Group Inc., (NYSE:PNC)--the second-largest regional bank in the United States. Revenues of $3.84 billion were higher than the $3.79 billion estimates by analysts, and non interest expenses came in line at $2.36 billion.
Earnings for the company were reported at $1.79 a share, which was based on a 1 percent rise in net income to $1.04 billion. This beat the prior year's earnings figure of $1.77 per share and handily beat the $1.70 average per share estimate that 25 analysts had projected.
CEO Bill Demchak attributed success in the quarter to growth in customers and deposits while successfully managing expenses.
Decreasing Expenses
To combat the squeeze, PNC has been working on cutting expenses for the last nine months. It saved $500 million during the first three quarters of 2014 and will be using those savings to help continue the transformation of their retail operation. (The bank has been focusing on increasing investment professional headcount in its branch network and decreasing teller headcount.)
Strong Revenues, Loan Growth
A bright spot for the bank was a 25 percent climb in revenue from asset management operations to $411 million and a rise in corporate service fees at $374 million--a 22 percent increase. Business lending improvements and a strengthening economy in the United States also helped boost total loans to a figure of $200.9 billion, which was a 4.1 percent increase. Commercial lending alone attributed to a rise of 8.5 percent.
An improvement in loan growth is a positive sign that larger companies may be willing to spend on expansion.
Shares Fall Despite Strong Results
Despite the surprise, shares dropped from the previous day's close of $81.59 to finish the day at $78--a little over a 4 percent drop.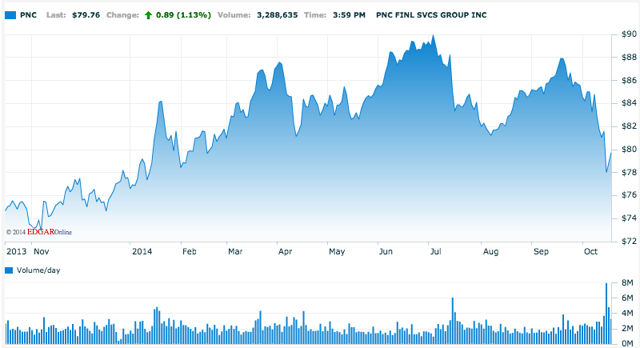 (Nasdaq.com)
Relatively low interest rates and a slowdown in mortgage revenue across the industry are still affecting margins. Net interest income dropped 6 percent from the 2013 figure of $2.10 billion.
PNC Shines Next To Peers
Fortunately, PNC doesn't have to face some of the costs of its competitors, namely the Bank of America (NYSE:BAC). In August, 2014, BAC agreed to pay a total of $16.65 billion in a deal that would settle civil charges placed on the bank for its role in the financial crisis and sale of third-rate mortgage securities.
In a tough regulatory environment, PNC's reputation seems relatively untarnished next to peers BAC, as well as BNP Paribas SA (OTCQX:BNPQY) and Citigroup (NYSE:C).
Conclusion: Buying Opportunity
With strong results (detailed above), along with a quarter stake in the lucrative BlackRock (NYSE:BLK), from which PNC raked in $49 million in Q3 2014, PNC appears to be building on a solid foundation.
We detailed PNC's prior results, which you can find here.
PNC has beat estimates for earnings for the past six quarters, consecutively, and revenues estimates five out of the past six quarters.
At the same time that PNC continues to grow, the institution has offered consistent and increasing dividends.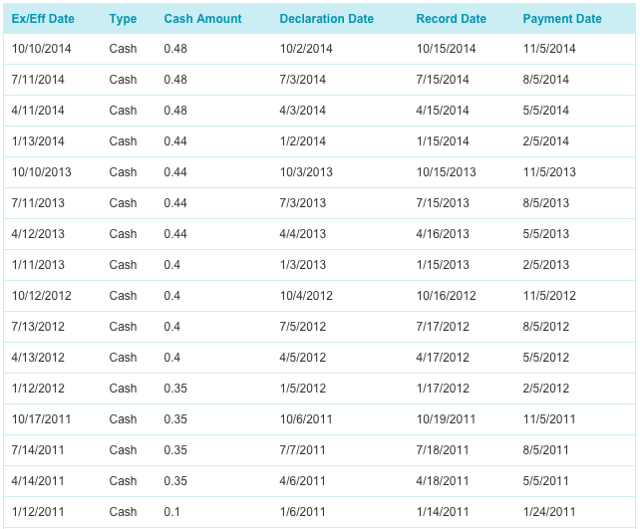 (Nasdaq.com)
With the recent and surprising drop in share price, following Q3 results, we see this as a solid buying opportunity for a dynamic financial institution.
We invite readers wishing to join the discussion on PNC Bank and other banking institutions to click the +FOLLOW button above the title of this article, and those looking for the latest updates to click +Get real-time alerts.
Disclosure: The author has no positions in any stocks mentioned, and no plans to initiate any positions within the next 72 hours. The author wrote this article themselves, and it expresses their own opinions. The author is not receiving compensation for it (other than from Seeking Alpha). The author has no business relationship with any company whose stock is mentioned in this article.