MEMC Electronic Materials Inc. (WFR) based in St. Peters, Missouri, is a global leader in the manufacture and sale of wafers and related products to the semiconductor and solar industries. MEMC's products are the building blocks for the $1 trillion electronics and the $18 billion solar cell and module markets. Through its SunEdison subsidiary, MEMC is also a developer of solar power projects and is North America's largest solar energy services provider. MEMC, which was founded in 1959, employs approximately 4,800 people worldwide and recorded sales of $1.2 billion in 2009. MEMC's stock is traded on the New York Stock Exchange under the symbol (WFR) and is included in the S&P 500 Index.
Please review the graphic below depicting MEMC's Global Sales and Manufacturing Operations Provided by MEMC.com. []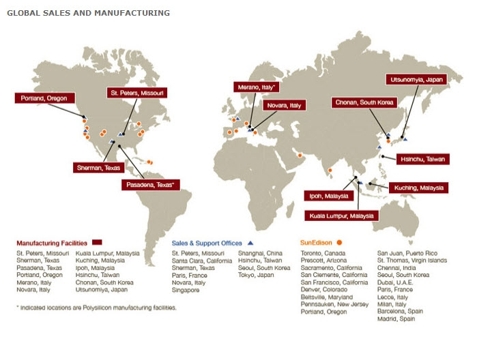 MEMC operates three business units: Semiconductor Materials, Solar Materials and Solar Energy.





MEMC's major competitors are: GT Solar International Inc. (SOLR), First Solar Inc. (NASDAQ:FSLR), Yingli Green Energy Holding Co., Ltd. (NYSE:YGE), Jinkosolar Holding Co., Ltd. (NYSE:JKS), JA Solar Company, Ltd. (NASDAQ:JASO), Trina Solar, Ltd. (NYSE:TSL), ReneSola, Ltd. (NYSE:SOL), LDK Solar (NYSE:LDK). Many of these companies are Chinese, therefore, off limits as far as I'm concerned. I don't invest in Chinese stocks as a rule.
Now that we have the introduction out of the way, let's get down to business regarding my bull case for MEMC.
Cramer said on the latest episode of CNBC's Mad Money, when questioned about the recent price target cut by UBS of MEMC to $15 from $16.50 while maintaining its BUY rating "This St. Peters, Mo. based company is making a comeback," Cramer said. "Among other things, it makes silicon wafers for solar energy." Cramer thinks "big things are ahead for this company." I agree with Cramer. I am pleased that the company is improving results and outlook.

On Feb 23rd MEMC announced a private offering os senior notes.

MEMC'S Relative Value looks good. Relative Value (RV) is an indicator of long term price appreciation potential. MEMC has an RV of 1.21, which is good on a scale of 0.00 to 2.00. This indicator is computed from an analysis of projected price appreciation three years forward. The Company has a forecasted Earnings Growth Rate of 19.00%, and a Forward PE OF 8.89.
By using the Bolinger bands to choose my entry and exit points in the stock over the last year, I have made profitable short term trades. The use of Bollinger Bands varies widely among traders. I have been buying when the price touches the lower Bolinger Band and selling when it breaks above or nears the upper Bolinger band. Currently the stock is touching the lower Bolinger band. Please review the One Year Chart with Bolinger bands below.
WFR One Year Chart with Bolinger Bands provided by CNBC.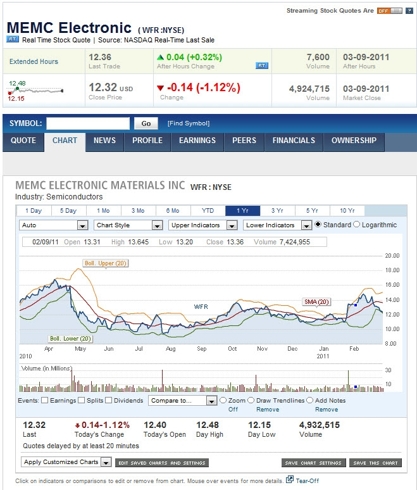 VERTICAL INTEGRATION
MEMC has vertically integrated its business model through recent acquisitions. The polysilicon, semiconductor wafer and solar wafer provider expanded its business into areas that are at different points along the same production path. There are several competitive advantages to this strategy.
Reduced transportation costs of common ownership

Improved supply chain coordination

Capture upstream and downstream profit margins

Increased entry barriers to potential competitors

Increased access to downstream distribution channels
MEMC has established and is growing customer relationships in over 30 countries around the world. By diversifying their client base, MEMC has reduced the risks related to country specific market events. This balanced market position provides for greater stability and growth and mitigates the influence of Italy's and Germany's solar subsidy curtailments.
The Company has an extensive intellectual property portfolio with more than 700 worldwide patents and 350 applications on file. MEMC was the first large-volume manufacturer of Fluidized Bed or "granular" polysilicon.
With a competitive cost structure and further improvements targeted, MEMC offers its client base an unparalleled global manufacturing, sales and service footprint .
AQUISTIONS & JOINT VENTURES
Acquired in 2009, SunEdison's downstream leadership in solar project development has accelerated growth. Acquired in 2010, Solaicx's proprietary process and equipment provided an entry into the fast-growing monocrystalline solar market.
JA Solar Holdings Co and MEMC joined forces to build a photovoltaic solar cell factory in China. JA Solar and MEMC said they will form a 50-50 joint venture to build a 250-megawatt facility at JA's site. The plant is expected to begin commercial production in the second half of the year and could grow to a production capacity of 1,000 MW.
Duke Energy and Sun Edison announced the start of the final phases of a 17.2 megawatt (MW) solar farm in Davidson County, N.C. To be constructed in five phases and covering over 200 acres of land, the project is comprised of more than 63,000 photovoltaic solar panels and is expected to generate an estimated 28 million kilowatt-hours annually. "Solar energy continues to increase in its importance to North Carolina customers," said Brett Carter, President, Duke Energy North Carolina. "Partnerships, like the one with SunEdison, have allowed Duke Energy to comply with North Carolina's solar requirements in a cost effective way."
Samsung Fine Chemicals Co. and MEMC agreed to set up an equally owned venture for a polysilicon plant in South Korea. The two companies will build the facility on an existing Samsung Fine Chemicals property in Ulsan, according to a recent statement. The plant is expected to start operating in 2013 and will begin with an initial capacity of 10,000 metric tons annually, according to the statement. The cost of the facility wasn't disclosed.
IMPROVING FINANCIAL RESULTS
MEMC said it moved to a profit in the fourth quarter, as revenue more than doubled, aided by the acquisition of solar energy provider SunEdison last year.
MEMC has a Sales Growth Rate of 138.00% per year.
The company reported net income of $11.4 million, or 5 cents a share, for the three months ended Dec. 31. That compares with a loss of $7.1 million, or 3 cents a share, in the prior-year period.
The company said its SunEdison unit, which develops solar power plants for utilities and industrial customers, has agreements in place to install more than 1,400 megawatts of solar panels, according to a statement released after the close of trading yesterday. A year ago its pipeline held less than 700 megawatts of projects, which equates to a doubling of the backlog.
Going forward, MEMC expects to leverage the lower cost structure of Solaicx to capture the monocrystalline silicon market, which according to sources, is expected to grow at a compound annual growth rate of about 50% during the next three years. MEMC looks forward to a positive contribution from Solaicx, which should be accretive to 2011 earnings.
I am considering starting a position in the stock within the next 72 hours with the intention of holding as a long term investment rather than a quick trade. Although, due to the current highly volatile environment, my plans could change in the wink of an eye.

Notwithstanding a major macro-economic event, I feel MEMC will at the very least retrace to near the $15 high achieved in recent days. This would be a return on investment of approximately 20%. One of Warren Buffett's famous quotes is "If a business does well, the stock eventually follows." I believe MEMC'S business is doing very well and expect the stock to follow.


Disclosure: I have no positions in any stocks mentioned, but may initiate a long position in WFR over the next 72 hours.