The rural economy continues to be lead downward by stubbornly low grain prices. Along with the rural economy, the farmland price index has fallen significantly. Low grain prices have led to decreased farm incomes which have stunted sales expectations for farm implements.
The Rural Mainstreet Index (RMI), an index which ranges from 0 to 100 with 50.0 representing growth neutral, decreased to 43.4 from 48.2 in September, the lowest level since February 2010. The expected decline in farm income, due to lower grain prices, is weighing heavily on agriculture dependent areas.
Ernie Goss, Ph.D, Economics Professor at Creighton University stated, "The stronger U.S. dollar, weaker global growth and abundant supplies have pushed U.S. grain prices down by more than 30 percent over the last 12 months. This has weakened the farm economy. Furthermore, the same factors have weakened oil prices and I expect these lower prices to begin negatively affecting areas of the region heavily dependent on energy commodity sales."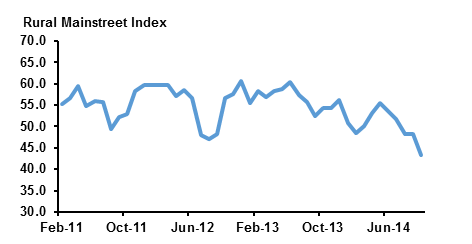 Source: Rural Mainstreet Index Creighton University
The farmland price index decreased to 20.2 from 33.7, its lowest level on record. Lower expected farm income due to declining grain prices has driven farmers, the largest purchasers of farmland in the U.S., out of the marketplace.
"Much weaker crop prices are taking the air out of agriculture land prices. This is the 11th straight month that the index has moved below growth neutral," said Goss. Following harvest, farmland prices may see a slight bump as farmers receive revenue from selling grain and reenter the market. The winter months are also considered prime buying season for farmland.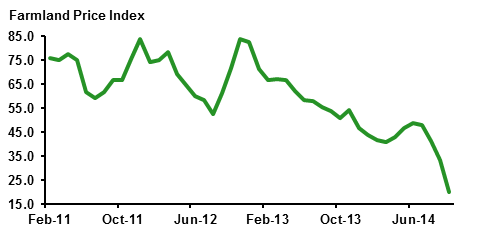 Source: Rural Mainstreet Index Creighton University
The farm equipment sales index decreased to 15.1 from 17.6, a record low for the index. Goss said, "This is lowest reading that we have recorded for the equipment index since we began the monthly survey in 2006. The more than 30 percent decline in agriculture commodity prices has pushed farmers to significantly shrink their equipment purchases." Sales are expected to continue to suffer in the U.S. as farm incomes continue to come under fire.
This month bankers were asked what they believe farmland prices would do in the coming year. The majority of those surveyed expected some level of decline, with the average decrease being 5%. Bankers were also asked their expectations of rental rates next year. Bankers responded more positively about rental rates than expected property values. The average response was a 3.4% decline, minimal considering crop prices have fallen 20% year-over-year.
Table 1: Rural Mainstreet Economy Last Two Months and One Year Ago: (index > 50 indicates expansion)

October 2013

September 2014

October 2014

Area economic index

54.3

48.2

43.4

Loan volume

64.7

75.9

71.7

Checking deposits

48.3

56.4

49.1

Certificates of deposit and savings instruments

35.4

42.8

40.4

Farmland prices

50.9

33.7

20.2

Farm equipment sales

44.6

17.6

15.1

Home sales

58.0

57.3

49.0

Hiring

56.1

56.5

55.7

Retail business

52.6

49.9

44.4

Confidence index (area economy six months out)

44.7

33.4

34.6
Source: Rural Mainstreet Index Creighton University
Survey
This survey represents an early snapshot of the economy of rural, agricultural and energy-dependent portions of the nation. The RMI is a unique index covering 10 regional states, focusing on approximately 200 rural communities with an average population of 1,300. It gives the most current real-time analysis of the rural economy.
Disclosure: The author has no positions in any stocks mentioned, and no plans to initiate any positions within the next 72 hours.
The author wrote this article themselves, and it expresses their own opinions. The author is not receiving compensation for it. The author has no business relationship with any company whose stock is mentioned in this article.