The entire ocean shipping industry has suffered over the past few years with the global downturn and ensuing recession. Many in the Tanker Shipping sector suffered as high oil prices and the fracking boom in the US slowed the movement of oil, especially in the US.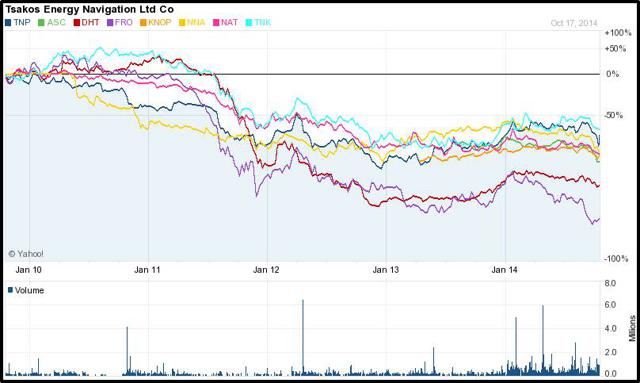 The recent pullback in oil prices may offer a boom for the industry as countries seek to stock up on cheap oil.
Consumers in importing nations also stand to gain, especially in Japan, China and Europe, said Gary Hufbauer, senior fellow at the Peterson Institute for International Economics in Washington.

Japan imports all its energy after closing nuclear reactors because of the 2011 Fukushima disaster. It hasn't restarted any of its 48 plants even as the country's regulator cleared two to reopen. Japan bought 4.5 million barrels a day last year, outranked only by the U.S. and China, according to data from BP Plc….

The price drop is an opportunity for China to build up its strategic reserves, according to Andrew Kennedy, a senior lecturer at the Crawford School of Public Policy at the Australian National University in Canberra. China relied on imports to meet 57.4 percent of its crude consumption in 2013, government data showed. In the first eight months of this year, China imported about $157 billion worth of crude, with the most coming from Saudi Arabia at about 16 percent of the total, followed by Angola at 13 percent and Russia at 10 percent, according to customs data.
Although better times may be coming in the near future, a review of the past should help investors identify which companies are running the most efficiently. This article will look at the expenses recorded by each company, and then break them down into a per ship and per DWT basis, in an attempt to see which companies are operating the most efficiently and which have higher operating costs. The companies looked at are Ardmore Shipping (NYSE:ASC), DHT Holdings (NYSE:DHT), Frontline Ltd (NYSE:FRO), KNOT Offshore Partners (NYSE:KNOP), Navios Maritime Acquisition (NYSE:NNA), Nordic American Tankers (NYSE:NAT), Teekay Tankers (NYSE:TNK), and Taskos Energy Navigation (NYSE:TNP). Future articles will also compare revenues and debt/assets on the same basis.
Operating Expenses
The tightening of the belt is a good measure of efficiencies companies have been able to achieve. While there can be multiple expenses that are registered each quarter the main expenses investors can expect to see are:
Voyage expenses
Vessel Operating expenses
Depreciation
General and Administrative expenses
Dry docking
In order to focus on the operating expenses that are directly tied to the actual daily operations of the fleet, this article will focus on Voyage expenses, Vessel Operating Expenses, and General, Administrative, and Technical Management Fees. While depreciation is recorded as an expense, it is typically used to reduce the tax burden of the company and no cash is expended. Dry docking is required in the industry, and each ship will go through it, but the timing will change from quarter to quarter.
The data used to compile the charts comes from the most recent Quarter, and only looks at that quarter. While some of the expenses will fluctuate from quarter to quarter, all shippers will be subject to bunker fuel rates, weather delays, and repairs needed that will affect expenses. A look at yearly expenses is also helpful, as is multi-year comparisons.
The fees the companies will log are also tied to how the fleet is managed. The two means most companies use are either Voyage Charter or Time Charter.
Voyage Charter: In a Voyage Charter a company hires a shipper to move its product from one location to another. The charterer pays the shipper on a per-ton basis and the shipper pays the port costs, fuel costs and crew costs. Most of the voyages are typically one way with a shipper moving a load of oil from the Middle East (or another Oil producing country) but have to return empty on their dime.
Time Charter: In a time charter the ship is chartered for a specific period of time and the charterer will decide the ports and routes. The charterer will pay for all fuel, port charges, commissions, and a daily hire to the owner of the vessel.
Voyage expenses
Voyage expenses are all expenses unique to a particular voyage, including bunker fuel expenses, port fees, cargo loading and unloading expenses, canal tolls, agency fees and commissions. When a company operates their ships in the voyage charter spot market, the company is responsible for all voyage expenses as opposed to spot market-related time charters in which a company is not responsible for voyage expenses.
Vessel operating expenses
Vessel operating expenses includes crew costs, provisions, deck and engine stores, lubricating oil, insurance, maintenance and repairs and management fees. Under both types of charters the company will be responsible for these costs.
General and Administrative Expenses
General and administrative expenses include onshore vessel administration related expenses such as legal and professional expenses and administrative and other expenses including payroll, office rent and expenses, directors' fees, and directors and officers insurance. General and administrative expenses also include non-cash compensation expenses.
Time Charter Equivalent (TCE) rates
TCE rates are defined as voyage and time charter revenues less voyage expenses during a period divided by the number of available days during the period. The TCE rate is a standard shipping industry performance measure used primarily to compare daily earnings generated by vessels on time charters with daily earnings generated by vessels on voyage charters, because charter hire rates for vessels on voyage charters are generally not expressed in per day amounts, while charter hire rates for vessels on time charters generally are expressed in such amounts.
Comparison
While each company will manage their vessels differently on voyage charter, time charter, and a combination of the different negotiated terms, the rates will help to identify strong performers.

(Source: data compiled from 2Q14 earnings reports and Yahoo Finance)
Comparisons of their recent quarterly expenses are wide and vary across the fleet. In order to make a better comparison of these expenses, it helps to look at them on a per ship and per DWT basis. The larger ships, such as the VLCC's will have higher expenses associated with their operations, but will move larger quantities more efficiently, and should have lower expenses on a DWT basis.

(Source: data compiled from 2Q14 earnings reports)
When depreciation is factored out of the equation, and the companies are compared on a per ship and per DWT basis, it becomes evident which companies are reducing their expenses as much as possible and operating as efficiently as possible.

(Source: data compiled from 2Q14 earnings reports)
Depending on how the ships in the fleets are managed will affect the bottom line, and investors should remember that this is just one half of the equation, with revenue being the other half. For fleets that are managed on a Voyage Charter basis, they will have higher operating costs as they are responsible for port costs, fuel costs, and crew costs.
Analysis
ASC has a fleet of tankers in the Aframax and Panamax range, which lowers their operating costs on a per ship basis, but increased expenses on a per DWT basis. While that is explainable, the General and Admin expenses are higher than average in the comparison.
DHT recently announced the acquisition of Samco Shipholding, which will increase the size of its VLCC fleet. For the last quarter, the company had a fleet of seven VLCCs, two Suezmax, and two Aframax ships. The fleet from last quarter is an older fleet that is not as efficient as some of the newer builds, but the acquisition of the newer Samco fleet will help to improve efficiencies. On a per DWT basis, the company has below average rates for expenses.
FRO has a fleet of 18 Suezmax tankers and 28 VLCC tankers. The fleet has an average age of 12 years, which increases some of the maintenance costs associated with running the older ships as well as less efficient fuel consumption. The company came in with higher Average Voyage Expenses and Average Total Operating Expenses.
KNOP's fleet consists of seven Suezmax tankers. The company recorded no Voyage Expenses, and was able to come in with lower than average rates for the compared companies. The only exception was higher than average General and Admin Expenses for both a per ship and per DWT basis.
NNA has a fleet of 36 ships consisting of 11 VLCC's, four Panamax's, and 21 Aframax ships. Operating expenses run below the average for the other companies. NNA is part of a larger conglomerate of the Navios Empire, and as such likely has bargaining power to help command lower prices in some of these expense areas. The company has a relatively young fleet which helps improve engine and fuel efficiencies as well as lower maintenance costs.
NAT has a fleet of 20 Suezmax ships. While these ships are not as efficient at moving product on a per DWT basis, the company has lower than average expenses across the board. While that alone is not enough to recommend a buy for the company, it should be seen as a positive sign for investors.
TNK's fleet consists of 17 Suezmax tankers. Voyage Expenses trended lower than the averages; however the Operating Expenses trended higher. Again, these costs include crew costs, provisions, deck and engine stores, lubricating oil, insurance, maintenance and repairs and management fees. The fleet averaged 12 years old, which likely means higher repair costs.
TNP has a fleet of one VLCC, 14 Suezmax, 10 Aframax, nine Panamax, and 14 Handymax/Size. The company also has two LNG ships that were included in the analysis. Due to the wide ranging size in the fleet, its expenses trended higher than the group, but has lower than average General and Admin Expenses.
Conclusion
The analysis of expenses alone shouldn't constitute a buy or sell recommendation. However, the trends developed from looking at expenses a company incurs should help to form a larger picture of how effective management is at maximizing shareholder value. Not all the companies here are managed the same way and investors should look at the whole company, to include revenue and debt/assets before making a decision.
Disclosure: The author has no positions in any stocks mentioned, and no plans to initiate any positions within the next 72 hours.
The author wrote this article themselves, and it expresses their own opinions. The author is not receiving compensation for it (other than from Seeking Alpha). The author has no business relationship with any company whose stock is mentioned in this article.