I consider myself a scholar of Warren Buffett and his writings. I have read tomes of biographies written about the legend and nearly every annual letter from Berkshire Hathaway (NYSE:BRK.A). Since Buffett has never written specifically about investing metrics, most of what is written below is merely educated assumptions on his investment thesis. One of the most in depth books on Warren Buffett's investment style was written by his former daughter-in-law Mary Buffett. Her book "Buffettology" offers a rare in-depth look into the mind of one of the greatest investors of all time. The majority of the metrics I use come from her writings. Below I run Apple (NASDAQ:AAPL) through Buffett's gauntlet to see how it holds up to his lofty standards. People that are familiar with my previous articles will notice that I use very similar screens on all of my investments.
Is Apple a Consumer Monopoly or Commodity?

First, let us differentiate between these two classes of companies.
Commodity-based companies sell products where pricing is the most significant factor. Since the product sold by a commodity-based business is not unique to the company, it becomes inundated by competition. This competition inevitably pressures margins and squeezes profits. Some examples of commodity-based companies are: Freeport McMoRan (NYSE:FCX), Ford (NYSE:F) and Dell Inc. (DELL). These companies might be great investments in their own right, but don't necessarily fit Buffett's modus operandi.
Consumer monopolies offer products where there is little or no competition. These are the "best in breed" companies in their sector. These companies are free to adjust prices on their products or services as they see fit. Consumers are willing to shell out the extra money for a superior product or brand name. Some examples of Consumer Monopolies are Coca Cola (NYSE:KO), Procter and Gamble (NYSE:PG) and Burlington Northern Santa Fe (BNI).
So would the Oracle of Omaha consider Apple a Consumer Monopoly or a Commodity? Over the last decade Apple has transformed itself from a struggling computer company into a dominant Consumer Monopoly. The Apple brand has become one of the most recognizable in the world. All around the globe people camp in the streets in order to be the first to own the newest Apple products. Since the creation of the iPod Apple has sold over 297,986,000 units ... that's nearly one iPod for every citizen of the United States.
Click to enlarge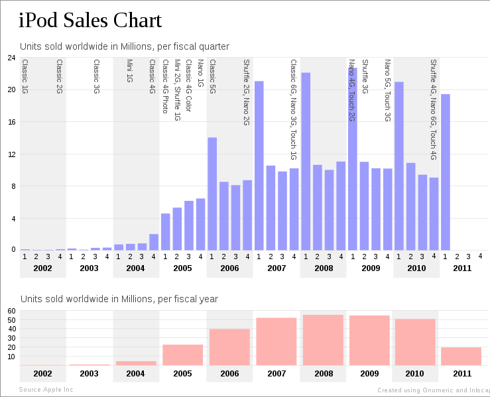 After the iPod, Apple kept the ball rolling with the iPhone. The iPhone not only revolutionized the smart phone market, it caught on like wildfire. Since mid 2007 Apple has sold nearly 90,000,000 iPhones at a profit margin approaching 60%. These incredible numbers were reached domestically with an exclusive deal with AT&T (NYSE:T). With the recent addition of a CDMA iPhone and marketing to Verizon Wireless' (NYSE:VZ) 94,000,000 customers, you can expect these numbers to accelerate. Furthermore, Apple has just started its international expansion, something the CDMA version of the iPhone will help. With iPhone 5 coming this summer, the momentum will continue.
Click to enlarge

The Apple iPad was heckled as a glorified iPod Touch when it was revealed in March of 2010. Nevertheless, the iPad went on to defy all analysts by selling nearly 15,000,000 units in eight months. The product was a resounding success, capturing over 75% of the world's tablet market. Just like with the iPod and iPhone, the competition is left scrambling to catch up. With the release of the iPad 2 scheduled, the window for competitors to remain relevant is closing quickly.

Additionally, I would be remiss to not mention that Apple has retaken 10% market share of the U.S. computer market ... and that number does not include iPads.

With the unrelenting support of Applelonians worldwide Apple is unquestionably a Consumer Monopoly. Apple can price its products as it sees fit, and its loyal customers line up in droves to buy products hand over fist. Apple's competitive moat is wide, and competitors are spinning their wheels trying to play catch-up.

Do You Understand How It Works?

In 1998, at the peak of the technology boom, Warren Buffett shocked the Berkshire Hathaway investors meeting by stating that he would not be investing in technology stocks. When pressed on why, he stated he simply didn't understand them. Buffett saw nothing wrong with taking a pass on companies he could not accurately value. In fact, when pressed on the matter Buffett responded with this gem of a quote: "If I taught a class, on my final exam I would take an Internet company and ask (my students), 'How much is this company worth?'" the Associated Press quoted Buffett as stating. "Anyone who would answer I would flunk."

I've heard many arguments that Buffett wouldn't invest in Apple because it is a technology company. I think this is hogwash. Apple has transformed itself into a consumer staple. They make fantastic and innovative products and sell them to eagerly waiting customers. Its business model is simple and straightforward. Instead of making cola, they make computers.

Is the Company Conservatively Financed?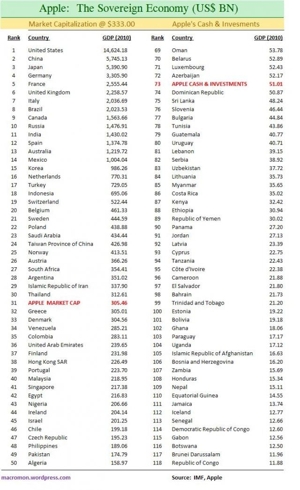 Like most successful value investors, Buffett looks for companies with little or no debt. Buffett isn't totally opposed to investing in companies with debt as long as it is used correctly.
Apple has roughly $46,708,000,000 on its balance sheet with zero debt.
Zero.
Again, let's put this in perspective.
Have Retained Earnings Been Invested Well?
Buffett would love the balance sheet, but would have a big problem with Apple's refusal to put the money to work. Why hasn't the company bought back shares or made strategic acquisitions? Maybe Jobs and Cook feel they simply don't need to. I'll tell you one thing, when interest rates begin to rise, that $46,708,000,000 is going compound, and quickly. Buffett would rather have a company sit on the money than spend it foolishly. Patience is the key.
The Fundamentals
Buffett used the average rate of return on equity and average retention ratio to calculate a company's sustainable growth rate. The SGR is used to calculate the book value per share in the future. We are looking for companies with consistent and predictable earnings. This formula allows us model future growth. Again we are looking for companies with a greater than 13% Sustainable Growth Rate and a ROE well above the industry norm.

This is when Apple really starts to get exciting:
Click to enlarge


At 18.7% Apple's ROE and SGR are both well above average. These numbers are good, but could be better. The lofty balance sheet and high BVPS lower these metrics considerably. Apple's P/E of 19.7 is considerably lower than its 39.5 7 year average. Normally this would be a sign of a stock's momentum slowing down, but with Apple this is not the case. Its five-year forward P/E Ratio is .76. For the second largest company in America this number is simply amazing. Its cash adjusted trailing P/E is barely 16. It baffles me when people call Apple expensive.
Let's look at the historical growth:
Click to enlarge

Yes, those EPS growth rates are accurate, over 100% on the seven year and 65% on the three year. When we model future earnings using EPS growth the returns are staggering:
Click to enlarge

Using the more conservative Sustainable Growth Rate the 10-year average is still impressive:
Click to enlarge




These are exactly the types of returns Buffett is looking for. No matter how you cut it, Apple is both a growth and value stock. It is the best of both worlds.
Management
"A ham sandwich could run Coca Cola." - Warren Buffett
Obviously, a ham sandwich can't run Apple. Steve Jobs is undeniably one of the most visionary and innovative leaders of our generation. His health concerns are real and serious. The loss of Steve Jobs to Apple would be substantial but not necessarily crippling. On Buffett's recent appearance on CNBC's Squawk Box he had this to say about Jobs:
I don't know that much about Apple. I mean, all I know is Apple is an absolutely phenomenal company. I mean, to think of where they were 10 or 15 years ago and where they are now. And that's been done by innovation. I mean, and I think Steve Jobs has had a whole lot to do with that. But ... he's enormously important to Apple. And you know, Walt Disney was important to Walt Disney, a company ... I mean, it - there - are people who can read the needs of the American public before the American public even realizes that it has those needs, and then have the genius to create a product that satisfies those needs and gets there fast, and then is attractive, you know, in terms of all kinds of things, functionality that you can't believe, they deserve to get very rich. I mean, they - he saw something that I didn't see five years ago or 10 years ago. 1
Buffett is tipping his hat to Jobs, but acknowledging that the company will continue with or without him. Obviously, Steve Jobs is a big part of Apple's success, but last I checked Tim Cook did a fantastic job in Steve's absence. Anyone who thinks Steve Jobs was solely behind all of Apple's innovation is severely underestimating the company as a whole. (On a personal note I wish the best for Steve Jobs and his family. God bless him with a speedy recovery.)
Conclusion
Is Apple a Warren Buffett stock? I think it clearly passes many of Buffett's metrics. It has a large and widening competitive moat. The iPad 2 has pretty much solidified the tablet market for Apple moving forward. It has a hugely loyal fan base that is willing to pay any price to own its products. Its business model is straightforward and profitable. It has more money on its balance sheet than most countries. Its fundamentals speak for themselves. By any metric you are getting an unparalleled return on your investment. The management question is an important one, but great CEOs build great supporting teams.
Obviously, this article is a bit tongue in cheek. Buffett is not buying Apple and I don't foresee him initiating a huge position anytime soon. The point is the average investor is letting a fantastic opportunity slip through their fingers. This is one of the best companies in the world selling at a huge discount.
I would love to hear some of your thoughts in the comment section. I'm sure some of the Apple haters have some points that I must have missed.

Disclosure: I am long AAPL.