By David Sterman
Judging by the number of companies that have lined up to pull off an initial public offering (IPO) in coming weeks and months, we may be looking at a banner year. If the performance of IPOs that made their debut since the year began is any guide, investor interest is likely to be quite strong. That's because virtually every company that has come public in 2011 is already trading up (except for Netherlands-based Tornier (NASDAQ:TRNX), which is off just 2%).
In fact, the biggest IPO of the year has just gone public. Hospital chain HCA (NYSE:HCA), which is going public for the third time, sold $3.79 billion worth of stock today. The fact that enough investors were corralled for the deal is a sure sign of investor appetite for new issues. [My colleague Andy Obermueller profiled HCA just last week. Read his article here.]
It always pays to look over the list of recent IPOs. First, you may find companies that have only moved up slowly since their debut, even as analysts are already starting to weigh in. Second, you can check out the most recent IPOs that are still subject to the 25-day quiet period that inhibits analyst commentary. In many instances, analysts' initial reports are quite bullish and you can capture a quick gain on their new "buy" ratings.
Here's a group of IPOs that are so recent that analysts have yet to weigh in.

(Click charts to expand)
Among these most recent issues, clean-energy investors are keeping a close eye on Gevo (NASDAQ:GEVO), which is one the leading players of the second generation of biofuels (corn-based ethanol plays are characterized as first generation). The IPO has traded up 30% in the past month, and could soon receive some fairly bullish research coverage. Yet it's worth noting that these second-generation biofuels have yet to prove their worth in the real world at large-scale production. High costs mean they will only gain a strong foothold if oil remains above $120, or the U.S. government provides hefty subsidies.
Gevo hopes to meaningfully ramp output in 2012 and looks to at least be ahead of the rest of the field in terms of commercial-scale production. This certainly merits further research.

But what of the IPOs that have already been dissected by the analysts? In some instances, bullish coverage yields only a moderate gain and considerable upside remains. As an example, when Internet communication firm Broadsoft (BSFT) went public last June, its shares remained stuck below $10 for more than four months, and then took off like a rocket, recently trading for $47.50.
Are there any Broadsofts in the 2011 IPO class? Probably not, but a few names look quite appealing if you have more modest expectations...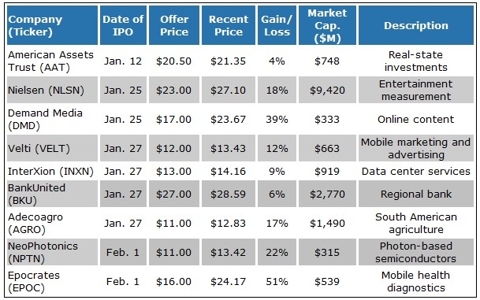 My colleague Tom Taulli has a very bullish view of recent new issue Velti (VELT), which aims to capitalize on the fast-growing market of smartphone-based advertising and marketing.
Indeed, the explosion of smartphone traffic, along with ever-growing demand for video streaming, e-commerce and other data-intensive activities is at the heart of my attraction to Netherlands-based Interxion (NYSE:INXN). Though it has only been public for six weeks, this company has been around for more than a decade and possesses a blue-chip customer base.
Interxion operates massive facilities across Europe where corporations can put their equipment directly on the global Internet backbone. In many instances, data traffic between clients needs to travel just a few feet rather than half around the world at these "data-colocation" centers.
It's a very profitable business for all of the major players. Interxion, for example, generates operating margins approaching 40%. You can compare the company with U.S. rivals such as Rackspace Holdings (NYSE:RAX) or Savvis (NASDAQ:SVVS) -- but with a key distinction: Most companies also own and lease a lot of equipment, but Interxion simply rents space to clients. That removes a lot of the risk in the business model, as Interxion doesn't need to tie up working capital with hardware and need not worry about its gear becoming outdated.
Unlike many IPOs, this company could hold few negative surprises. The company's customer base is locked into long-term deals, use of the IPO proceeds is set to expand the company's footprint in places like Dublin and Dusseldorf, and that is likely to boost an already impressive free cash flow (FCF) profile. FCF could hit $1 a share by next year and perhaps $1.25 by 2013. Shares offer a 9% FCF yield based on that 2013 view.
I don't expect Interxion to soar far higher, but 25% to 35% upside from current levels looks quite feasible in a year or so, after the company develops a broader following as a public company.
Overall, this is a great group of stocks to monitor. A number of these newly-public companies will deliver a tough quarter some time in 2011, as often happens with new IPOs that are still in high-growth mode. That could lead to a punishing reaction for the stock, which then often creates a great entry point as these companies find their footing. For those who prefer tortoises to hares in the IPO market, Interxion, along with Neilsen Media (NYSE:NLSN) and Kinder Morgan (NYSE:KMI), are all solid companies with decent upside that should be investigated further.
Disclosure: Neither David Sterman nor StreetAuthority, LLC hold positions in any securities mentioned in this article.