This is the fifth, and penultimate, entry in my series of articles aimed at providing sector-specific suggestions for ETFs that seem to be shaping up as sources of growth for the next year. So far, I have provided suggestions in the following areas:
Healthcare1
Utilities2
Information technology3
Information technology (newer/international ETFs)4
This article - if the title hasn't given it away - is about ETFs in the consumer defensive, non-cyclical sector, or - in other words - consumer staples.
As usual, the selections are based on an equal-weighted application of nine factors:
Market cap
Price to earnings (P/E)
Price to book (P/B)
Index tracking ratio (ITR)
Year-to-date (YTD) performance
Annualized performance (for past five years, if available)
Top third ratio5
Dividend yield
Expense ratio (ER)
The Selectees
The articles that topped the consumer staples list come from the usual group of suspects:
As there were only nine ETFs on the list pulled from my sources11, I was inclined to limit the selectees to the top three, which would have dropped Vanguard and SSgA from the final picks. Both funds, however, had significantly lower ERs than the other three, as well as having higher AUMs and yields. Since there was virtually no difference in the overall performance of the five top ETFs, I felt that a dividing line at three would have been arbitrary.
As it turns out, however, there may have been a couple of reasons for dropping Vanguard and SSgA from the list, and I will discuss those reasons later in the article.12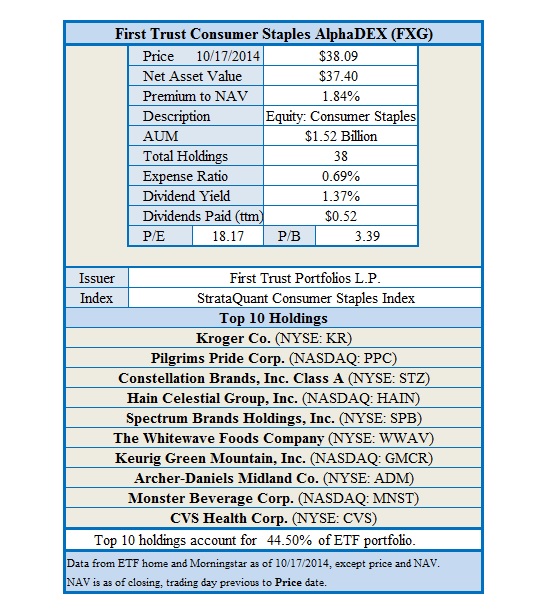 FXG's holdings are based on three, six, and twelve-month performance, and specific valuation data for each company (drawn from the Russell 1000). As a result (along with quarterly rebalancing/reconstitution), the fund has been able to maintain the highest annualized performance of all nine ETFs considered, at 17.19%. FXG is also outperforming its index, bearing an ITR of 100.13.13
FXG's performance YTD is 7.57%.
The rather intense nature of the ETF's evaluation of its holdings gives FXG an ER of 0.70% - the highest of all funds considered. The higher costs also result in one of the lower yields at 1.37%.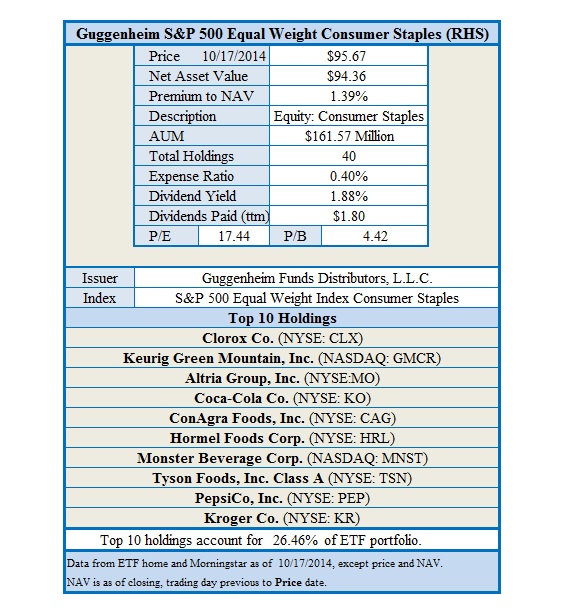 Guggenheim's equal-weighted funds have entrenched themselves in just about all of the lists I've produced,14 and are based on the S&P 500 equal-weight sector indices. RHS' annualized performance is 15.35% although it has lagged its index somewhat at 86.87.
RHS' performance YTD is 5.82%.
The fund's equalized weightings put it at the head of the top thirty-percent ratio, with the highest-weighted 13 of the fund's 40 holdings constituting approximately one-third of RHS' assets.
The fund's yield is one of the higher in this group.
On the downside, RHS has one of the higher ERs, and has the smallest of the AUMs of the select group (fourth smallest of the original nine funds).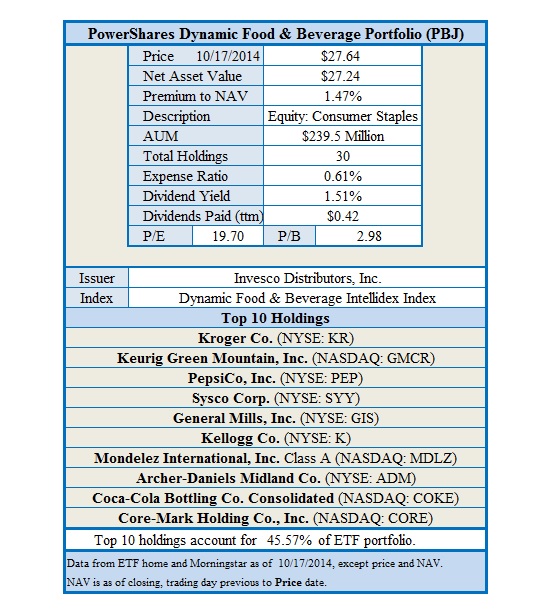 PBJ finds itself sandwiched in the middle of our group, and received the second-highest score in my evaluation (FXG and RHS were tied for first); the fund acquits itself well in most regards, and leads the select group in terms of tracking its index, with an ITR of 105.60. Its annualized performance is 15.11%.
PBJ's performance YTD is 5.47%.
As with FXG, PBJ is ultimately based on the "Intellidex" index, which puts weight on performance, earnings and quality. The result is a fund that is rebalanced and reconstituted quarterly, giving it a rather high ER, which - again as with FXG - adversely affects the fund's yield.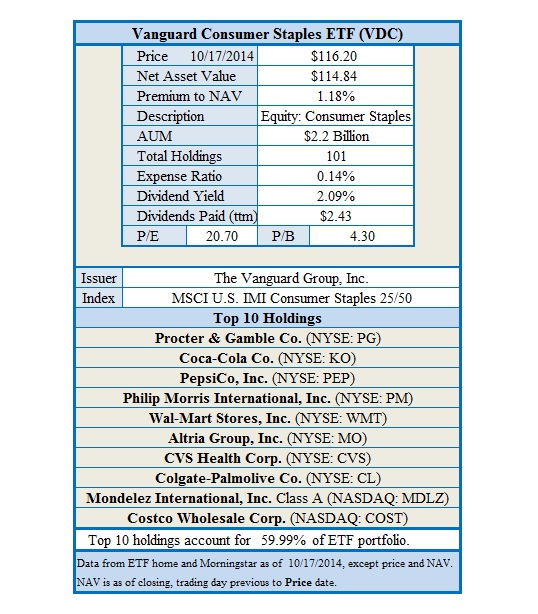 Vanguard's VDC is the company's usual sector-specific type of offering, with significant AUM and a large number of holdings. Its performance edges out PBJ at 15.22%, but it significantly underperforms its index with an ITR of 81.16.
VDC's performance YTD is 5.33%.
Dividend yield is VDC's strength, as the fund offers the second highest of the original nine. This may be due in no small part to the significant holdings the fund has of dividend heavyweights Philip Morris International, Inc. (NYSE:PM) (4.65%) and Altria Group, Inc. (NYSE:MO) (4.56%). Its low ER of 0.14% no doubt helps, as well.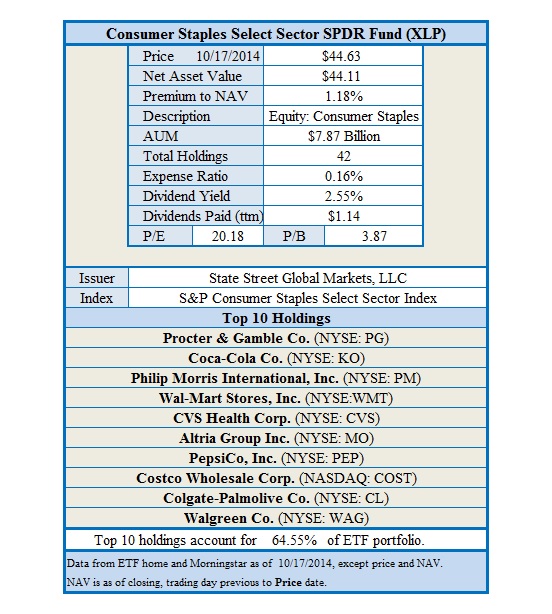 The S&P "Select-Sector" index usually serves SSgA well, and it seems to do so with XLP; although the fund has underperformed the index with an ITR of 80.09, it has still posted an annualized performance of 14.82%
XLP's performance YTD is 3.70%.
As with VDC, XLP puts Philip Morris and Altria among its top-ten holdings; that, plus its 0.16% ER, enables it to pay out a dividend yield of 2.53% - the highest yield offered by any of the nine ETFs evaluated.
Some Qualifying Remarks
I mentioned earlier that there might be a couple of reasons for dropping VDC and XLP from the list of selectees.
First, I considered the performance of these funds for the past five years (since October 1, 2009, to be exact) - all five ETFs have been in existence for longer than that, but I wanted to avoid any issues with the 2008 brouhaha. Here are the results: Since October 1, 2009,
FXG has increased in value by 129.27%;
RHS has increased in value by 103.64%;
PBJ has increased in value by 101.60%;
while
VDC has increased in value by 82.65%; and
XLP has increased in value by 76.89%.15
Thus, while the first three ETFs have more than doubled in worth (not counting dividends), VDC and XLP have been somewhat slower in their growth.
Second, the following 13 companies16 are amongst the holdings of each of the five ETFs:
Archer-Daniels Midland Co. (NYSE:ADM)
Brown-Forman Corp. Class B (NYSE:BF.B)
Dr Pepper Snapple Group, Inc. (DPS)
Keurig Green Mountain, Inc. (NASDAQ:GMCR)
Kellogg Co. (NYSE:K)
Kroger Co. (NYSE:KR)
Monster Beverage Corp. (NASDAQ:MNST)
PepsiCo, Inc. (NYSE:PEP)
Constellation Brands, Inc. Class A (NYSE:STZ)
Safeway, Inc. (NYSE:SWY)
Sysco Corp. (NYSE:SYY)
Molson Coors Brewing Co. (NYSE:TAP)
Tyson Foods, Inc. Class A (NYSE:TSN)
Taken collectively,17 these companies have realized a gain of 92.66% since October 1, 2009. Thus, while FXG, RHS and PBJ have managed to add to their respective portfolios' holdings that increased their performances over the "common 13," VDC and XLP have managed to add to their holdings (88 companies, in the case of VDC!) companies that have caused them to lag behind the 13 common holdings.
(Indeed, the 13 companies - again, collectively - have outperformed all five ETFs YTD, increasing in value by 22.92% as a package.)
One might have done better to buy shares in the 13 companies listed above than to buy either VDC or XLP. Of course, even at their current prices ($116.20/share for VDC and $44.63 for XLP) either fund is less expensive than a package of the 13 common holdings ($888.97 for one share of each). There is something to be said for accessibility.
Assessment
Any of the funds presented here would serve a retirement portfolio well. The consumer staples sector - like utilities - is comprised of businesses for which there will always be a demand. There is a "performance - dividend" trade off, which makes RHS seem the most suitable from both perspectives, as it offers an attractive compromise.
Disclaimers
This article is for informational use only. It is not intended as a recommendation or inducement to purchase or sell any financial instrument issued by or pertaining to any company or fund mentioned or described herein.
All data contained herein is accurate to the best of my ability to ascertain, and is drawn from the funds' homepages to the extent possible. All tables, charts and graphs are produced by me using data acquired from the funds, ETF.com and Morningstar; historical price data from Yahoo! Finance. Data from any other sources (if used) is cited as such.
All opinions contained herein are mine unless otherwise indicated. The opinions of others that may be included are identified as such and do not necessarily reflect my own views.
Before investing, readers are reminded that they are responsible for performing their own due diligence; they are also reminded that it is possible to lose part or all of their invested money. Please invest carefully.
"Choice Healthcare ETFs for Growing The Retirement Portfolio," Seeking Alpha, 22 September 2014.
"Utilities ETFs for Growing The Retirement Portfolio," Seeking Alpha, 25 September 2014.
"Info Tech ETFs for Growing The Retirement Portfolio," Seeking Alpha, 2 October 2014.
"Newer IT ETFs for Growing The Retirement Portfolio," Seeking Alpha, 9 October 2014.
Determined by dividing the number of weighted holdings constituting the top 33% of an ETF's assets by the total number of holdings. Higher is better.
FXG homepage.
RHS homepage.
PBJ homepage.
VDC homepage.
XLP homepage.
As usual, I get the initial list from ETF.com and Merrill Lynch Bank of America, of Bank of America Corporation (NYSE:BAC). All ETFs are U.S. based, with no international companies included; no leveraged or inverse funds are included; no CEFs or ETNs.
I do not rely upon Morningstar ratings in choosing ETFs; however, of the first three of the ETFs above, each receives a five-star rating from Morningstar, while the ETFs by Vanguard and SSgA only receive three stars.
To remind readers, the index tracking ratio is determined by dividing the fund's performance over a period of time by the performance of its index over the same period. An ITR of 100 means that the fund is performing exactly as its index is. Higher is better.
All but the newer IT ETFs (see note 4, above).
I was rather astounded that the five-year performance of these funds followed their ranking in my evaluation. The ranking was done before I set out to check the five-year figures. (You might note also that the YTD performance also follows the rankings. Neat!)
I was rather astounded that Coca-Cola Co. (NYSE:KO) was not among the companies. Although, in a way, it is owned by all five funds. Four own shares of KO. Two funds own shares of Coca-Cola Enterprises, Inc. (NYSE:CCE), while another two own Coca-Cola Bottling Co. Consolidated (NASDAQ:COKE). The problem was that none of the three forms of Coca-Cola was held by all five funds.
That is to say, as a package consisting of an equal number of shares of each company.
Disclosure: The author has no positions in any stocks mentioned, and no plans to initiate any positions within the next 72 hours.
The author wrote this article themselves, and it expresses their own opinions. The author is not receiving compensation for it (other than from Seeking Alpha). The author has no business relationship with any company whose stock is mentioned in this article.