After a brief fling in the 2004/2005 time frame, I have recently begun a position in Gap Inc. (NYSE:GPS). (Shouldn't Garmin (NASDAQ:GRMN) have that ticker?)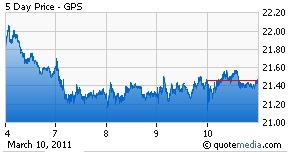 What I like about Gap is over the last 5 years, the company has made a substantial effort to reduce their common shares outstanding with excess capital generated from their operations. As a mature, fully saturated retailer, the company has given up the ghost of growing unprofitably in the US. Management has worked to reduce both the square footage and number of stores in the US. The Gap, Inc. has healthy free cash flow, limited Cap Ex needs, and been aggressive about allocating capital to buying their own stock and growing the dividend.
The company is investing in growing sales internationally with all three major brands, Gap, Old Navy, and Banana Republic, by establishing flagship stores in Canada, UK, China, France and Italy as well as further investment in their website and international shipping capabilities. Management says they do not have stores in markets where three-quarters of global apparel sales take place and that is their growth opportunity. In 2010, Gap, Inc. invested in the ability to ship on-line orders to over 90 different countries. They are also allowing franchise owners to create more stores in a number of mid-tier international franchise markets like Korea and several Middle Eastern and Eastern European countries.
The company is opening GAP Outlet Stores in the Canada, UK and Japan. Management is reducing the square footage in the US by combining Gap, Baby Gap, Gap Kids, and Gap Body stores into one store, shrinking the size of Old Navy stores, and trying to drive more sales through their website. They are also investing in both the Piperlime on-line sales platform and constructing stores in San Francisco, New York and LA to support their newer Athleta brand, which the company purchased in 2008. Athleta has been primarily a women's athletic clothing catalog and on-line site without a retail presence.
The data point that caught my attention was the reduction in the number of shares outstanding for the company. From approximately 897 million shares in 2003, Gap Inc, has repurchased over 31% of their stock so that at the end of 2010, there were approximately 612 million shares outstanding. The company announced a $2 billion buyback and increased the dividend to $.45/share/year with their 4th quarter earnings release (in February 2011), so that the yield on GPS is a little under 2%.
Another development is the initiation of a major position (5% of shares outstanding) by a respected value hedge fund manager. Normally, I do not get too excited about hedge fund presence due to the fleeting nature of some of their investments. However, this particular manager typically takes a long-term time perspective on his fund's retail investments. Donald Fisher, the company's founder passed away in 2009. His wife and children and their foundations own approximately 35% of the shares, although I did not delve into the details of those holdings. Two family members serve on the Board of Directors of the company.
The stock price of GPS has been in a 10 year trading range, so it is easy to see why investors fail to get excited about this equity. From August 2001 to present the stock price of GPS has primarily vacillated between $15 and $23 per share - briefly breaking above and below that range but for no extended period. In reviewing the company's financial data in Value Line, EPS of $1.26/share in 1999 were not exceeded until 2008, clocking in that year at $1.34/share. Sales peaked in 2004 with receipts of $16.267 billion, earnings were $1.21/share. In 2010 sales tallied $14.575 billion, but earnings per share were $1.82. The company has no long term debt, although they do have lease obligations of over $1 billion/year.
The market capitalization of the equity is approximately $13 billion. Operating margins have shown similar improvement to earnings; whether they can stay high remains to be seen. One investment question is has the company extracted all of the excess costs from their operations so that they cannot continue to grow gross margin and EPS with limited or no sales growth? The American retail apparel marketplace is over-stored and very competitive. Can Gap generate a lot of cash over the coming years by growing organically in international markets and reducing their square footage in the US?
In short, I believe the company's operating strategy makes a great deal of sense and the stock trades at a reasonable P/E multiple and Enterprise Value/EBITDA ratio. The price of the stock is consistent with the company's recent performance, however, I am betting the continued focus on using excess capital to repurchase shares will grow EPS at a far faster rate than the company's revenue line. Organic sales growth would be an additional bonus. The company's EPS and gross margins continued to grow through the Great Recession, which I believe shows the strength of Gap, Inc.'s brands. The company has generated unlevered returns on equity and assets in the low 20+% range for the last four years, which were not particularly friendly years to apparel retailers. On top of all this, are the company's share buybacks. Additionally, they have $1.6 million in cash, although they probably should keep between $1.2 million and $1.4 million on hand.
What could go wrong? The three major risk factors that I see are inflation pressure on COGS without the ability to pass those increased costs along to consumers; execution risk/market acceptance in the new expansion international markets; and maintaining fashion relevance with the company's core North American consumers (amongst all three major brands). Commodity inflation is a factor that could depress earnings in 2011 and beyond. The company is forecasting lower operating margin in 2011. Another major risk that I foresee is the market acceptance in the new markets in Europe, China, et al of the company's brands.
Are GPS brands differentiated enough from the current offerings in those markets? Best Buy's (NYSE:BBY) recent experience in China shows that every international market is different from the US and taking a successful concept in the US and copying and pasting it into other markets does not always turn out successfully. The third risk factor is not meeting the fashion desires of the North American consumer of Gap's brands in an hyper-competitive, over-stored U.S. marketplace.
Management has shown their capital allocation discipline by using excess cash generated by the company to buyback shares and increase dividends rather than over investing in stores in the US. They are continuing to work on the fashion offerings of their three major brands and spreading out their creative designers amongst their global markets by opening design centers is Asia and Europe. With the Fisher family's presence by way of their 35% stake in the common stock, this company can be run for the long-term rather than quarterly numbers, with the added bonus of not needing much leverage. I do not expect the price performance of this equity to be dramatic nor quick, but I believe over the next 3 to 5 years, with a little bit of sales growth, it could be substantial.
Disclosure: I am long GPS.