Shares of carbonated beverage companies largely outperformed the S&P 500 during most of 2010. However, Coca Cola (NYSE:KO), Pepsi (NYSE:PEP) and Dr. Pepper Snapple (NYSE:DPS) have underperformed the broader index in Q1 and 2011Y-T-D.
Coke's 2010 earnings were boosted by the non-cash gain from the acquisition of the North American ops of CCE its largest bottler. For Pepsi, total 2010 operating profit increased 4%, but operating margins decreased 4.2%. They too acquired their two largest bottlers [(PBG) and (PAS)].
Dr. Pepper/Snapple grew net sales by 4.1% in 2010 due to higher sales volume, favorable currency translations and revenues from licensing agreements with Pepsi and Coke.
What is the outlook for the industry and these companies?
All three names are well managed. Coke has a slight logistical advantage given its global reach and presence. Pepsi has been expanding into emerging markets such as Vietnam and Russia. The company also commands about 40% of the global "salty snacks" market. However, PEP faces commodity headwinds with its food units.
Dr. Pepper/Snapple has made its mark in flavored sodas, which are very popular in their core markets, particularly Mexico. Being the smaller of the three companies, key driver to DPS's growth will be in expanded distribution and installing more coolers.
A look at the financials:
Cash-Flow: KO has the most significant dual cash-flow trend, but it weakened in Q4 2010. PEP's dual cash trend has been flat in recent periods and only marginally positive since Q1 2010. The dual cash trend for DPS exhibits the most consistent pattern, but has been in negative territory for all seven periods reviewed.
Accruals: Levels of non-cash accounting varied between the three companies. Most favorable accrual trend is DPS, while KO has the most bearish. Keep in mind, a significant portion DPS's cash flows used by/in operations are current and non-current revenue resulting from the licensing agreements with Coke and Pepsi.
Capital Productivity: Efficiencies in working capital were noticeably similar in some area and a contrast in another. Analysis is compared to each dollar of sales.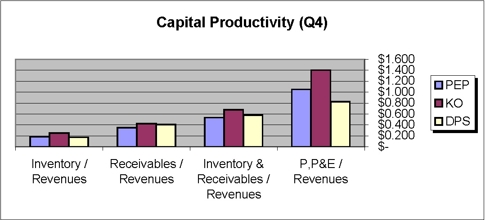 (Click to enlarge)
Inventory: $0.20 avg. with DPS lowest at $0.173 and KO highest at $0.253.
Receivables: $0.392 avg. with PEP lowest at $0.348 and KO highest at $0.422.
Property, Plant, Equipment: $1.09 avg. with DPS lowest at $0.827 and KO highest at $1.403.
Earning's Quality: B+ (KO, PEP and DPS)
Estimated Fair-Value:
KO: $55.30 +12.20% over fair-value
PEP: $60.86 + 6.23% over fair-value
DPS: $37.47 + 8.11 over fair-value
Summary: All three of these companies offer stable dividends, which look to be sustainable based on historical cash-flow trends. It is our opinion that while KO and PEP dominate the "cola" beverage markets, DPS benefits from "flavors."
Also, providing DPS can build on its distribution relationships with the larger players (KO and PEP), the benefits of "critical scale" may very well translate into a higher stock price in the future.
We'd look to buy all three stocks on any pull-back to our fair-value estimates and would place our paddle on DPS as the stock with greatest price potential.
You can read our full report on KO here.
You can read our full report on PEP here.
You can read our full report on DPS here.
Disclosure: I have no positions in any stocks mentioned, and no plans to initiate any positions within the next 72 hours. Links to report on our website