The technology sector has started to lag the broader market as mixed earnings results create uncertainty for investors. The chart below shows that the Technology Select Sector SPDR (NYSEARCA:XLK) began to weaken against the SPDR S&P 500 (NYSEARCA:SPY) in October. Investors have had mixed feelings regarding the industry as earnings reports from Google (NASDAQ:GOOG) (NASDAQ:GOGL), Netflix (NASDAQ:NFLX) and Apple (NASDAQ:AAPL) all painted different outlooks for the future.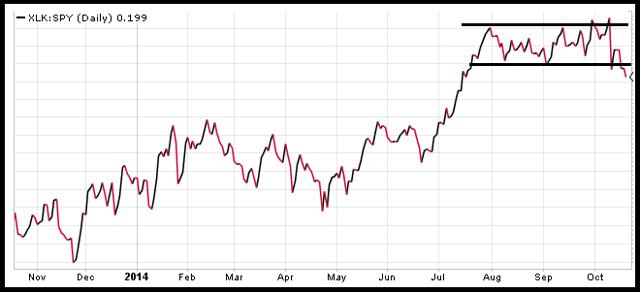 Google reported its quarterly results last Thursday, missing revenue estimates as internet advertising slowed. Google's revenue came in at $16.52 billion, slightly missing analyst estimates of $16.57 billion in the latest quarter. The falling revenue is mainly attributed to slower growth in paid clicks. The total number of ads expanded by only 17% in the quarter, down from a 25% growth rate in the previous quarter, according to Reuters. The company's stock dropped on the unexpected miss.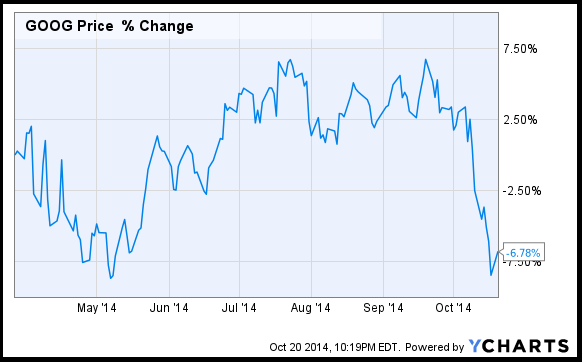 Meanwhile, Netflix reported revenue that was in-line with projections last week, but like Google's miss with paid clicks, Netflix also saw weaker new subscriber demand in the quarter. Netflix reported streaming revenue of $1.41 billion for the quarter, meeting analyst expectations. The composition of the revenue, however, was more concerning to analysts. Netflix showed that it added 3.02 million new streaming customers globally, versus the 3.69 million it projected in July. Shares of Netflix quickly fell 25% to $333.53 in after-hours trading, from its closing price of $448.59. "As best we can tell, the primary cause is the slightly higher prices we now have compared to a year ago," wrote CEO Reed Hastings to shareholders.
Although Hastings attributes the miss to company specific changes, revenue misses across the tech space indicate a structural slowdown in spending on technology may also be a factor.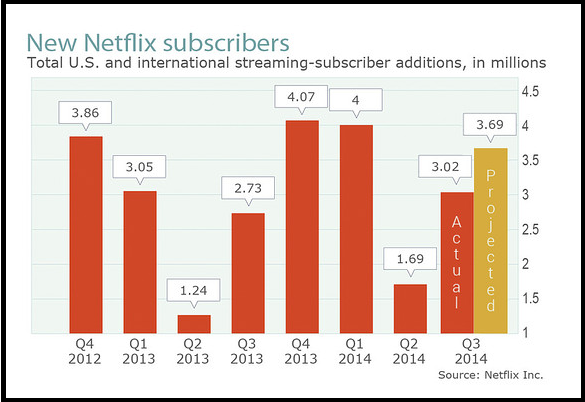 Data provided by Market Watch
Among weakness in the technology sector, there remains individual companies that are outperforming. Strong earnings from Apple on Monday night painted a rosier picture of consumer spending for technology products. Apple reported that orders for the iPhone 6 and 6 Plus, which began in September, contributed to a 12.2% jump in revenue last quarter to $42.12 billion, exceeding estimates of $39.9 billion. Increased revenue came as the new iPhone recorded the company's best product launch to date, while overall smartphone sales rose to 39.27 million in the quarter, also beating estimates of 38 million. Based off of the strong sales in both Macs and iPhones, Apple projected stronger-than-expected revenue from $63.5 billion to $66.5 billion in the December quarter, while the company's share price rose 1.3% to $101.10 in after-hours trade.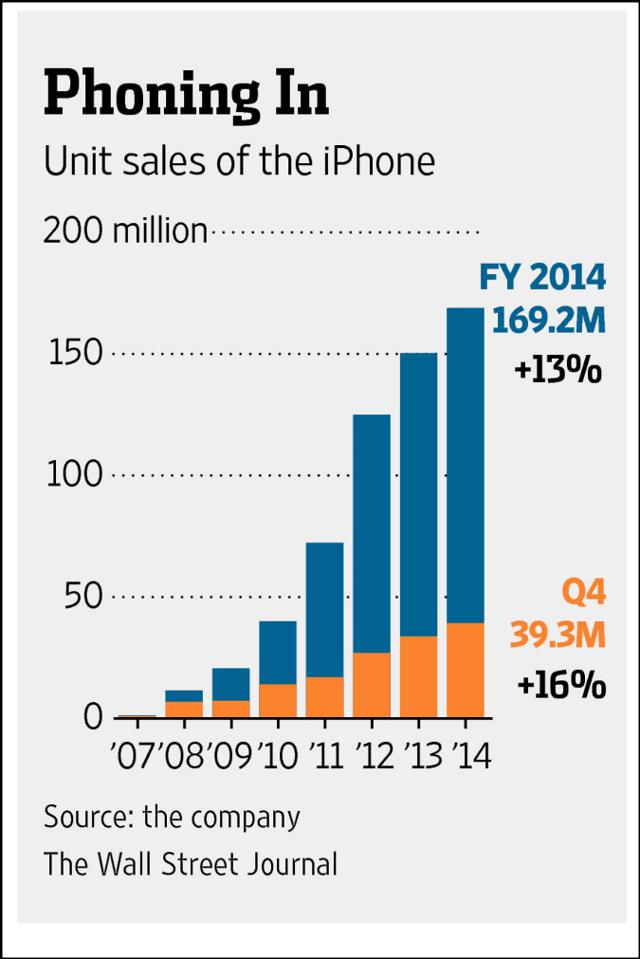 Data provided by Wall Street Journal
Uncertainty arises as technology companies report results that are largely presenting different outlooks. Company specific factors such as product launches and price rises should be factored into analyzing the results, but so should looking beneath to identify trends in technology spending. Currently, consumer spending and corporate investment are growing at a slower pace than many would like, and could slow even further as interest rates rise over the next few quarters. If tech companies continue to miss estimates on average, however, further selling pressure in the sector could occur, even as specific companies such as Apple continue to perform well.
Disclosure: The author has no positions in any stocks mentioned, and no plans to initiate any positions within the next 72 hours.
The author wrote this article themselves, and it expresses their own opinions. The author is not receiving compensation for it (other than from Seeking Alpha). The author has no business relationship with any company whose stock is mentioned in this article.