By Saul Griffith
A window of opportunity may have been created due their fall in the wake of the crude oil crash. Crude oil prices have been caught in a downward spiral since June following a glut in global supply, tepid demand due to weakening economic growth and in some measure, due to recent strength in the U.S. dollar.
Crude oil supplies have burgeoned following increasing production in the U.S. and in Libya, Iraq and Nigeria. Saudi Arabia is apparently more concerned with preserving its market share rather than implementing production cutbacks, and may be looking for a silver lining in low crude prices that could ultimately snuff out drillers in areas of the U.S. shale boom.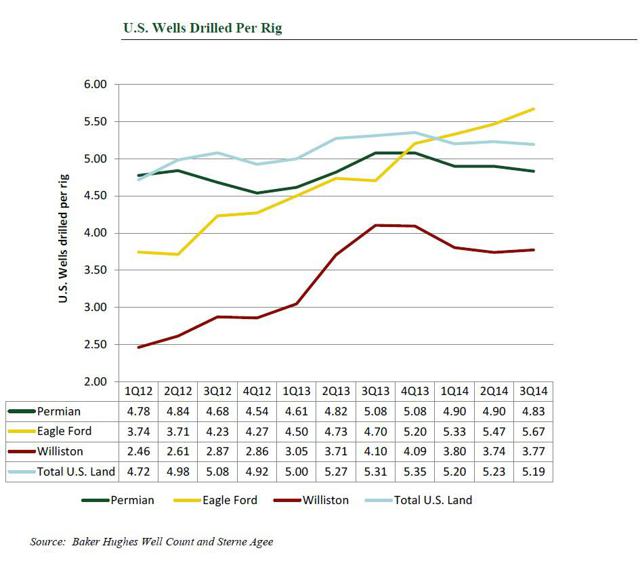 Spot Brent crude oil, the international benchmark fell from a high of $115.71 on June 19 to a low of $82.93 on October 16, a plunge of over 28%.
Plunge in crude and oil service stock ETFs
Stocks of oil services and equipment companies, which are inextricably linked to the fortunes of E&P companies, have naturally followed suit south, as can be seen from the chart below that plots the Market Vectors Oil Services ETF (NYSEARCA:OIH) together with United States Oil ETF, LP (NYSEARCA:USO).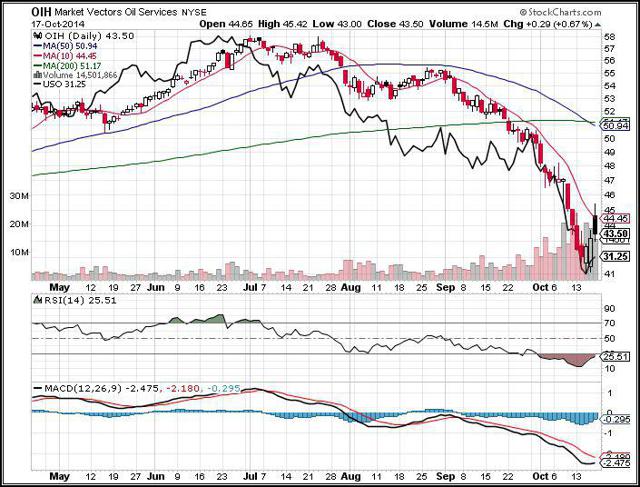 However, analysts Stephen D Gengaro and Ivan Suleiman of Sterne Agee are still positive on the prospects of stocks in the oilfield services and equipment industry over the medium to long term and believe the sell-off (see chart below) may have been overdone.


"We believe most U.S. non-conventional oil plays are economic in the $60-$80 range, and we expect 2015 earnings growth, albeit at a modestly slower rate," say the Sterne Agee analysts in their Industry Report of October 15.
Lower expectations for crude and oil service
The analysts have now scaled down their expectations of the price range of WTI crude for 2015 from the mid-$90s to between $85 and $90 per barrel, but point out that oil service stocks are factoring in significantly worse 2015 earnings due to weak oil prices than they are currently expecting.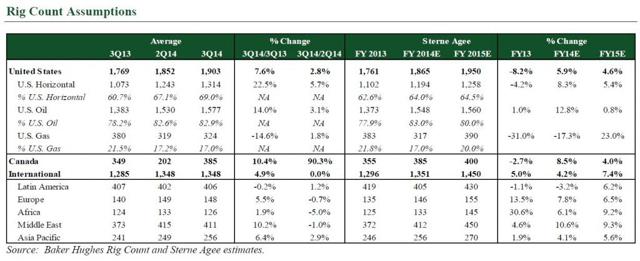 They have, nevertheless, trimmed somewhat their 2015 EPS estimates and price targets for companies in the oil services industry.
"We believe the stocks offer compelling value for medium- to long-term investors," they say. "Our favorite names include Halliburton Company (NYSE:HAL) (Buy, $68 price target), Schlumberger Limited. (NYSE:SLB) (Buy, $121 price target), and Oil States International, Inc. (NYSE:OIS) (Buy, $70 price target)."
The analysts have also upgraded Baker Hughes Incorporated (BHI) from Neutral to Buy and a PT of $72, citing a very favorable risk-reward ratio.

Sign up for our free daily newsletter

Disclosure: None