Immersion Corporation (NASDAQ:IMMR) reported Q4 and full year 2010 results last Thursday night (see company's press release and Seeking Alpha transcript).
Here are some of the highlights:
Total revenues for Q4 2010 were $6.4 million, exceeding company's guidance ($5.8 million to $6.3 million) and analysts expectations (consensus: $6.24 million);
Royalty and license revenues totaled $5.4 million;
Net loss for Q4 2010 was $(2.3) million, or $(0.08) per share, higher than consensus (negative $0.06 per share);
Adjusted EBITDA for Q4 of 2010 was a negative $(144,000);
Revenues for fiscal 2010 were $31.1 million, exceeding company's guidance;
Immersion's revenue stream from ongoing business, excluding the medical product lines sold to CAE Healthcare [CAE] during 2010 and $1.0 million in gaming revenues related to true ups, was $26.4 million for fiscal 2010;
Net loss for the fiscal 2010 was $(5.9) million, or $(0.21) per share;
As of December 31, 2010, Immersions cash, cash equivalents, and short-term investments were $61.2 million, compared to $63.7 million as of December 30, 2009 – however, the company's cash portfolio balance as of earnings date is $66 million, approximately $5 million higher than the cash portfolio balance on December 31, 2010, due to the collection of several cash payments that were originally expected in 2010;
In 2011 Immersions Board of Directors intends to re-start executing on the buyback program, under which the Company currently has $31.6 million remaining;
The company's Board of Directors announced that intends to nominate Carl Schlachte and John Fichthorn for election to the Immersion Board of Directors at the company's 2011 annual meeting.
A quick background to the last news.
Mr. Fichthorn is co-founder of Dialectic Capital Management, a hedge fund that had previously announced its intention to nominate two candidates for Immersion's Board of directors. Having reached an agreement with the company, Dialectic is now supporting and voting in favor of the 2011 nominees at the 2011 Meeting.
In its latest filing, Dialectic is now showing a 5.6% ownership of the company, a slight increase from its previous disclosure (5.2%).
On the other hand, Ramius, who had previously disclosed an 8.2% ownership of the company, has now slightly decreased its stake to 7.8% and is also withdrawing its 3 candidates for the Immersion's Board of Directors:
On March 11, 2011, Value and Opportunity Master Fund delivered a letter to the Issuer withdrawing its Nomination Letter and, accordingly, its nomination of David W. Barron, Peter A. Feld and/or Kenneth H. Traub, for election to the Issuer's Board at the 2011 Annual Meeting. Value and Opportunity Master Fund reserves all rights with respect to the 2011 Annual Meeting.
Back to Immersion's 2010 results. Here is how Vic Viegas, Immersion's CEO, resumed the company's performance in 2010 and described next year's targets:
Looking back, 2010 was a productive year for Immersion as we executed on the opportunity to realign our business and strengthen the overall organization to better position the company moving forward.

As part of this process, we streamlined the company to a predominately licensing base model, transitioned at certain medical product lines, right sized our employee base and cost structure, concluded two lawsuits, and rebuilt our executive management team.

In closing, 2010 marked a significant inflection point for Immersion.

In 2011, we expect to benefit from another year of solid double-digit revenue growth from our ongoing business and to achieve net income for the first time since 2007. We are focused on delivering cutting-edge haptics and user-experience solution through a system-level approach and further building on our position as the go-to partner in the space.
In terms of guidance, Immersion expects 2011 revenues to be in the range of $31 million to $33 million. At the midpoint, this would represent an increase of 21% from the ongoing business of $26.4 million achieved in 2010. It may be useful to note that Immersion recorded no royalties from the medical lines sold to CAE in the first half of 2010, so that it could be reasonable to object that the real result from ongoing business in 2010 should be considered slightly higher, and that growth is really forecasted to be below 20%. We believe that the company is being conservative in its guidance and expect it to beat the high end of the forecast.
Immersion also expects to generate net income for the full year, as we noticed from the previous conference call quote.
Here is a quick look at some of the numbers released for 2010, compared to previous quarters (click to enlarge pictures):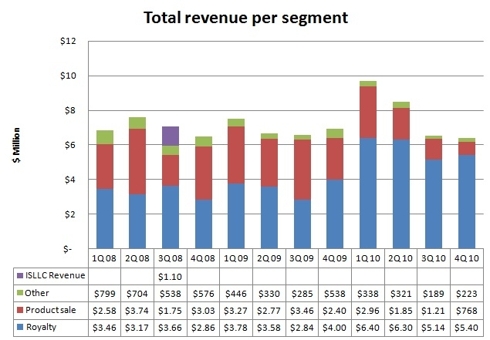 and the same view, related to royalties only: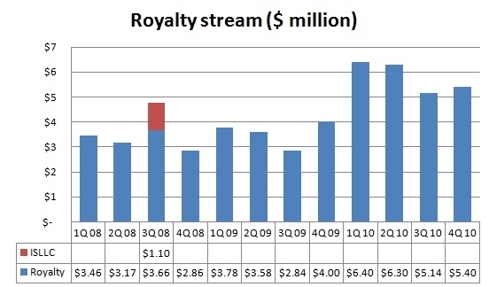 Analysts reacted generally positively to Immersion's results and 2011 forecast. Capstone Investments upgraded the company from Hold to Buy, while Dougherty & Co. raised their price target from $7.00 to $9.00 (Buy rating).
The recently released MOTIV platform attracted a lot of attention and questions during the conference call Q&A session. It may be worth spending a bit of time resuming what this new service may mean for the company, both in terms of revenues and visibility in the mobility segment.
Immersion's haptic technology was installed in more than 100 million handset during 2010:
Aaron Husock – Lanexa Global

Okay, great. I think at the end of '09 you told us that you shipped into 75 million handsets in 2009. I know you like to talk about cumulative numbers, but can you kind of give us a sense for how many units you shipped into in 2010? Was it 100, 125 million?

Victor Viegas

It was definitely more than 100. You know, specifically, I don't remember the exact number. I know that we're, you know, something north of 200. I think we're getting close to 230, 250 million. We're kind of in the ballpark there.
A good part of the more recently sold smartphones were certainly produced by Samsung (OTC:SSNLF) and LG (OTC:LGERF), and use the Google Android (NASDAQ:GOOG) platform. However, there are several other companies producing Android phones which are not Immersion's licensees. Some of them may utilize a different underlying actuator technology that still allows the phone to reproduce a simple "confirmation" effect, although they do not reach the sophistication and variety of Immersion's technology.
The MOTIV SDK enables haptics to play across the entire family of Android handset, although handsets that utilize Immersion's TouchSense technology will experience higher quality effects.
There are two positive aspects in this "agnostic" approach: developers can consider almost the whole Android market as benefiting from the introduction of haptic effects into their games, etc., and not only the Samsung and LG handsets, and more end users will be experiencing a "better" haptic feedback, which may be instrumental in convincing more handset producers to move toward licensing Immersion's technology (as it would really add just a few cents to the total cost of the handset, while meeting customers expectations better).
As we said, the MOTIV platform creates the potential for an additional revenue stream for Immersion. Let's have a look at the economics of the license agreement.
Each MOTIV Android application licensed or distributed brings a 5% royalty to Immersion, payable beyond a U.S.$50,000 revenue threshold. If the application is distributed free of charge, as it relies on advertising for profitability, the same royalty rate applies ("any Gross Receipts attributable to advertising invoiced during such calendar quarter").
It is obviously hard to predict how the developer community will react to this offering. Less than $0.04 on a $0.79 cents application may sound like little money to Immersion's investors, but a lot of money to share to small developers – investors should look at the larger picture (a potential additional revenue stream coming from the fastgrowing gaming application market, and more exposure for Immersion to try get additional handset licensees), and developers should consider the advantage of incorporating sophisticated haptic effects, previously associated only with gaming consoles, into mobile handsets (shifting more and more consumers to playing on their mobile phones or tablets). Convincing some key developers to launch "haptic" games would obviously help a lot, as the effect could soon become a "must have".
The timing for the first apps incorporating MOTIV being released is also hard to forecast. For this reason, the company included very little revenue from this new source into its 2011 guidance – as well as from additional handset licensees, or the fast growing tablet market, in spite of being incorporated in a few new products. Some more reasons why we expect Immersion to be able to exceed its 2011 conservative forecast:
Victor Viegas
So Charlie, 2011 on the tablet side, I think, our focus really is on design wins and launching products with our customers. We do not anticipate significant revenues from those. It's still too early to say which one will be successful and which will be average. So the guidance does not include much revenue, very, very modest amounts for tablet wins. On the OEM side, the current forecast does not anticipate any significant design wins with new OEMs, although our efforts are to close a number of new OEMs and we're optimistic that that will be achieved. But the forecast and guidance anticipates virtually no revenue from new OEMs on.
With some decent execution in the next two years, Immersion may well represent a two digit stock in the making.

Disclosure: I am long IMMR.