The National Association of Realtors released its existing home sales report for September. While the headline reports express renewed optimism because of the small August to September report increase in home sales, based on several metrics the underlying fundamentals continue to deteriorate. In addition, after setting a new low for the year on October 13, the Dow Jones Home Construction Index quickly spiked higher over the past five trading sessions. This index is now technically overbought and positions should be sold or sold-short.
Although the seasonally adjusted annualized rate of home sales for September showed a 2.4% increase from August to September, sales actually declined 1.7% from September 2013 to September 2014. In fact, this is the 11th month in a row that the year over year comparison has shown a decline (source: NAR, edits in red are mine):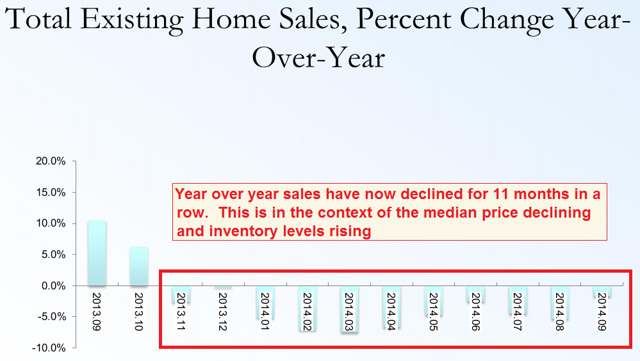 As you can see from the above graphic, existing home sales have contracted on a monthly year to year comparison basis every month since and including November 2013. The NAR imposes "seasonal adjustments" on its data sample and then takes the result and annualizes it. This is the seasonally adjusted annualized rate, or SAAR. Without having access to the data "adjustments" in order to assess the reasonableness of the assumptions, the best way to make an "apples to apples" monthly comparison is to look that the year over year comparison for each month. Clearly on this basis, existing home sales are in a state of contraction.
Furthermore, drilling deeper into the data reveals that the underlying fundamentals continue to deteriorate. First, it's been widely acknowledged that the "all cash" investment buyer has driven home sales over the past 18 months. But this demand cohort has been declining since the beginning of 2014. In the latest report, all cash sales were 24% of total sales, down from 33% in September 2013. Second, the 1st-time buyer, which historically has represented 40% of home sales, remained at 29% of sales. As the NAR notes, "first-time buyers have represented less than 30% of all buyers in 17 of the last 18 months" (from the link at the top). If the first-time buyer does not fill the void in sales volume being created by the declining demand from all cash buyers, the market will continue to decline.
In addition to those variables, and despite the fact that the NAR has stated that an increase inventory would stimulate an increase in sales, the inventory at the end of September was 6% higher than it was in September 2013. Moreover, months supply - considered to be an important indicator of market demand - increased from 5.0 months last September to 5.3 months in September sales. This because the rate of sales are declining relative to the increase in inventory. In my opinion, this is perhaps the most problematic variable for the housing market "bull" narrative. Finally, it took an average of 56 days for a listed home to sell vs. 50 days in September 2013. Again, this supports the thesis that the rate of sales are declining despite the increase in supply of homes.
One last point, these fundamental variables are deteriorating despite the fact that 30-yr fixed rate mortgages have declined a significant amount over the past 12 months: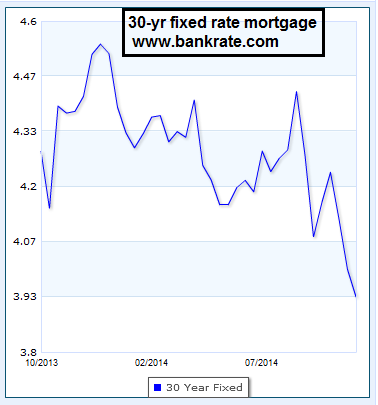 Relative affordability has been attributed as one of the reasons for declining home sales. However, mortgage rates have tumbled to near-record lows in the past few months, which should make monthly payments more affordable for the average homebuyer. Yet the substantial decline in mortgage rates this year does not seem to be stimulating an increase in home sales.
In consideration of this analysis of the latest existing home sales report, I believe that traders can successfully establish, or add to, short positions in the homebuilder stocks. After hitting a new low for the year on October 13, the Dow Jones Home Construction Index (DJUSHB) has corrected a technically oversold condition by staging a sharp 6-day (including today) move higher: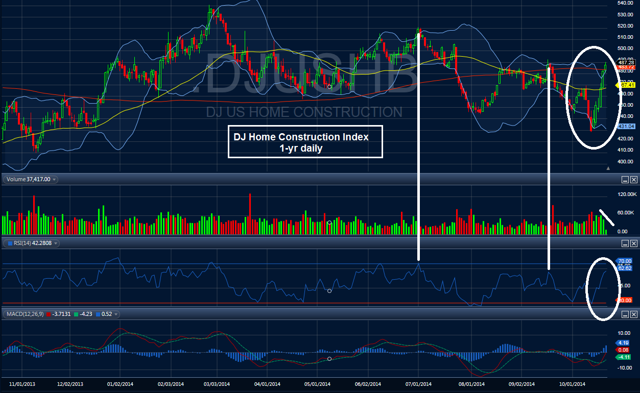 As you can see, the move over the last 3 days has been punctuated by declining volume, which is considered bearish. In addition, the RSI momentum indicator (middle panel, white circle) has bounced from an extreme oversold condition to an overbought condition. While there may be some steam left in this move, I believe now is a good time to start legging into short positions or unloading long positions.
I am currently short DR Horton (NYSE:DHI), KB Home (NYSE:KBH) and Ryland (NYSE:RYL). I also like shorts in Toll (NYSE:TOL), Pulte (NYSE:PHM), Lennar (NYSE:LEN) and Beazer (NYSE:BZH). RYL and PHM report their quarterly earnings on Thursday. The last two homebuilders to report, TOL and DHI, missed consensus estimates and their stocks were hit pretty hard. If RYL and PHM disappoint, it is likely their stocks will take a hit as well. Again, I always recommend taking partial positions when shorting stocks in order to have the ability to add to your position if the market goes against you in the short term.
Disclosure: The author is short DHI, KBH, RYL.
The author wrote this article themselves, and it expresses their own opinions. The author is not receiving compensation for it (other than from Seeking Alpha). The author has no business relationship with any company whose stock is mentioned in this article.