I feel badly for Whitney Tilson. Timing is everything. As investors, we all leave money on the table. And as another Seeking Alpha author, Robert Weinstein, told me the other day, "If you're not leaving money on the table, you're not making money." That said, Tilson has left quite a bit more money on the table than I have in his ultra-successful career. It's just the highly public way he announced ending his short position in Netflix (NASDAQ:NFLX), followed by the subsequent drubbing the stock took, that elicited my empathy.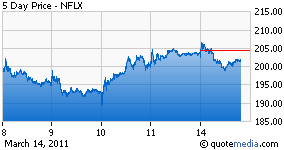 Had Tilson waited just a few days, he could have taken part in NFLX's decline from its 52-week high of $247.55 on February 14, 2011, to its closing price of $204.54 last Friday. During that period, NFLX has traded as low as $188.89. It's been an ugly descent with NFLX sliding about 17.4 percent from its high, as of Friday. If you have taken part in NFLX's rapid share appreciation, are buying what some investors consider "dips," or you are just flat long and holding, I think you should reconsider the stock's fate.
As a going concern, I doubt Netflix the company will go the way of Webvan (does anybody from San Francisco remember them?), but NFLX the stock will endure greater pain. In fact, within a year or two, I expect NFLX to trade below $100 a share.

Ultimately, Netflix's international expansion plans may pan out just enough to generate the rate of growth it needs to not only increase its share price, but to justify even its present depressed level. The problem that will continue to cause the shares to slide, however, is that nobody, particularly "the Street," will have the patience or the guts to wait around to see if the company can execute.

According to Netflix's most recent annual report, the percentage of free NFLX subscribers, as a total of all subscribers, increased from 2.4 percent in 2008, to 3.1 percent in 2009, to its 2010 level of 8.7 percent. Of course, the percentage of paid subscribers declined inversely. NFLX average monthly revenue per subscriber has decreased as well, from $13.30 per subscriber in 2009 to $12.19 in 2010, good for an 8.3 percent decrease. The reasons (or excuses) Netflix provides for these less-than-stellar numbers don't inspire confidence. In short, the company pins the blame on greater use of its lower-priced subscription plans and a decline in adoption of its higher-priced options. While they acknowledge this reality, they seem to concurrently cast it aside.

Recently, Jim Pyke published an excellent Seeking Alpha article analyzing Netlfix's churn. Pyke compares Sirius/XM's (NASDAQ:SIRI) churn rate to that of NFLX and comes to the obvious conclusion: While SIRI shows slower growth, it's likely more sustainable given its relative stability. SIRI also performed better than NFLX churn-wise during their more rapid growth periods. SIRI also posts more impressive revenue rates per subscriber. As Pyke points out, NFLX simply cannot keep up its current growth rate. If he's right, the high churn will come back to burn them... and hard.

For NFLX to even have a chance at remaining an overvalued $200-plus stock, it must blow the doors off of international expansion in record time. In a recent letter to shareholders, the company conceded that strong results from international expansion will not happen overnight, if they ever happen at all. While the company expects to turn a profit in Canada, its only international market, by Q3-2011, it projects international operating losses to be around $50 million in the second half of the year alone.

Operating under the assumption "that Canada continues to perform well for us," NFLX notes in the letter that it will move into a second, yet-to-be-named international market in the second half of 2011. What the letter states next comes off as confusing:

After launch, if we gain confidence in this second international market getting to profitability in less than eight quarters, with substantial profitability after that, then we will continue to expand and invest aggressively in 2012 around the globe.
Unless NFLX operates on a completely unorthodox fiscal calendar, this statement, coupled with the rest of the paragraph, makes no sense. If they introduce the second international market in the second half of 2011, the most they could get out of it is two full quarters. The following year, 2012, consists of four more quarters. That's a total of six. I don't think I need to provide further explanation. What they say is either incredibly optimistic (in which case, why did they mention eight quarters and "substantial profitability" thereafter?) or I missed something.

If you take the optimistic view, Canada becomes profitable before the end of the year, NFLX expands to international market number two in 2012, and it turns "substantially" profitable before the end of the year. I am not sure investors can wait that long. If you read what they actually said, we, assuming success, will see profitability in the second international market and further expansion, sometime in 2013.

How to Play It

We invest in a market that punishes stocks such as Apple (NASDAQ:AAPL) that underpromise and overdeliver with immediate and staggering growth on the basis of a short line at a Verizon (NYSE:VZ) retail store in sub-freezing weather. I find it hard to believe that NFLX can get away with a relatively slow and somewhat unclear and poorly-communicated international expansion plan without suffering a massive stock price decline between now and the next six to eight quarters. As such, I will look to buy NFLX January 2013 put options. By using options, you lessen your risk by not using excessive amounts of margin to short the common stock. If you're wrong, you stand to lose much less than you could by shorting such a volatile stock.

In particular, I will consider NFLX January 2013 puts with strike prices between $210 and $175. The premiums on these puts range from $60.75 to $38.55, respectively. I might also play a lotto ticket or two on far OTM NFLX January 2013 puts. For instance, if I am really right, the gains on some of these plays could be massive. I will also consider writing a bear put spread, which would limit my gains, but reduce my risk exposure because the credit received for selling a put at a lower strike price partially offsets the premium paid for a put with a higher strike price. For instance, if you executed a bear put spread in NFLX on Friday, you would have paid around $51.00 for the January 2013 $200 put and received $28.30 for selling the $150 put with the same expiration date, resulting in a net debit of $22.70. Of course, in all of these examples, I can close the position prior to options expiration to realize gains or limit losses.

Disclosure: I am long AAPL, SIRI.

Additional disclosure: I might initiate a short position in NFLX, as described in this article, over the next 72 hours.