The market has been extremely resilient in the face of growing global predicaments. The latest being the unfortunate Japanese earthquake and subsequent nuclear catastrophes. Notwithstanding, you have to ask yourself, have we reached a tipping point? With the wall of worry climbing to new heights and market headwinds blowing harder than ever, is it time to consider safeguarding wealth by adjusting your holdings into lower beta investments? I believe it is.
Simply put, it's time to play it safe. Beta is a measure of a stock's volatility compared to the overall market. Beta is a way to measure the risk involved with owning a particular security. The lower the beta, the lower the risk. With recent market volatility, endeavoring to moderate risk seems prudent. To achieve this goal, I am adjusting my portfolio to overweight in value equities. What is the best vehicle to accomplish this objective? After performing rigorous due diligence, my solution is Longleaf Partners Fund (LLPFX). Please review the following case for preserving wealth while potentially receiving a great return by investing long-term with Longleaf Partners Fund.
Managing Partners
Mason Hawkins has been chairman and chief executive officer of Southeastern Asset Management since 1975. He and his partners manage the Longleaf Partners Funds. Mr. Hawkins attended the University of Florida where he earned a B.A. in Finance and the University of Georgia where he earned an M.B.A. in Finance.
Mason Hawkins is a well-known investment guru. He knows what he's doing and does it well. Over the past 20 years, Longleaf Partners Fund has outperformed the S&P 500 index consistently. Please review the chart below for detailed fund performance results.
Cumulative and Average Annual Returns
Investing Philosophy
Longleaf Partners is a value investment fund. When appraising potential holdings, Longleaf looks for three things; good business, good people, at a good price. Hawkins and his partners seek to achieve superior long-term performance by acquiring equity securities in understandable businesses with strong balance sheets, run by capable management, and trading at less than intrinsic value. They only invest in companies trading at 60% or less of intrinsic value. Intrinsic value is appraised by reviewing the current value of a company's assets and liabilities and by analyzing the present value of future cash flows. Longleaf sells the equities when the respective companies reach their intrinsic worth. Hawkins believes it is important to have a portfolio concentrated in only the best investment ideas. The fund generally holds fewer than 25 stocks.
By employing this strategy, Longleaf shields their investor's wealth from permanent impairment while allowing for substantial appreciation once the market identifies the company's true value.
Fund Holdings Summary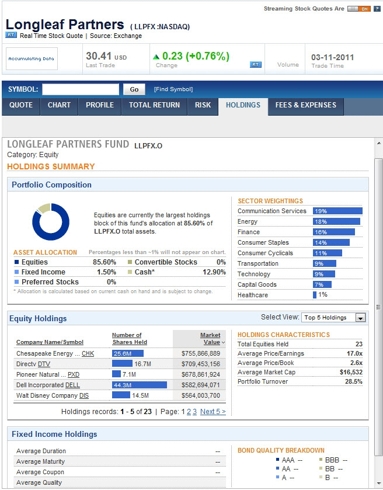 Top Ten Holdings
Dell (DELL) / Chesapeake Energy (NYSE:CHK) / DIRECTV (NYSE:DTV) / Pioneer Natural Resources (NYSE:PXD) / Aon Corporation (NYSE:AON) / The Bank of New York Melon (NYSE:BK) / Cemex (NYSE:CX) / Walt Disney (NYSE:DIS) / NIKSJ Holdings / Yum Brands (NYSE:YUM)
Recent Performance Summary
The Fund's 10.6% gain in the fourth quarter led to a 17.9% 2010 return. Longleaf outstripped their absolute goal of inflation plus 10% and the S&P 500 Index. Equities with double-digit value growth were among the Fund's largest contributors to performance. Pioneer Natural Resources, Cemex, and Chesapeake were the top contributors for the fourth quarter and the bottom three were TW Telecom (NASDAQ:TWTC), Fair Isaac (NYSE:FICO), and Service Corp International (NYSE:SCI).
Positive returns at Pioneer Natural Resource, Yum! Brands, Liberty Interactive (LINTA), and DIRECTV were major contributors to the funds' performance for the year.
Pioneer Natural Resources' stock rose 34% in the fourth quarter and 80% for the year. The company's success in the Eagle Ford Shale and its subsequent monetization via a joint venture with Reliance Industries (RIL.BO) moved the value.
Yum! Brands gained over 40% in the year. Yum has grown value in each of the last three years, including 2008. The largest increase in value has come from China where scale, widespread brand recognition of KFC, and a wealth of talented local managers provide significant advantages.
Liberty Interactive's appraisal growth of over 30% was reflected in its stock increase of 45% in the year (15% in the fourth quarter). Due to significant flux in the stock throughout the year, Longleaf scaled back on Liberty early in 2010 and added to the position in the summer. QVC had meaningful growth in television and internet sales as its superior lower cost model grew faster than almost all traditional retailers as well as the ecommerce industry.
DIRECTV began the year as the Fund's largest position and gained 20% in spite of a minor fourth quarter decline. The appraisal grew over 10% and since the start of 2008 has increased by over 20%. Slowing U.S. subscriber growth is being offset by increasing demand for advanced, higher margin offerings. Fewer new subscribers means that free cash flow will grow at a faster pace because subscriber acquisition cost will decline.
Negative returns at Level 3 (NASDAQ:LVLT) and Dell detracted from 2010's performance.
Level 3 fell 36% for the year but had a 5% gain in the fourth quarter following news of becoming a primary carrier for Netflix (NASDAQ:NFLX). Because of the 60+% contribution margin from additional revenues, the growing demand for internet video should add meaningful free cash flow over time.
Dell's stock declined 6% over the year after rising 4% in the fourth quarter. Longleaf's appraisal grew in the quarter. Dell delivered strong margins and earnings that far outpaced market expectations thanks to reduced component costs and a strong corporate refresh cycle that the company had predicted as well as double-digit growth in the solutions side of its business.
Conclusion Now, I'm not saying I'm taking my ball and going home never to trade again. I will continue to make trading plays. Although, I am shifting a large percentage of my core holdings from growth to value.
Longleaf Partners Fund is extremely well managed by top quality people and offers a safe haven for investors during tumultuous times, while providing superior returns. This is not a fund for traders. Longleaf is intended for long term investors. Hawkins chooses equities that perform regardless of market conditions. Warren Buffett, my favorite investment guru says, "Risk comes from not knowing what you're doing. " Mason Hawkins knows what he is doing and the Longleaf Partner Fund's performance proves it. Consider preserving wealth, mitigating risk and potentially receiving a substantial return by investing with Longleaf.
Disclosure: I have no positions in any stocks mentioned, and no plans to initiate any positions within the next 72 hours. Summary Chart provided by cnbc.com Fund information was gathered from longleaf.com. I may initiate a position in LLPFX within the next month. Consult with a financial advisor to ensure suitability regarding any investment.