It seems odd to use the word "invest" in the same sentence as the Pink Sheets. For over a decade, the Pink Sheets has been the cesspool of publicly-traded companies. It was a price quotation system for pump-and-dump penny stocks, companies delisted for fraud, and other companies generally unworthy of an investment. That has changed recently — I'll get to the changes later. But what I'm investigating is a potential investment in the company that runs the Pink Sheets — a company that is profitable, growing and pays a steady dividend. And yes, it is listed on a platform affiliated with the Pink Sheets.
OTC Markets Group (formerly known as Pink OTC) is traded on the OTC QX under the symbol OTCQX:OTCM.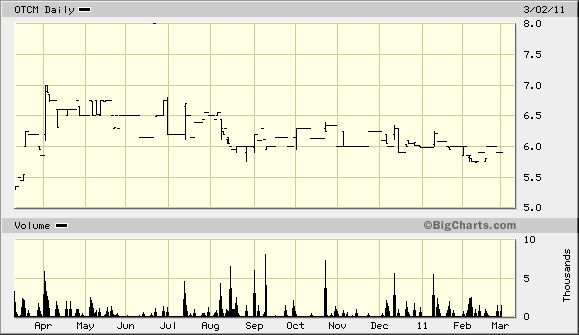 (Click to enlarge)
OTC Markets Group is not just about the Pink Sheets anymore. The company has transformed itself into a broad supermarket of listing options, of varying investment grades:
OTC QX US: The OTC QX US is for domestic companies with ongoing operations, a bid price above $0.10, duly organized with at least 50 beneficial owners, and current in quarterly and audited annual financial reports which are posted on OTCQX.com. If a company has a bid price over $1 and meets the qualifications for the Nasdaq Capital Market, it also qualifies for an OTC QX US Premier listing.
OTC QX International: The OTC QX International is a secondary listing for companies that are listed on a qualified foreign exchange and are current in their filings to their primary regulator. Companies that meet most of the requirements for an NYSE listing will also qualify for an OTC QX International Premier listing.
OTC QB: OTCQB is the tier that most of us think of as "bulletin board." Functionally, OTC QB is equivalent to a FINRA Bulletin Board (FINRA BB) listing. However, unlike FINRA BB stocks which are traded through an anachronistic system, broker/dealers can publish quotes for OTC QB stocks directly on OTC Markets' OTC Link quotation system. OTC Link has cornered about 95% of the volume in these quotes, causing thousands of companies to switch listings.
OTC Pink: this is the Pink Sheets. Still plenty of crappy stocks here, along with a surprising number of legitimate foreign stocks that for reasons that are not clear to me have not upgraded their secondary listing to OTC QX International.
Financially, OTC Markets is doing well. Spurred primarily by growth in listings, OTC Markets reported revenue of $7.07M and earnings per share of $0.103 last quarter. OTCM also paid a dividend of $0.04, as it has for the last several quarters.
At these prices OTC Markets appears fairly priced. If it earns $.50 over the next twelve months — a reasonable projection given its moderate revenue growth — OTCM will have a forward P/E of about 12. Not bad, but not a screaming value.
OTC Markets' growth is steady but not torrid, as I expected it might be given the listing gains. Last quarter revenues were about 14% higher than the prior year quarter.
Finally, due to the nature of its business, OTC Markets is likely to be significantly more exposed to market risk than most other companies. Trading and listing volume could take a big hit if there is another prolonged downturn in the market.
Bottom Line: For a company that runs the Pink Sheets, OTC Markets is surprisingly staid. OTCM is reasonably-priced but the big switchover from OTCBB to OTCQB has already occurred. OTC Markets needs to drive trading growth in all tiers and listing growth in OTC QX if it is going to take its business to the next level. Until then, I'm content to watch OTCM.PK from the sidelines.
DISCLOSURE: No position in OTCM. Plenty of positions long and short in companies traded on OTC Markets' various platforms.