Earlier this month, B&G Foods (NYSE:BGS) blew away its quarterly earnings estimates of $0.20 with a posting of $0.28. This sent the stock up from $14 to $18, on top of a 20% run over the last year which started 12 months ago at $10.
About a week prior to the earnings announcement, the company had declared a dividend increase of 24% from $0.17 to $0.21 quarterly. The former yielded about 4.8% on a share price of $14 and the latter yields 4.67% on $18. The obvious question now is whether BGS is currently worth the gamble and if it is attractive at its new inflated price.
image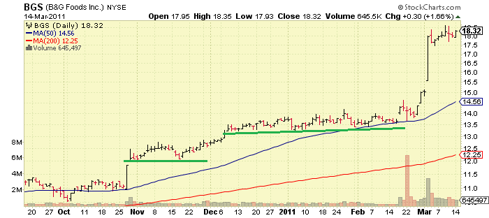 The impressive earnings were the result of a substantial increase in net income partly due to lower expenses over the last year. What's more impressive is the rise in net income since 2009. Two years ago B&G posted net income of $9.7 million. 2010 saw this rise to $17.4 million and, as was announced on March 1st, $32.4 million for 2011. This 100% increase was backed by a 16.2% increase in EBITA at $119.7 million. However, despite all of the positive news, EBITA guidance for 2011 was only $123 to $126 million. This is less than a 5% increase. There are serious threats that this guidance takes into account, including increased competition and cost of raw materials.
B&G's two biggest brands are Ortega and Cream of Wheat, which was acquired in 2007 from Kraft (NYSE:K). Ortega, acquired in 2003, is best known for its taco shells, salsas, and other Tex-Mex inspired foods. It is best in breed in this sector because who doesn't love taco night? But it does face competition from Old El Paso, owned by General Mills (NYSE:GIS), and Taco Bell brands (NYSE:YUM). As you probably know, Cream of Wheat offers a plethora of oatmeal choices. Its biggest competitor is Quaker Oats, which is owned by PepsiCo (NYSE:PEP), but it is easily in the top two in the sector.
Outside of this, its other brands are not nearly as strong. It does own the rights to Emeril's line along with a formidable condiment line, and a number of different spice companies; but there is just too much competition out there to make the brand appealing. (Two examples are Vlasic - ConAgra (NYSE:CAG) - against B&G Pickles and Aunt Jemima - PepsiCo- against Vermont Maid.) The company has to ride the strength of its big two brands and is very reliant on the brands' success.
Now, more importantly, all of these foods require raw materials to make them. Looking at the brands mentioned, it is clear that the price of wheat and corn would play a large factor in the success of B&G, along with all the other food companies. The earnings call noted that its input costs were low over the year, which is odd since the cost of commodities has been rising steadily recently, save the last week. But in its 10-K, B&G explains that it does do the majority of its raw material purchases from April through October. If this holds true, then it made out very luckily on the costs of these goods in 2010. For instance, the CORN ETF was trading, on average, below $30 during the buying period and has seen recent peaks in the low $40s, greater than a 30% rise. This surely explains in part why the guidance for this year is not as impressive.
However, there are some positives to note. For one, B&G has stockpiled some cash over the last year. As of January 1, it had $98.7 million in cash, 2.5 times what it had a year ago. What it intends to do with this is anyone's guess, but perhaps there are some acquisitions in the near future. It also refinanced some debt last year, saving the company a significant amount. More interestingly, it has initiated a $25 million stock repurchase program, which is generally a bullish signal.
Another positive factor is that B&G is relatively immune to global catastrophes, be they natural or manmade. It serves America, Canada, and Puerto Rico, with WalMart (NYSE:WMT) being its largest customer at 16.2% of sales. This means that its exposure is pretty good, but since WalMart also sells the brands of competitors, there is still a battle to be had.
As mentioned, B&G does offer a very attractive dividend. It has recently been increased two years after a cut. The dividend it is currently paying is the same as pre-recession and it probably will not be increasing anytime soon. With that being said, 4.6% is very good in this market, but if you are going to invest strictly for the dividend, I would wait until the price falls back to earth. There are stronger companies with stronger brands that will be putting pressure on B&G Foods.
Disclosure: I have no positions in any stocks mentioned, and no plans to initiate any positions within the next 72 hours.