Timothy Geithner's tenure as Treasury Secretary has been accompanied by an ongoing theme: China manipulates its currency and enjoys an unfair trade advantage. Just a couple of weeks ago he reiterated that the yuan is "substantially undervalued". But could that theme fade into the background if China's trade balance takes the spotlight?
Last month China posted a $7.3 billion trade deficit, the largest in seven years…and the fifth consecutive month that imports outpaced exports (exports gained 2.4% while imports were up 19.4%).
Granted, part of the reason for this latest gap is the Chinese New Year, which impacted inbound shipments. And rising commodity prices played a role. And we may see more monthly deficits: the Development Research Center of the State Council considers further trade gaps "likely". At the very least, the country's trade surplus will probably decline at an increasing pace.
There is a pattern emerging here. In 2008, China's trade surplus peaked at almost $300 billion. But in 2009, China's trade surplus declined 34% (as a result of the global economic crisis), and in 2010 the surplus fell another 6.4% last year. Officials expect another decline in 2011. Within the next two years, the ratio of trade surplus to GDP is expected to decline to less than 1% (in 2007, trade accounted for 9% of GDP).
The Chinese government has stated its objective to increase domestic consumption and reduce reliance on exports. But the government's primary challenge is inflation, which at least moderated at 4.9% last month (though food prices increased).
The bottom line: A trade deficit is just what China needs to alleviate some of the international pressure it is facing to allow a faster appreciation of the yuan (it has strengthened 3.5% since last June when the government allowed a managed float). And it's just what the Treasury Department doesn't need if they want to continue to vilify China for their manipulative ways.
image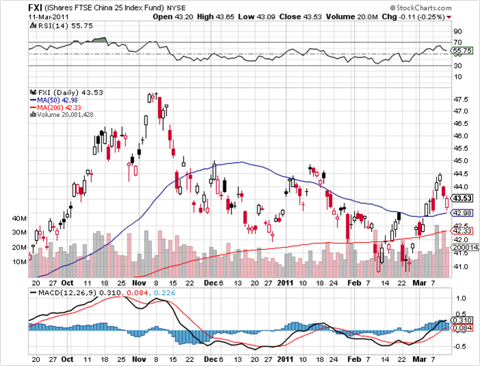 Disclosure: I have no positions in any stocks mentioned, and no plans to initiate any positions within the next 72 hours.