How the Quake Affects the Chip Supply Chain
By Martin Lariviere
The human toll of the Japanese earthquake clearly is the main story right now. There is also a supply chain story which while not as pressing right now is likely to be playing out over the coming weeks and probably months. Japan is a global supplier to many industries — particularly for semiconductors. Marketplace had the following graphic of the semiconductor and memory plants that have been affected (Earthquake in Japan jolts global supply chain, Mar 14).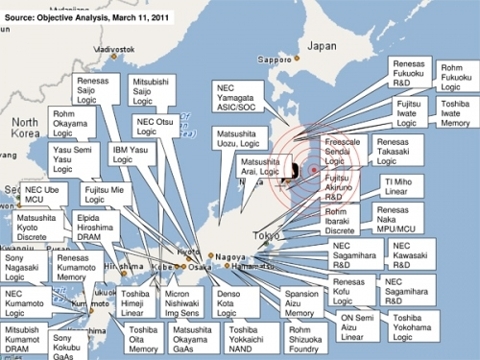 The impact of the quake was fast and widespread.
Immediately after the quake on Friday, semi-conductor plants more than 500 miles away from the epicenter shut their operations. That's like a quake in Richmond, Va., knocking out factories north of Boston, or one in San Diego shuttering factories in the suburbs of San Francisco.
Furthermore, these disruptions could go on for some time. It is not necessarily an issue of factories being damaged but that it is really hard to make precise, high-tech products with unreliable power.
Dean Freeman [a semi-conductor analyst at Gartner]: A bigger issue for Japan is the overall power situation. Right now they are shutting off power for eight hours a day, so that means semi-conductor plants going to have to figure out how have to work around the power outages. … If you are in the middle of a process at 1200 degrees C, and you have to shut the power down before you are done, there is going to be an impact.
With such a sharp reduction in supply, something has to give. In the near term that is going to be price. The Wall Street Journal reports that there has already been steep increases in prices for commodity electronic components (Quake Sparks Tech Supply Shortage Concerns, Mar 14).
Prices of the widely used 32-gigabit NAND flash chip, typically used in smartphones and tablets to store data, jumped as much as 17.7% in late Asia trade Monday, according to DRAMeXchange, Asia's biggest spot market for chips, reflecting concerns that a global supply shortage could be looming.

"Suppliers are likely to encounter difficulties in getting raw materials supplied and distributed and shipping products out. This is likely to cause some disruption in semiconductor supplies from Japan during the next two weeks," research firm IHS iSuppli said in a note.

Analysts said they expect memory chip and other component prices could rise further in the near term as uncertainties linger about supply, which could push costs higher for global consumer electronics makers.

"We expect phenomenal price swings and large near-term shortages as a result of this earthquake," said Jim Handy, an analyst at Objective Analysis. "Over 40% of the world's NAND flash … are manufactured in Japan. It doesn't take a large production decrease to cause prices to increase dramatically."
Over the longer term, there will likely be a battle for available capacity. If plants are slow to come back on-line, one expects suppliers to favor their major accounts. Apple (AAPL), for example, will likely get most of what they need but smaller firms could be left waiting and waiting.
This article was written by
Professor Gad Allon joined the faculty at the Kellogg school of Management in 2005, after completing his Ph.D. in Decision, Risk and Operations at the Columbia Graduate school of Business. His research interests include operations management in general, and service operations and operations strategy in particular. Recently, Professor Allon has been studying models of information sharing among firms and customers both in service and retail settings. Professor Allon also studies supply chain models of global dual sourcing. He is also conducting empirical studies to investigate time-based competition in the fast food industry as well as the factors contributing to emergency department overcrowding.