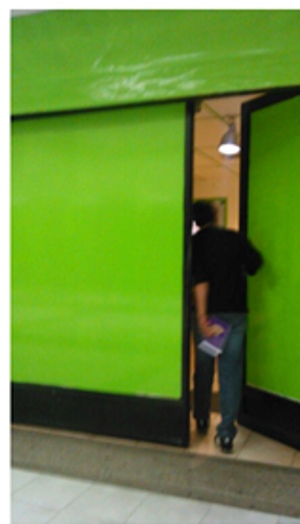 Man enters an Herbalife Nutrition Club
Caracas, Venezuela, February 2014
Photo credit: Orion Research
Amidst mounting economic chaos in Venezuela - capital controls, a collapsing currency, rampant inflation and rationing of basic goods - Herbalife Ltd.'s (NYSE:HLF) business inexplicably boomed: sales soared 118% in 2012 and another 88% in 2013. While other foreign consumer products companies suffered - for example, Clorox (NYSE:CLX) recently announced that it is shuttering its Venezuelan operations - Herbalife's business seemed only to improve with the growing economic instability in Venezuela, defying all logic and common sense.
Then, on July 28, 2014, Herbalife faltered, missing Q2 earnings expectations and disappointing Wall Street for the first time since 2008. The company pointed the finger at Venezuela where sales dropped 40% during the quarter. In fact, trade data for Herbalife's US exports to Venezuela show an even more dramatic collapse: In 2013, Venezuela imported 2.3 million kilos of Herbalife. In comparison, through June 30, 2014, Venezuela had only imported 352,625 kilos. If this trend holds, Venezuela will import around 800,000 kilos in 2014, a drop of 65%.[1]
While Venezuela accounted for only 5% of the company's total sales over the last twelve months, it has an outsized importance to the overall business. Of the company's approximately 60 Chairman's Club members (those at the top of the Herbalife marketing plan who earn millions of dollars), six are from Venezuela, and these influential leaders have played an aggressive role in expanding the company's Nutrition Club business not only across Latin America but also in the US. They have done so by leveraging a money transfer scheme in which Venezuela's accelerating economic collapse and artificial official exchange rates fuel sales of Herbalife products.
In Lewis Carroll's Through the Looking Glass everything is reversed and the clocks all run backwards. Filtered through the looking glass of Venezuela's artificial exchange rates, Herbalife's business became a distorted illusion as well: low prices turn into high prices, losses turn into profits, and unfair advantages become success stories used to inspire distributors across its Spanish-speaking markets.
Four Exchange Rates
There are currently four exchange rates in Venezuela. The most unrealistic is the government's CADIVI/CENCOEX rate - 6.3 bolivars to the dollar - which is only offered to companies importing essential goods. Herbalife used this rate to determine its revenues, earnings and assets until March 31, 2014 even though it was unable to convert any significant amount of bolivars at this rate.
A second official rate, SICAD-I, is weaker than the CADIVI, but still places a far higher value on the bolivar than the black market rate. Herbalife changed its reporting to this rate on March 31, 2014, using 10.7 bolivars to the dollar to value its revenues and assets, even though it hasn't been able to convert any material amount of bolivars into dollars at this rate either.[2]
In March, the government created a third rate, SICAD-II, which is supposed to float to reflect movement in the black market and reduce the black market demand for dollars. In fact the rate has remained fixed at around 50-to-1, and access is limited because it is still highly unrealistic. Many of Herbalife's competitors use this rate to report their operations in Venezuela.
The illegal black market rate reflects true supply and demand and closely mirrors the collapsing economy and spiraling panic in Venezuela over the last several years. On October 21, the black market rate was quoted at 99 bolivars to the dollar.
The Illusion of High Prices
By using non-market exchange rates to report its business, Herbalife has supersized every sale in Venezuela. In fact, the actual price of Herbalife's products in Venezuela - using the black market exchange rate - has been extraordinarily low compared with Herbalife prices elsewhere in the world.
Consider this example: in December 2013, Herbalife charged its distributors 537.38 bolivars for a 550-gram canister of Formula One. The black market exchange rate at the time was 60-to-1, making the real price of the product $8.96. But, by using the official exchange rate of 6.3-to-1, Herbalife recorded the sale in its financial statements filed with the Securities and Exchange Commission (SEC) at $85.30. Both prices are wildly unrealistic, as the same product sells to distributors for around $21.75 in the US.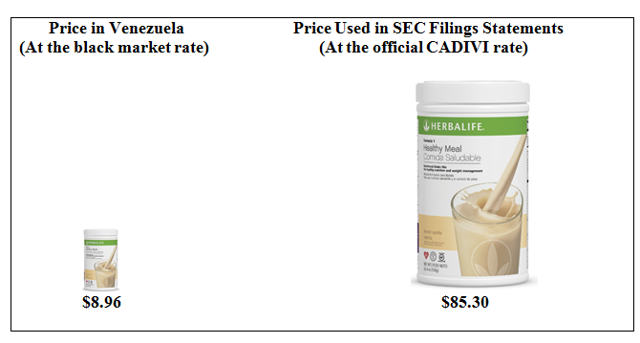 This nearly 10X difference in reported vs. real prices has allowed Herbalife to sell products at an absurdly low price while reporting sales at a highly inflated value. We know from crackdowns by Herbalife over the last year that non-Venezuelan distributors were purchasing volume in Venezuela and smuggling it out of the country. Why not? Distributors could buy the volume points they needed in Venezuela to advance up Herbalife's marketing plan at a fraction of the cost. Meanwhile, transactions diverted through Herbalife Venezuela resulted in supersized sales on Herbalife's financial statements. If a US distributor bought product in Venezuela, he paid just $8.96 instead of $21.75, while Herbalife recognized revenue from this sale at $85.30.
But, that's just the beginning of the story.
The Lure of Dollars
As part of a project for Pershing Square Capital Management, which has been publicly short Herbalife's stock since late 2012, my firm, Orion Research, spent a great deal of time visiting Herbalife Nutrition Clubs, which have been a key driver of the company's growth worldwide (you can read a Seeking Alpha article here about our Nutrition Club research, which shows that consumption in many Clubs is driven by quotas imposed on distributors as part of a bogus "training" process).
Orion had a representative conduct interviews in Venezuela, who visited numerous Clubs attempting to understand the business. His dispatches had a way of capturing the human element. From his notes following a visit to a Club on Margarita Island: "I drove to the fisherman village next to the coast and I found a door in the bottom of a multi-tenant house next to the corner shop. I knocked on the door. A group of three little kids opened and a second later, a half-naked woman asked me what I wanted. I introduced myself as a researcher on behalf on US investors. She asked me for a little time to get dressed."
When they sat down to discuss her Herbalife business, in a room with her "two yellow-headed parrots and a cat," M. described the excitement of attending an Herbalife "Extravaganza" in Colombia, but also her feelings of disappointment when she realized how little the bolivar would buy outside of Venezuela. She was forced to forgo many of the events and instead eat tuna fish out of a can in her hotel room. Our researcher summarized: "M. doesn't dream to leave her lovely island forever, but wants to go to Ecuador for a while and open an international account to develop her business abroad. That will give her the chance to win royalties in US dollars."
US dollars?
It is a topic that comes up again and again in our interviewer's notes, hardly surprising in light of the collapse of the bolivar, which is taking with it the savings and financial security of an entire nation. Everyone in Venezuela wants to change bolivars for dollars, and oddly enough Herbalife has offered a mechanism to do so.
'Other Country' Checks
A little known perk of an Herbalife distributorship is that every distributor, anywhere in the world, can earn commissions in US dollars. When distributors live in one country but earn commissions on sales in another, they are paid through Herbalife's "Other Country" system in dollars. This means Venezuelans can earn dollars if they either: 1) develop a downline in Venezuela and then move abroad, or 2) stay in Venezuela and create a downline abroad.
Because they are denominated in dollars, these "Other Country" payments are critically important to Venezuelans. Here's what two of them told our investigator:
From Merida, Venezuela: "J. thinks Venezuela is a 'ship out of control in the middle of the ocean' … he's thinking to leave the country, probably to Barranquilla, Colombia. Just in case, [he] is saving his [US dollar] Herbalife royalties."
From Caracas: "K. is a Supervisor and is close to opening her own club in her house. She sees the international business as an opportunity as she's planning in the near future to move out for 5-6 months to Barranquilla, Colombia. 'If I sponsor international accounts in Colombia or anywhere, Herbalife pays me in US dollars.' "
These "Other Country" checks raise important questions. First, why is Herbalife paying anyone in valuable dollars for sales in increasingly worthless bolivars that it can't repatriate?
Second, what exchange rate does Herbalife use to calculate these "Other Country" commission checks to Venezuelans? Does it use the same rate that it uses to value its sales and cash in Venezuela in its SEC filings and earnings statements? If it doesn't, it creates an accounting mismatch between how it values revenues related to sales and how it values the associated expenses. If it does use the same rate, it creates a highly attractive arbitrage opportunity for "Other Country" check recipients.
Herbalife's CFO Insists There's No Money Transfer Scheme
When asked by Fox News about comments Bill Ackman made during a July 22nd presentation about a possible "money transfer scheme" afoot in Venezuela, Herbalife's Chief Financial Officer John DeSimone dismissed the idea:
"So there was a time, for a three-month period, when the curb [black market] rate, which is the secondary rate back then in 2008, spiked up from the official rate and we were still paying at the official rate. We don't pay at the official rate now. We pay at whatever the parallel rate is, 50-to-1. And so there is no economic, monetary arbitrage within Venezuela. As a matter of fact, Venezuela was one of our biggest declines -- declining countries last quarter."
Fox correspondent Charlie Gasparino asked: "So it's a non-issue, you're saying, more or less?"
DeSimone confirmed: "A non-issue and completely inaccurate."
But hold on. The company was paying at the official rate in 2008 and then sometime between then and DeSimone's statement on July 22, 2014, Herbalife started paying its overseas Venezuelan distributors using a 50-to-1 exchange rate.
When did the change happen? What about all of those years in between when Herbalife beat Wall Street's earnings expectations quarter after quarter, thanks in part to its supposedly robust business in Venezuela?
We interviewed a former employee who shed some light on these questions. He recalled Herbalife paying at the official rate until sometime in 2009, when persistent declines in the bolivar brought the topic to a head.
"There were threats by the distributors that if we changed the exchange rate and bonuses, they would go and stop recruiting in Venezuela," the former employee said. The stakes were very high because Venezuelan distributors "have businesses all over South and Central America; they influence business in other countries as well as Venezuela."
As a result, Herbalife management, including Chief Executive Officer Michael Johnson, "had to get into very harsh negotiations with the distributors," he explained. The company stopped paying the official rate but paid something better than the black market rate. "Something in between."
This "something in between" is the root of the money transfer scheme. Turning purchases of Herbalife products in Venezuela into US dollar commission checks introduces an ulterior motive for purchasing Herbalife products. This system means that bolivars spent at Herbalife's warehouse in Caracas translate into US dollar checks deposited in overseas accounts or squirreled away in drawers and safety deposit boxes to be retrieved when the holder can take them abroad and cash them at a bank beyond the reach of the Venezuelan government. These checks are a hedge against a collapsing currency, a safety net over the financial abyss of hyperinflation.
Without the company ever disclosing it, Herbalife's business in Venezuela became inextricably tied to capital flight.
Understanding the Herbalife Arbitrage ("Herbatrage")
To understand how capital flight and dollar demand drove Herbalife's business, we need to disentangle the business of buying Herbalife products from the business of transferring money abroad. By doing this we can see what distributors were really paying for Herbalife products versus what they were paying to move money.
Consider a group composed of a distributor within Venezuela who purchases products and a chain of distributors above him who live (or claim to live) outside of Venezuela to collect commissions. Our research has found that many successful Venezuelan distributors have created just this structure using family members.
Transaction Number One: Buy Herbalife products with bolivars
Step #1: The Venezuela distributor in the group purchases one canister of Formula One for 537.38 bolivars, the distributor price in December 2013.
Step #2: Herbalife calculates the payments it owes to the upline members of his group based on wholesale commissions, royalty overrides and other payments due.[3] These payments, spread across the group, total approximately 50% of the purchase price, or 268.69 bolivars.
Step #3: Because the upline distributors live overseas, Herbalife converts their commissions to US dollars at its internal, "negotiated" rate. (Based on a number of interviews, we believe it is realistic to use an exchange rate of 46-to-1 for commission checks issued in December 2013. This rate is generous compared to the prevailing black market rate of 60-to-1.) After the conversion, Herbalife sends checks to group members totaling $5.84.
On the surface, this transaction is about purchasing product, which the distributor in Venezuela can now retail or use in a Nutrition Club as part of a business to recruit more distributors. Yet, the purchase also accomplished a simple money transfer: 537.38 bolivars are turned into $5.84.
Transaction Number Two: Exchange bolivars for dollars in the black market
Now, compare this transaction to one in which the distributor simply exchanges 537.38 bolivars on the black market - a transaction that, unlike the purchase of Herbalife products, was punishable until late last year with jail time. In December 2013, the black market exchange rate was around 60 bolivars to the dollar. That means the distributor would have received 537.38 bolivars / 60 or $8.96.
Now, we can determine the real price of Formula One for "Other Country" check recipients.
By changing their 537.38 bolivars using the purchase of Herbalife products rather than the black market, the distributor and his group members forfeited $3.12 - the difference between the $8.96 received in the black market and the $5.84 Herbalife commission checks. While the group gave up $3.12, they received in return one canister of Formula One, making $3.12 the effective cost to the group.
Thanks to Herbalife's "negotiated" exchange rate subsidy, the price of Formula One is actually much lower than the already low price we calculated earlier.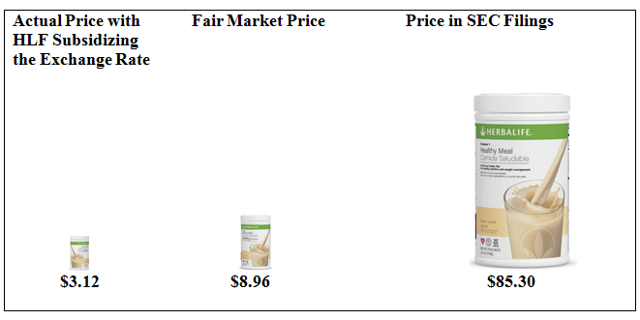 Depending on Herbalife's internal exchange rate (the closer it was to the official rate the greater the benefit), Venezuelan distributors could stock Nutrition Clubs with extraordinarily cheap or possibly even, at times, free products. No wonder Herbalife products were being smuggled out of the country - into Colombia, Ecuador, Brazil and elsewhere - at an alarming rate.
There's more. As we learned from our Nutrition Club research, Club operators in Venezuela and elsewhere recruit by using "training" systems that require trainees, as part of a "certification" process, to work for free in Clubs and to meet consumption quotas at the Clubs before they are allowed to open their own Club. That means Clubs, stocked with nearly-free products, are operated by workers who receive no salary and pay the Club owner to consume products while working.
It's not surprising that the most prosperous Venezuelan distributors are "Other Country" check recipients.
Where are the Chairman's Club Members?
In this online video, Fernando Rancel, Herbalife's first Chairman's Club member from Venezuela, boasts of having a house with the largest walk-in closet in Venezuela. Yet his mailbox appears to be in Colombia. Our research indicated[4] that every Chairman's Club member from Venezuela actually earns his or her check outside of Venezuela:
Fernando Rancel (Chairman's Club 2007): Colombia
Giancarlo Lanzilli (Chairman's Club 2008): Panama
Guillermo Luna (Chairman's Club 2008): Chile
Paulina Riveros (Chairman's Club 2012): the US
Juan Mendoza (Chairman's Club 2013): the US
Edgar Balbas (Chairman's Club 2013): Colombia
They're not alone. Our research found that this was common at lower distributor levels as well.
From Margarita Island: "Once again, I introduce myself as a researcher interested in Herbalife's business in Venezuela, on behalf of a US investor. She informed me that she was one of the deputies of this club. The owners are living since a couple of years ago in Uruguay, developing their network abroad."
From Merida: "J. mentioned that two of his sponsors are already living abroad, due the unsafe and violent situation that lashes some places of the [Venezuelan] republic. Some of them cannot disclose how much they have earned by Herbalife."
From Caracas: "The owners [President's Team members] are currently living in Galicia, Spain."
In fact, a review of distributors featured in Herbalife's Spanish-language Herbalife Today magazine shows that almost half of all distributors in the US advancing to or up the ladder of the President's Team in late 2012/early 2013 were from Venezuela.
Another one of our researchers caught up with some of those roaming Venezuelan Club owners in Puerto Rico. At a Club in San Juan, he struck up a conversation with a woman behind the counter who explained that she ran the Club for the owner, a Venezuelan with several Clubs on the island. While they chatted, a man and his wife entered the club and joined the conversation. He explained that they were Herbalife distributors, originally from Venezuela, visiting Puerto Rico to learn about setting up a Club, and, by the way, they already had a club - in Oklahoma.
Herbalife's bargain-priced Venezuelan product and "Other Country" checks had Venezuelan distributors on the move. Those moving abroad could get their commissions converted to US dollars. If they smuggled product out of the country, they could enlarge their downline organizations by running a Nutrition Club stocked with extraordinarily cheap or even free products. This was a highly effective, yet highly deceptive, way to expand Herbalife's Nutrition Club model.
Deceptive Disclosure
When Herbalife's top Venezuelan distributors take to the stage to shout about their success at events across the US and Latin America, they tell the hopeful audience that anyone can succeed with the right commitment and determination, but they don't disclose their unique advantage as earners of inflated US dollar checks.
When Herbalife talks to Wall Street about its apparent success in Venezuela, it cites sponsorship of local sports teams, but not price anomalies, foreign exchange rate negotiations or the special incentive for Venezuelans to earn US dollar checks. If Herbalife had disclosed these things to investors, they would have understood that the company's sales were grossly overstated and that its fastest growing market was ultimately a losing proposition.
Eventually, however, the money transfer scheme spiraled out of control, so Herbalife has had to quash it. The company has capped monthly sales to Venezuelan distributors, is cracking down on smuggling - making it hard to expand the Nutrition Club scheme to neighboring countries - and is hiking bolivar prices.[5] The result is the collapse of Herbalife's business in Venezuela, and a need to reckon with the aftermath.
Earnings Implications
If Herbalife were to make the long overdue move from SICAD-I (10.6 bolivars to 1 dollar at the end of June) to SICAD-II (50-to-1) (which is still half the black market rate), the company would need to reduce the value it's placing on its cash held in Venezuela (in bolivars) from $153 million to $33 million, necessitating a $120 million write-down to Herbalife's overall cash balance.
The move also would unmask the money-losing reality of Herbalife Venezuela. Over the past four quarters, Herbalife reported $257 million of sales in Venezuela, equal to about 5% of total net sales. The company doesn't disclose Venezuela's contribution to earnings, but based on Herbalife's reported revenue over the last four quarters and making a few assumptions pertaining to the cost structure of the business, we estimate that Herbalife Venezuela generated approximately $110 million in operating earnings, or roughly 14% of Herbalife's total adjusted operating income.[6] Alternatively, based on the year-over-year increase in Herbalife Venezuela's cash (in bolivars), we can estimate that it generated approximately $115 million in operating cash flow, equal to 15% of the company's total worldwide.
These "earnings" and "cash flows" are already being pummeled, and it will only get worse if Herbalife finally starts using SICAD-II. Unlike other multinationals operating in Venezuela such as Clorox, which tend to have local manufacturing capabilities, Herbalife both manufactures its products abroad and pays some - likely substantial - percentage of its distributors in US dollars (those sought-after "Other Country" checks). Thus, a reevaluation to SICAD-II's 50-to-1 exchange rate would meaningfully impact reported revenue from Venezuela, but likely leave the largely fixed US dollar cost structure intact. Rather than the estimated $110 million operating profit Herbalife Venezuela has contributed over the last four quarters, we calculate that a revaluation to SICAD-II would have produced a $65 million dollar loss (all things being equal), a $1.20 decline in earnings per share, and a 22% reduction to adjusted operating income. [7]
In 2013, Herbalife warned investors in its quarterly filings about the possibility of trouble brewing on the currency front: "If Herbalife Venezuela's ongoing operations were subject to the 75% less favorable exchange rate [at the time, implying a 25-to-1 exchange rate], Herbalife Venezuela would operate at a loss and this could have a significant negative impact to our consolidated financial statements." When the company issued its annual report, however, it removed this language.
Now, the company is trying to backtrack. During Herbalife's first quarter earnings call in April, when asked by an analyst whether the Venezuela business is profitable, CFO DeSimone replied: "That's an interesting question. So ultimately [it] will depend on whether we can repatriate the cash or not. If we can repatriate the cash, it's profitable. If not, it's about a breakeven market for us."
As the White Queen told Alice: "Why sometimes I'd believe as many as six impossible things before breakfast."
Christine Richard is the President of Orion Research LLC, which does investigative research for investors. She is a former reporter with Bloomberg News and Dow Jones and the author of Confidence Game: How Bill Ackman Called Wall Street's Bluff (Wiley, 2010). Pershing Square Capital Management, which has a short position on Herbalife, is a client of Orion Research LLC and provided assistance with the analysis in this article.
Additional disclosure: The author does not take positions in companies she researches. Pershing Square Capital Management, which has a short position on Herbalife, is a client of Orion Research LLC.
---
[1]US CUSTOMS data collected and published by ZEPOL Corporation.
[2]Herbalife requested in Q4'2013 to exchange 6.8 million Bolivar, which was approved in Q1'2014 by the government. They received $0.6m US Dollars (at an effective rate of 11.3x). This is the total amount they managed to exchange at SICAD-I. They also exchanged 5.3 million Bolivar at SICAD-II in Q1'2014 for $0.1m US Dollars (56.2x effective exchange rate). These two transactions represent the total amount of cash they've managed to extract from Venezuela in the past 12 months.
[3]Herbalife pays wholesale commissions of 25% to Supervisors for purchases by their immediate downline distributors. They also pay 5% in Royalty Overrides three levels up for a total of 15% and as much as 7% in Production Bonus payments for a total of 47% on each purchase. In addition, a high level distributor could expect to be paid a Mark Hughes bonus as well as earning vacations, etc. As a result, we believe that 50% is a reasonable estimate for the amount of "earnings" for a high level distributor's group.
[4]Herbalife does not publicly disclose the countries through which its top distributors' checks are processed.
[5]Herbalife may never be able to establish the same pricing structure in Venezuela as it has in other parts of the world. The Venezuelan government has begun to employ more creative means by which to curb rampant inflation. Earlier this year the government issued the Decree-Law for Fair Prices (Decree No. 600) aimed at ensuring fair and equitable prices for goods and services. The relatively untested law establishes a maximum profit margin of 30% above the cost structure of the good or service being provided. In February 2014, SUNDDE (the regulatory body established to monitor and enforce the new law on behalf of the Government) further published an Administrative Order stipulating that administrative, representation, advertising and selling expenses shall not exceed 12.5% of the production cost of the good or the provision of service. In this context, Herbalife's ~80% gross margins may not bode well with local regulators.
[6]Venezuela EBIT figures assume cost of sales at 19.8% of revenue, a contribution margin of 45.0% (implied based on Herbalife's "Other" primary reporting segment) and nominal SG&A at 2.0% of revenue.
[7]Assumes that a move to SICAD-II will result in the following changes to the expense line items: (i) cost of sales do not change (given Herbalife doesn't have manufacturing facilities in Venezuela), (ii) 50% of the Venezuela royalty override expense line item is subject to a reduced GAAP expense charge (vs. the other 50% which stays the same), and (iii) 25% of allocated SG&A is fixed and not subject to reduction in GAAP expenses. EPS figures based on a 29.4% effective tax rate and a diluted share count of 102 million.