First a brief background for the uninitiated. Most levered and inverse ETFs in the market today are designed to deliver x times the daily returns of an underlying index -- where x is usually something like 2, 3,-1,-2 or -3. The daily rebalancing nature of these ETFs leads their performance to drift from the underlying buy-and-hold indices. Volatility decay is the magnitude of this drift and as the name indicates is assumed to be negative.
Some very attractive strategies have been proposed that take advantage of this decay. However, all the simulations provided start from 2008-09 at the earliest as that is when the earliest levered ETFs came to market. For those of us who rely on simulations, this is somewhat concerning as a good simulation should cover a number of market regimes and since 2009 we have had for all practical purposes just one market regime (up and further up).
In this article we will use proxies to extend the simulation of one representative volatility decay strategy to the 1970s. We will show that the sign of the volatility decay is not always negative -- i.e., you will not always make money by being short volatility decay. We will also give some pointers as to what to look for in order to decide whether the current environment is conducive for short volatility decay strategies.
We will start by using two of the oldest available levered ETFs to create a market neutral portfolio. In our simulation we will use 50% of our starting capital to be short Direxion Daily Small Cap Bull 3X (NYSEARCA:TNA) and 50% to be short Direxion Daily Small Cap Bear 3x (NYSEARCA:TZA). This portfolio has no net market exposure and its returns are driven primarily by volatility decay. We will rebalance this portfolio every week to ensure that the market neutrality is maintained. Results of this strategy are below. These results do not take into account transaction costs including the cost of shorting.
Note: All images in this article have been created by the author.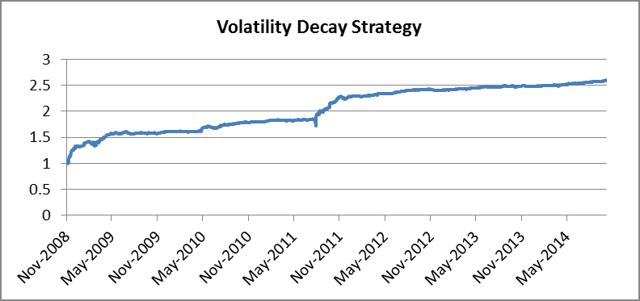 | | |
| --- | --- |
| Name | Volatility Decay Strategy |
| Annualized Return | 17.47% |
| Annualized Volatility | 10.18% |
| Downside Volatility | 4.30% |
| Max Drawdown | -7.34% |
| Information Ratio | 1.72 |
| Sortino Ratio | 4.07 |
| Calmar | 2.38 |
| Skew | 6.49 |
As you can see, the returns of this strategy over the past six odd years have been extremely impressive -- especially on a risk adjusted basis. Also note how the returns have sort of tailed off (though still positive) over the past couple of years. We will return to this later.
Now we will use the underlying index (Russell 2000) to create proxies for TNA and TZA using the following formula:
Daily return of proxy = Leverage*Daily return of Russell 2000 - Daily expense ratio of levered ETF
Leverage is 3 for TNA and -3 for TZA and daily expense ratio is derived from the published ER of the levered ETFs (0.95%)
As you can see below, the proxies are very good approximations of the real thing.
| | | | | | |
| --- | --- | --- | --- | --- | --- |
| Name | TNA | TNA Proxy | Name | TZA | TZA Proxy |
| Annualized Return | 19.13% | 19.10% | Annualized Return | -60.27% | -59.04% |
| Annualized Volatility | 79.75% | 83.09% | Annualized Volatility | 80.66% | 83.09% |
| Correlation | | 0.9956 | Correlation | | 0.9963 |
Since for the Russell 2000 we have daily data going back to 1978, we can use these proxies to create a simulation that goes back a few decades and covers a wide variety of market environments. We use the proxies to create a strategy that's exactly same as the strategy we outlined above (short 3x Russell 2000 and short -3x Russell 2000, rebalanced weekly). The results are below.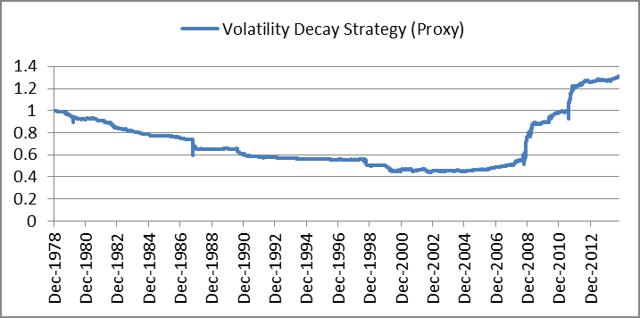 | | |
| --- | --- |
| Name | Volatility Decay Strategy (Proxy) |
| Annualized Return | 0.75% |
| Annualized Volatility | 7.69% |
| Downside Volatility | 4.37% |
| Max Drawdown | -58.93% |
| Information Ratio | 0.10 |
| Sortino Ratio | 0.17 |
| Calmar | 0.01 |
| Skew | 8.61 |
This chart took me by surprise and I hope it piques your interest as well. For the longest time -- 22 years to be exact -- it was better to be long rather than short volatility decay. Then, at the turn of the millennium, something changed and volatility decay as we know it today came into existence.
To understand what changed in 1999-2000 we have to understand what causes volatility decay in the first place. It's a mathematical exercise and if you are really interested we can point you to this excellent paper. But if differential equations aren't really your thing then you just have to take our word for it. The sign of volatility decay roughly depends on the ratio of realized return and cumulative instantaneous variance (return/cumulative variance). That's just a fancy way of saying that, if the asset is very volatile during a given period but ends up around the same place where it started (think 2011) the volatility decay of its corresponding levered (inverse) ETF will be highly negative.
Take a look at the chart below. It has the same long term strategy performance graph but now we have added the return/cumulative variance ratio referred to above. It's quite clear that till 1999-2000, this ratio was on average very high and that corresponded to negative returns for this strategy (+ve volatility decay). Since then, Russell 2000 has moved to a different regime which has corresponded to positive returns for this strategy.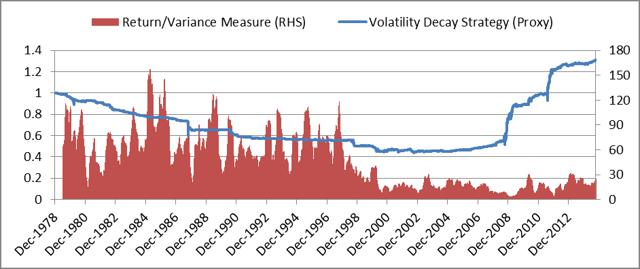 Now let's look at where we are right now. The chart below includes the performance of the actual strategy (based on ETFs) along with the return/variance ratio.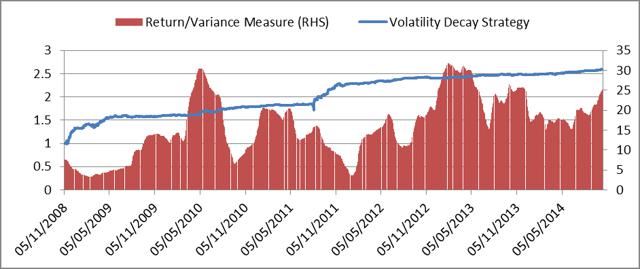 Right now, the return/variance measure is still low by long term historical standards. However, it is close to the upper end of the range of the past six years. So we should continue to expect positive but small returns from this strategy going forward. Similar ratios can be created for other assets -- SPDR S&P 500 Trust ETF (NYSEARCA:SPY), iShares MSCI Emerging Markets ETF (NYSEARCA:EEM), PowerShares QQQ Trust ETF (NASDAQ:QQQ), etc. -- in order to determine the attractiveness of running volatility decay strategies on their respective levered (inverse) ETFs.
The more important point is that if the ratio goes up much further, returns from this strategy will turn negative. So do not invest in these strategies in blind faith based on the off the charts simulations of the past few years. This is no free lunch.
Disclosure: The author has no positions in any stocks mentioned, and no plans to initiate any positions within the next 72 hours.
The author wrote this article themselves, and it expresses their own opinions. The author is not receiving compensation for it (other than from Seeking Alpha). The author has no business relationship with any company whose stock is mentioned in this article.