In light of the grave situation in Japan, nuclear energy stocks took a huge hit today. Though the two industry leaders, Cameco (NYSE:CCJ) and Shaw (NYSE:SHAW), were both down 23% and 28% respectively at one point, they both managed to regain some ground, ending the day down "only" 13% for Cameco and 9% for Shaw.
It's tempting to want to pick up these stocks at fire-sale prices, but I, for one, am hesitant. Why? Because we still don't know how the nuclear meltdown in Japan will play out nor can we know how it will impact the global construction of nuclear power plants. On the plus side (if there is a plus side to any of this), an analyst on CNBC today said that China is slated to build 40 nuclear power plants in the next several years and he felt that no matter what happens in Japan, China will build them (he didn't say what companies will be involved in their construction).
If you still feel that you need to get in on this action, there is a way you can reduce your downside risk: buy long-term call options. By purchasing at-the-money (ATM) calls, you'll get to participate in almost all of the upside but your downside will be limited to the price that you paid for the option. On top of that, you can write out-of-the-money (OTM) calls against your position every month which will reduce your cost basis. By the time options expiration rolls around, not only could you have paid off your initial position, but you easily could make money on top of it, even if the stock goes nowhere. Not too shabby!
Here's some of the numbers we're looking at:
Cameco (CCJ; $32.62): 2012 Jan30 call @ $7.80 (Open Interest (NYSE:OI) = 160)
Shaw (SHAW; $34.87): 2012 Jan35 call @ $4.15 (OI = 2.59k)
As with any trading strategy, there are a few downsides. The first is that as an options holder, you are not entitled to any dividends. Here, you'd be losing out on the Cameco dividend but the good news is that it's only a small one (1% yield). A downside of the covered call strategy is that you could get called out of your position, forcing you to sell your underlying option. Should this ever happen, you could re-enter your long position, albeit at a higher strike price.
Below are the daily charts of both stocks. The long bottoming tails and wide green bodies (especially on Shaw) indicate investor support.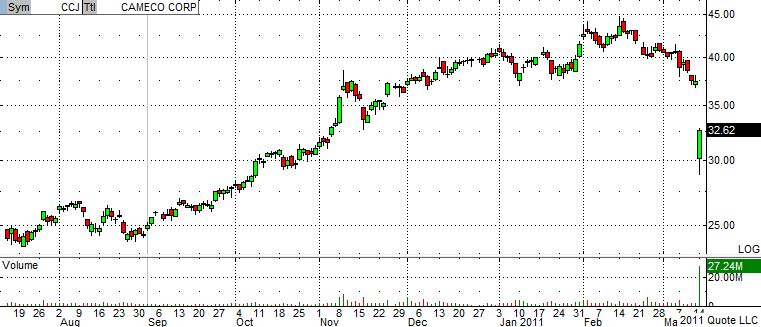 (Click to enlarge)