Coal is one commodity that people love to hate. Admittedly, the coal industry has had some issues, ranging from mine safety to potential links to global warming.
Still, when it comes to generating the power that lights our homes and businesses (and often heats them, too), coal continues to lead the way. Annual production is growing, according to the U.S. Department of Energy, and the country's exports also continue to rise.
As this EIA chart shows, coal generates nearly half of our country's electricity ... and that's not expected to change much in the decades ahead: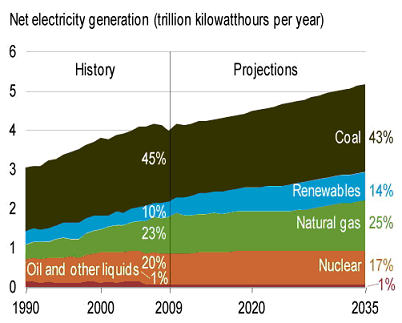 To play this strength, investors should consider exposure to coal in their portfolios. One potential option is Penn Virginia Resource Partners L.P. (NYSE:PVR), a limited partnership that's mostly mining in the Appalachian region. The stock is worth a look not only because the company carries less risk then a pure coal mining company, but also because the stock is currently yielding a dividend north of 7 percent.
In 2010 the stock rose 42 percent, outperforming the Dow Jones U.S. Coal Index, which was up 33 percent. Recently PVR has sold off to a level that brings it back to where it was at the beginning of November, potentially opening the window for investors to start establishing a position.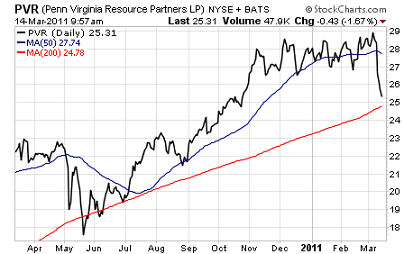 This company is not your typical coal mining operation. Penn Virginia, which has a market cap of $1.36 billion, doesn't own a mine or a natural gas well. It's a limited partnership that manages, via leases, coal and natural resource properties and processing stations for natural gas. This substantially reduces the company's exposure to risk from harvesting the commodities, while keeping cash flow high.
The company owns or controls approximately 804 million tons of proven and probable coal reserves in Central and Northern Appalachia, in the San Juan Basin region of New Mexico, and in southern Illinois. The partnership contracts with mining companies to dig it up or, for natural gas, to drill the wells. Penn Virginia is a midstream producer of natural gas, with gathering systems in the Southwest, Pennsylvania and Wyoming.
In 2010, the partnership's lessees produced 34.5 million tons of coal from its properties and paid coal royalty revenues of $130.3 million, or an average royalty of $3.78 per ton.
For the full year, Penn Virginia reported a 16 percent increase in operating income to $125.9 million, three-quarters of which came from the coal and natural resource management business. Net income for Penn Virginia grew 9.3 percent to $43.1 million, or $0.83 per share.
Of particular note for high-yield investors, the cash distributions from limited partnerships like Penn Virginia can offer better dividends than many stocks or fixed-income options. For example, Penn Virginia's quarterly cash distribution is currently $0.47 per unit, equaling a yield of 7.2 percent, and has steadily increased over the years. Considering that the average dividend yield of an S&P 500 stock is less than 2 percent, partnerships such as Penn Virginia offer some obvious advantages in terms of total returns.
This partnership also just completed an acquisition that should enhance value for shareholders: On March 11, it finished the deal for Penn Virginia GP Holdings L.P. (PVG), which had held a small interest in PVR. Given the recent sell-off in the stock, it's worth looking closer at this transaction. However, it's important to also point out that many stocks have fallen from recent highs in recent weeks, so this acquisition is not the only thing moving shares.
Income investors should add Penn Virginia to their watch lists and look for shares to find buyers, as that fat yield becomes too nice to pass up. Remember to always complete your own due diligence before buying any shares.