Although the headline inflation figure was flat in September, commodity prices remain a mixed bag of strength and weakness. On Wednesday, consumer prices rose 0.1% from the previous month, according to the U.S. Labor Department. The department cited that a rise in food and shelter costs had offset a broad decline in energy prices, resulting in marginal growth in the inflation figure. CPI increased 1.7% annually in September, coming in below the Federal Reserve's 2% target, suggesting the Fed may continue to keep interest rates low. The issue is, however, that the stagnant headline number failed to represent what costs to consumers were rising and falling. While coffee and cocoa prices get relatively more expensive, oil prices continue to decline creating a more staggered view of true inflation.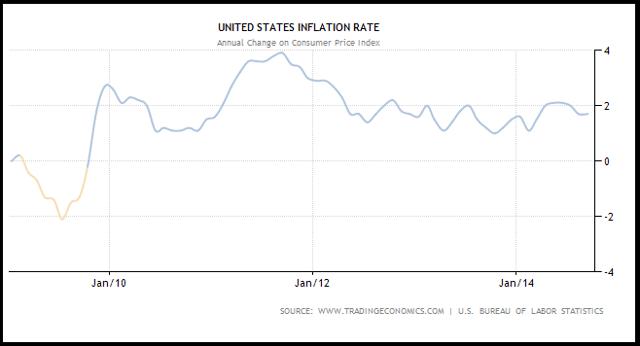 Data provided by Trading Economics
First, consider the importance of coffee to Americans. Waking up and drinking a latte from Starbucks (NASDAQ:SBUX) has become a cultural norm. Now consider the impact on consumers when the price of that latte gets significantly more expensive. Brazil, the world's largest coffee grower, produces nearly 35% of the world's coffee and almost one-half of the globe's Arabica coffee bean crop. A lack of rain in Mogiana, Sul Minas, and Cerrado, the country's coffee-growing regions, has delayed the tree-flowering period, which spans October and November, according to Wall Street Daily. The delayed production has resulted in 2014 estimates for the coffee crop to decline 13% from last year, to only 48 million 60-kilogram bags. As the harvest projections have withered, the price of coffee futures, represented by iPath DJ-UBS Coffee TR Sub-Idx ETN (NYSEARCA:JO), has nearly doubled, with Arabica futures nearing 2.5-year highs at $2.29 a pound.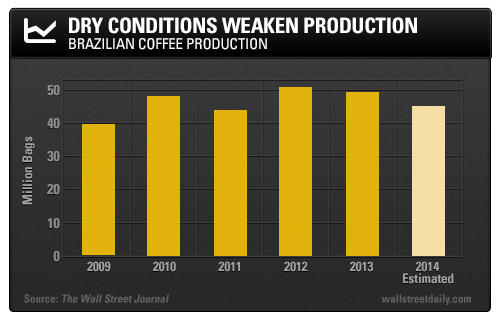 Data provided by Wall Street Daily
Similarly, an outbreak of the Ebola virus is West Africa is leading to speculation that the region's cocoa production this year will suffer, driving the price of the commodity higher. Cocoa futures are closely tracked by iPath DJ-UBS Cocoa TR Sub-Idx ETN (NYSEARCA:NIB). The Ivory Coast in Africa, a major producer of the world's cocoa supply, is currently Ebola-free, but it borders two severely affected countries in Guinea and Liberia, according to CNN. Fearing that the virus will soon reach into the cocoa production region, preventing the movement of cocoa farmers as the main harvest season kicks off, is leading to a spike higher in cocoa prices. In September, the cocoa industry reported that prices are up 23% from last year. Nitesh Shah Analyst at ETF securities believes cocoa prices could rise even more. "Ivory Coast is one of the largest producers of cocoa, producing around 35% of the world's cocoa output, and Africa in general produces about 70% of the world cocoa output," explained Shah in a note to clients. "Any threat of that virus disrupting the flow of harvested cocoa beans out of the producing regions could threaten to increase cocoa prices once again."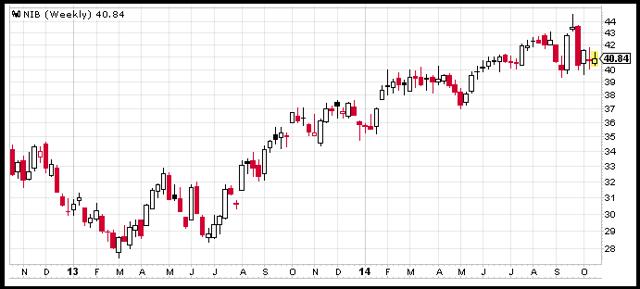 Data provided by Stock Charts
Lastly, although the prices of cocoa and coffee have spiked, American consumers have felt relief at the pump, as gas prices declined over the past few months. Gas prices are down close to 30% from its June peak, according to a spot index of unleaded gasoline. Oil futures are closely tracked by United States Oil (NYSEARCA:USO). It is believed that Saudi Arabia is artificially weakening the price of oil to pressure U.S. energy companies to slow production. Last week, Saudi Arabia lowered its trade price of oil to Asia, sparking Iran and Iraq to follow suit. Within the Middle East, there are nearly 20 nations that rely on oil for close to 50% of its budget. The so-called "Oil War" is hurting producer profits both in the U.S. and abroad, while consumers are the main beneficiaries.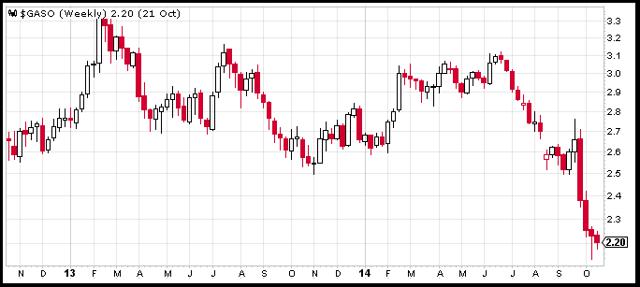 Data provided by Stock Charts
The headline picture of inflation is misleading as it does not show what prices are specifically rising and falling for consumers. Prices of cocoa and coffee have risen steeply this year, clearly hurting consumers who purchase such items regularly. Meanwhile, the price of oil is falling, leading anyone with a car to instantly have more disposable income after filling up at the pump. While many view inflation as some abstract concept, it does affect consumers on a daily basis, and is thus important to analyze in depth as to understand how one's spending behavior may need to be altered.
Disclosure: The author has no positions in any stocks mentioned, and no plans to initiate any positions within the next 72 hours.
The author wrote this article themselves, and it expresses their own opinions. The author is not receiving compensation for it (other than from Seeking Alpha). The author has no business relationship with any company whose stock is mentioned in this article.