The Internet hosts dozens of dividend growth investment, or DGI, blogs. You can easily find them using your favorite search engine. Another way to find DGI blogs is to start with one, like the popular Dividend Mantra and follow links from that site's blogroll. I find it fascinating to scan other DGI blogs from time-to-time to see what like-minded investors are up to.
Many DGI bloggers make their portfolios public. You can learn a lot by studying these portfolios and by reading posts that announce new buys or sells. Since DGI bloggers are investing their own money, they research companies and analyze financial results, sometimes using very sophisticated models and approaches. Often, someone else's unique way of thinking spawns new ideas in my mind...
A while ago, I expanded DivGro's blogroll to include nearly 100 blogs. There is a special section highlighting active blogs that are at least one year old. I provide short descriptions to tell readers what each blog is about. Additionally, I include links to the public portfolios of blogs in my blogroll. These links are marked with a ¶.
With a little work it is possible to get an interesting, composite view of dividend growth investing from public DGI portfolios. Earlier this year, I used 20 different portfolios to create a list of popular dividend growth stocks. On that occasion, the four most popular dividend growth stocks were McDonald's (NYSE:MCD), Chevron (NYSE:CVX), Johnson & Johnson (NYSE:JNJ) and Coca-Cola (NYSE:KO).
The purpose of this article is to repeat the exercise, but this time with the much more comprehensive list of blogs in my blogroll.
Dividend Growth Stocks
Dividend growth investment focuses on companies that regularly increase dividends. To qualify as a dividend growth stock, I'm requiring growth in dividends over a period of at least five years. Furthermore, I'm limiting candidates to those that trade on U.S. exchanges. This does not exclude all foreign stocks, since many of them trade as ADRs (American Depository Receipts) on U.S. exchanges.
The abovementioned definition of dividend growth stocks happens to correspond to the one used by David Fish in compiling his list of CCC stocks (Champions, Contenders and Challengers). The accompanying spreadsheet provides key statistics on CCC stocks and is a wonderful resource for dividend growth investors.
Compiling the Portfolio
To compile the portfolio, I created a spreadsheet with 60 columns corresponding to 60 public portfolios linked from DivGro's blogroll. Each column lists the tickers of stocks for one of the public portfolios. I added tickers corresponding to DivGro's holdings in another column. Then I collated all tickers and counted the number of appearances of unique tickers, sorting them by decreasing frequency. Out of 1,241 tickers, 353 are unique.
In the next step, I removed tickers that do not appear in the CCC list (the 9/30/14 version), retaining only tickers of dividend growth stocks as defined above (150 tickers remain). Sorting these tickers by decreasing frequency results in the following frequency histogram: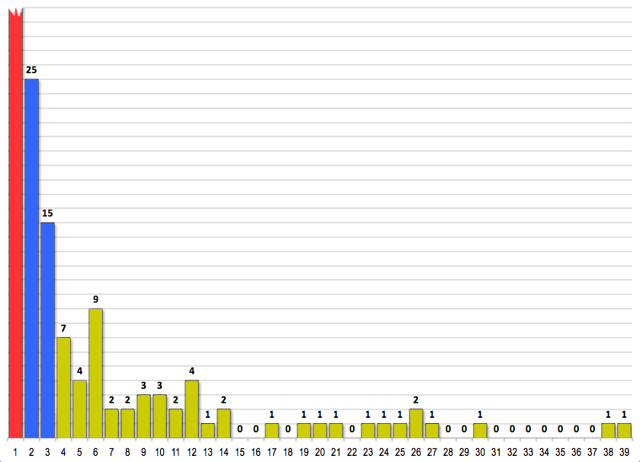 Two tickers appear in 39 and 38 portfolios, respectively. They are the most popular dividend growth stocks by far. Working from right to left, I added the number of tickers in each bar together until I got to a reasonable portfolio size. For the purposes of this article, I chose a liberal number of 52 tickers, indicated in the frequency histogram by gold colored bars. These tickers constitute what I call The Bloggers' Dividend Growth Portfolio, or the Bloggers' Portfolio for short.
The blue bars above represent stocks that appear in only two or three portfolios. These stocks are not necessarily inferior stocks. In fact, there may be some hidden gems among them that only a few DGI bloggers have "discovered" so far.
The red bar represents tickers that appear in only one portfolio. There are 58 of these, so the left-most bar is cropped. Again, I wouldn't dismiss these stocks outright simply because they are not so popular among DGI bloggers.
The Blogger's Dividend Growth Portfolio
The 52 dividend growth stocks in the Bloggers' Portfolio appear in at least four portfolios: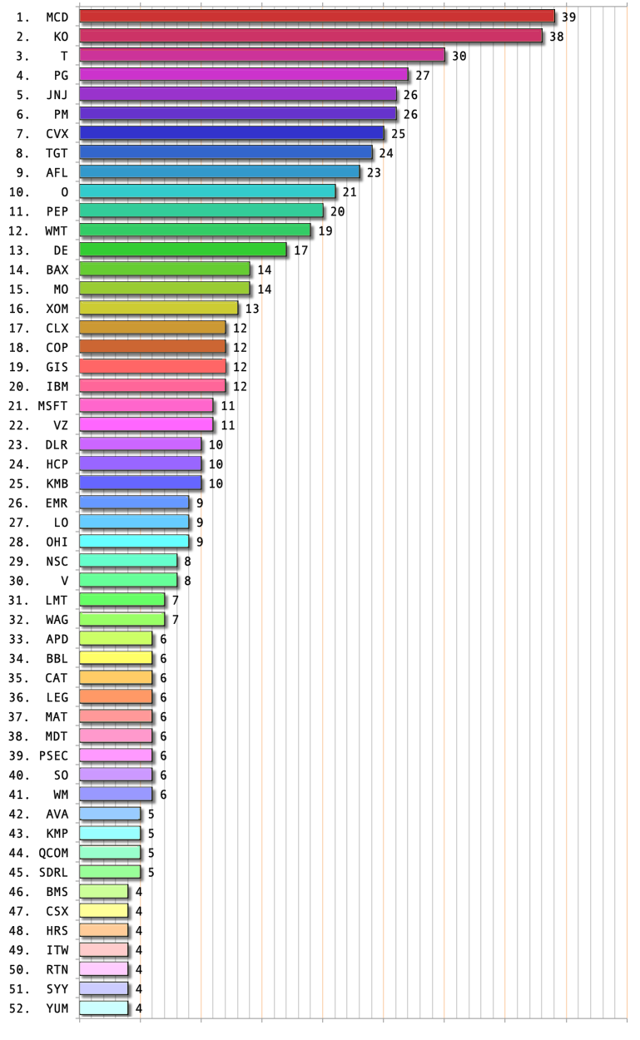 The most popular stock is McDonald's, which appears in 39 portfolios. The runner-up is Coca-Cola, which appears in 38 portfolios.
AT&T (NYSE:T) and Procter & Gamble (NYSE:PG) follow with 30 and 27 appearances each, while Johnson & Johnson and Philip Morris (NYSE:PM) each appear in 26 portfolios. Chevron appears in 25 portfolios.
Target (NYSE:TGT), AFLAC (NYSE:AFL) and Realty Income (NYSE:O) round out the top ten. These stocks appear in 24, 23 and 21 portfolios, respectively.
Following is the entire portfolio with some key statistics for each stock, sorted by GICS sectors. Yrs indicate consecutive years of dividend increases according to the CCC list; Yld is dividend yield as of 10/20/14; 5-Yr DGR is the compound annual growth rate of the dividend over a five year period; Price is the market close price on 10/20/14; M/star FV Est is Morningstar's Fair Value Estimate, where available.
1. Consumer Discretionary
Company
Ticker
Yrs
Yld
5-Yr
DGR
PEG
Ratio

Price

M/star
FV Est
Leggett & Platt
LEG
43
3.55
3.2
3.23
34.97
n/a
Mattel
MAT
5
5.16
13.9
2.32
29.47
33.00
McDonald's
MCD
39
3.71
13.9
2.89
91.59

98.00

Target
TGT
47
3.45
21.4
2.21
60.29

65.00

Wal-Mart
WMT
41
2.56
14.2
2.27
75.14

80.00

YUM! Brands
YUM
11
2.37
15.1
1.82
69.13

80.00
2. Consumer Stationary
Company
Ticker
Yrs
Yld
5-Yr
DGR
PEG
Ratio

Price

M/star
FV Est
Clorox Company
CLX
37
3.03
9.4
3.21
97.73
96.00
General Mills
GIX
11
3.29
11.5
2.86
49.92
52.00
Kimberly-Clark Corp
KMB
42
3.11
6.9
2.84
108.04

101.00

Coca-Cola Company
KO
52
2.82
8.1
4.26
43.29

44.00

Lorillard Inc
LO
7
4.14
29.1
2.13
59.37

69.00

Altria Group Inc
MO
45
4.48
9.2
2.80
46.42

39.00

PepsiCo Inc
PEP
42
2.80
7.0
2.83
93.55

90.00

Procter & Gamble Co
PG
58
3.05
8.8
2.43
84.18

93.00

Philip Morris International
PM
7
4.60
28.4
2.43
86.93

90.00

Walgreen Company
WAG
39
2.24
23.2
1.42
60.20

58.00

Sysco Corp
SYY
44
3.14
4.9
3.87
36.99

45.00
3. Energy
Company
Ticker
Yrs
Yld
5-Yr
DGR
PEG
Ratio

Price

M/star
FV Est
ConocoPhillips
COP
14
4.24
13.3
1.59
68.83
80.00
Chevron Corp
CVX
27
3.84
9.0
1.99
111.49
132.00
Kinder Morgan Energy Partners
KMP
18
6.07
6.2
3.55
92.25

98.50

SeaDrill Limited
SDRL
5
17.35
19.9
0.21
23.06

32.00

ExxonMobil Corp
XOM
32
3.01
9.7
4.13
91.77

109.00
4. Financials
Company
Ticker
Yrs
Yld
5-Yr
DGR
PEG
Ratio

Price

M/star
FV Est
AFLAC Inc
AFL
31
2.59
8.1
2.08
57.22
60.00
Digital Realty Trust
DLR
10
5.09
20.3
12.37
65.29
n/a
HCP Inc
HCP
29
5.08
2.9
5.46
42.91

51.00

Realty Income Corp
O
20
4.98
4.8
9.65
44.16

n/a

Omega Healthcare Investors
OHI
12
5.43
9.3
11.25
38.34

n/a

Prospect Capital Corp
PSEC
5
13.74
-3.9
1.83
9.68

n/a
5. Health Care
Company
Ticker
Yrs
Yld
5-Yr
DGR
PEG
Ratio

Price

M/star
FV Est
Baxter International Inc
BAX
8
3.06
16.4
2.43
67.94
84.00
Johnson & Johnson
JNJ
52
2.82
7.6
2.78
99.20
99.00
Medtronic Inc
MDT
37
1.91
11.6
3.18
63.84

63.00
6. Industrials
Company
Ticker
Yrs
Yld
5-Yr
DGR
PEG
Ratio

Price

M/star
FV Est
Caterpillar Inc
CAT
21
2.98
8.4
1.29
94.03
100.00
CSX Corp
CSX
10
1.91
18.1
1.82
33.51
35.00
Deere & Company
DE
11
2.92
13.4
2.08
82.20

90.00

Emerson Electric
EMR
57
2.81
6.2
1.89
61.23

69.00

Illinois Tool Works
ITW
40
2.33
6.3
2.74
83.41

85.00

Lockheed Martin
LMT
12
3.42
21.2
2.00
175.53

141.00

Norfolk Southern
NSC
13
2.13
10.8
1.64
107.07

101.00

Raytheon Company
RTN
10
2.50
14.4
1.44
96.84

93.00

Waste Management
WM
11
3.22
6.2
24.37
46.65

40.00
7. Information Technology
Company
Ticker
Yrs
Yld
5-Yr
DGR
PEG
Ratio

Price

M/star
FV Est
Harris Corp
HRS
13
2.90
17.7
3.79
64.74
n/a
International Business Machines
IBM
19
2.60
14.3
1.45
169.10
n/a
Microsoft Corp
MSFT
12
2.81
16.1
2.35
44.08

46.00

Qualcomm Inc
QCOM
12
2.29
16.0
1.20
73.27

85.00

Visa Inc
V
6
0.77
45.9
1.43
207.85

223.00
8. Materials
Company
Ticker
Yrs
Yld
5-Yr
DGR
PEG
Ratio

Price

M/star
FV Est
Air Products & Chem
APD
32
3.08
10.3
2.76
129.97
128.00
BHP Billiton plc
BBL
12
4.59
10.6
1.91
54.02
76.00
Bemis Company
BMS
31
2.79
3.4
2.66
38.65

38.00
9. Telecommunication Services
Company
Ticker
Yrs
Yld
5-Yr
DGR
PEG
Ratio

Price

M/star
FV Est
AT&T Inc
T
30
5.37
2.4
2.07
34.28
34.00
Verizon Communications
VZ
10
4.54
3.5
1.65
48.48

45.00
10. Utilities
Company
Ticker
Yrs
Yld
5-Yr
DGR
PEG
Ratio

Price

M/star
FV Est
Avista Corp
AVA
12
3.77
12.1
3.02
33.66
n/a
Southern Company
SO
13
4.49
3.9
5.19
46.78

45.00
The sector distribution of the Bloggers' Portfolio looks reasonable to me. I don't look for a uniform distribution of tickers by sector. Rather, I target a sector distribution that matches the sector distribution of my dynamic watch list, which is updated every month when the CCC list is updated. The following table compares the sector distributions of the Bloggers' Portfolio and DivGro's watch list:
Sector
Blogger's
Portfolio
DivGro's
Watch List
Consumer Discretionary
11.5%

12.2%

Consumer Staples
21.2%
9.5%
Energy
9.6%
10.1%
Financials
11.5%
20.6%
Health Care
5.8%
3.2%
Industrials
17.3%
14.3%
Information Technology
9.6%
6.9%
Materials
5.8%
5.8%
Telecommunication Services
3.8%
2.6%
Utilities
3.8%
14.8%
Consumer Staples seems to be somewhat overweight, whereas Financials and Utilities are underweight.
Comparison to Nifty Fifty
In Mike Nadel's recent Seeking Alpha article, he presents a portfolio of 50 dividend growth stocks compiled from the selections of ten Seeking Alpha contributors and/or commentators. He calls the portfolio The New Nifty Fifty.
The ten panelists selected a total of 160 stocks. Only 5 stocks were named by all panelists: Chevron, Coca-Cola, Kimberly-Clark (NYSE:KMB), Johnson & Johnson and Procter & Gamble. All of these stocks appear in the Bloggers' Portfolio. In fact, all but Kimberly-Clark appear in the top ten.
I thought it might be interesting to compare the two portfolios:
• The Nifty Fifty and the Bloggers' Portfolio have 32 stocks in common:
AFL, BAX, CAT, CLX, COP, CVX, DE, EMR, GIS, HCP,
IBM, JNJ, KMB, KO, LMT, MCD, MO, MSFT, O, OHI, PEP,
PG, PM, QCOM, SO, T, TGT, V, VZ, WAG, WMT, XOM
• Of the 18 stocks in the Nifty Fifty that are not in the Bloggers' Portfolio, six are dividend payers that do not yet have a 5-year track record of increasing dividends:
• The other 12 stocks that are in the Nifty Fifty but not in the Bloggers' Portfolio are dividend growth stocks. Two stocks do not appear in any of the public portfolios in my blogroll, McCormick (NYSE:MKC) and NextEra Energy (NYSE:NEE). The others appear in one, two, or three portfolios, as indicated below in parentheses:
ADP(3), BDX(3), CL(3), D(1), GPC(2), HSY(2),
MMM(3), SJM(1), UTX(3), WEC(1)
• The following 20 stocks in the Bloggers' Portfolio are not in the Nifty Fifty. Again, the number of appearances is indicated in parentheses:
AVA(5), APD(6), BBL(6), DLR(10), KMP(5), LEG(6),
LO(9), MAT(6), MDT(6), NSC(8), PSEC(6), SDRL(5),
WM(6)
What About the Other Stocks?
I've used a fairly restrictive definition of dividend growth stocks (only those currently in the CCC list), which resulted in the exclusion of many dividend payers that may be on the verge of becoming CCC stocks.
As an example, four of the stocks that appear in the Nifty Fifty but were excluded from consideration for the Bloggers' Portfolio, are near-Challengers (companies that have increased their dividends for four years):
Near-Challengers: GE, KMI, SBUX, WFC
As a bonus, I'm including a table presenting the most popular non-CCC stocks in the public portfolios of DGI bloggers. To be consistent, I'm including stocks that appear in at least four different portfolios. Freq indicates the number of appearances; NC? has a check mark if the stock is a near-challenger according to David Fish's CCC spreadsheet; the other columns are as before.
Bonus List: Popular non-CCC stocks
Freq
Company
Ticker
NC?
Yld
PEG
Ratio
Price
M/star
FV Est
28
Kinder Morgan
KMI
√
4.68
3.63
37.57
40.00
25
General Electric
GE
√
3.52
2.21
25.03
29.00
21
American Realty Capital Properties
ARCP
√
8.28
n/a
12.08
n/a
16
BP plc
BP
-

5.69

1.35
41.16
59.00
15
Intel
INTC
-
2.85
1.68
31.58
26.00
12
Wells Fargo
WFC
√
2.85
1.27
49.18
50.00
11
Apple
AAPL
-
1.88
1.40
99.76
93.00
10
Cisco Systems
CSCO
√
3.31
2.02
22.93
26.00
10
Unilever plc
UL
-
3.75
3.34
40.51
46.00
9
Kraft Food Group
KRFT
-
3.94
1.69
55.88
53.00
8
Pfizer
PFE
√
3.72
7.22
27.93
30.00
6
Bank of America
BAC
-
1.23
4.84
16.26
18.00
6
Bank of Nova Scotia
BNS
√
3.97
0.96
59.64
62.00
6
Ensco plc
ESV
√
7.86
6.91
38.16
43.00
6
GlaxoSmithKline plc
GSK
-
5.94
3.77
43.61
48.00
6
Royal Dutch Shell plc
RDS.B
-
4.81
n/a
71.51
74.00
6
Vodafone Group plc
VOD
√
8.05
n/a
30.70
37.00
5
AbbVie
ABBV
-
3.09
2.28
54.41
n/a
5
Abbott Laboratories
AB
-
2.12
2.45
41.46
44.00
4
Walt Disney
DIS
√
1.01
1.26
85.52
84.00
4
Dow Chemical
DOW
√
3.18
1.69
46.51
46.00
4
JPMorgan Chase
JPM
√
2.83
2.33
56.63
58.00
4
Novartis AG
NVS
-
3.09
2.79
87.90
91.00
4
Toronto-Dominion Bank
TD
-
3.53
1.10
47.59
47.00
Several of these companies have excellent dividend yields and may be worth more than a cursory look!
How Does Your Portfolio Compare?
The purpose of this article is not to create the perfect portfolio, nor is it to encourage investors to buy certain stocks or all the stocks in the Bloggers' Portfolio. Rather, it is a learning exercise. Personally, I learn a lot by observing what others do and mimicking them, and then putting my own twist on things...
Currently, my portfolio contains 33 stocks. Of those, 19 appear in the Bloggers' Portfolio, including six of the top ten stocks.
Several of the stocks that I don't own are trading well above my fair value estimates, so I'm waiting patiently for an opportunity to buy shares. Other shares don't excite me that much, for one reason or another. Still, it is interesting to challenge my assumptions and decisions through a comparative analysis.
Perhaps more interesting are the stocks I own that are not in the Bloggers' Portfolio. Some have been removed from the CCC list after dividend cuts (Nippon Telegraph & Telephone (NYSE:NTT)) or dividend freezes (Energy Transfer Partners (NYSE:ETP), Intel (NASDAQ:INTC), and PennantPark Investment (NASDAQ:PNNT)). Other stocks are unique to DivGro (ACE Limited (NYSE:ACE), Northeast Utilities Systems (NU), PennyMac Mortgage Investment Trust (NYSE:PMT), PartnerRe (NYSE:PRE) and Travelers (NYSE:TRV)), which means not a single other DGI blogger in my blogroll with a public portfolio owns any shares in these stocks.
Concluding Remarks
I created DivGro in January 2013 to generate a reliable and growing dividend income stream. By keeping track of the portfolio and interacting with like-minded investors, I've become a better dividend growth investor. I've learned a tremendous amount about dividend growth investing, how to value dividend stocks and, frankly, the benefits of blogging!
Reporting on one's investment decisions is an interesting thing. It requires discipline and perseverance. It inspires and invigorates. It establishes a kind of accountability; demanding clarity of thought, openness, even obligation and vulnerability.
I find it fascinating to read other DGI blogs, to learn what motivates other bloggers and to see what they're willing to share. Some share details about their financial situations that I wouldn't dare to share. Some are motivated by a desire to retire from jobs they don't care about. Some even monetize the popularity of their blogs for additional income.
It is an exciting community to be part of. By sharing ideas, others are inspired to share also. By peeking at what others do, you learn. And soon enough, others start to learn by peeking at what you're doing...
I'd like to thank those bloggers on my blogroll that have made their portfolios public. Their willingness to share is what made this article possible!
Of course, dividend growth investing is not a popularity contest. Please note that The Bloggers' Dividend Growth Portfolio contains overvalued stocks as well as stocks that are in danger of receiving a dividend cut. I've included Morningstar fair value estimates in the listings to help with a superficial value estimation. Before investing in any stock, though, readers are strongly encouraged to do thorough research. Do a fair value estimation using one of the generally accepted stock evaluation methods, like the DDM (dividend discount model). Search for articles on Seeking Alpha that cover the stock you're interested in buying. And read the company's last quarterly report.
Thanks for reading!
Disclosure: The author is long CVX.
The author wrote this article themselves, and it expresses their own opinions. The author is not receiving compensation for it (other than from Seeking Alpha). The author has no business relationship with any company whose stock is mentioned in this article.
Additional disclosure: The article provides a link to the author's DivGro portfolio, which lists additional long holdings.