Over the last two years shares of TravelCenters Of America (NYSEMKT:TA) have been on a tear, rising from a low of $4.19/share to $9.14 today.

However, the company is not performing as well as its stock would suggest. It is exposed to extremely high fixed costs in the form of operating leases, consistently fails to generate free cash flow, and makes up the difference via share issuances (dilution). This article will attempt to demonstrate why TA is not a suitable long-term investment vehicle.
Description
TravelCenters of America currently operates and franchises 281 travel center and convenience store locations along major highways in both the U.S. and Canada. The company sells diesel fuel and gasoline, operates full-service restaurants, and manages "quick-serve" restaurants under brand names such as Dunkin Donuts, Burger King, and Arby's. TA also maintains convenience stores at their stops and provides customers with truck repair and maintenance services. Most information in this analysis will be gleaned from their most recent 10K, which can be found here.
Their sales breakdown is as follows: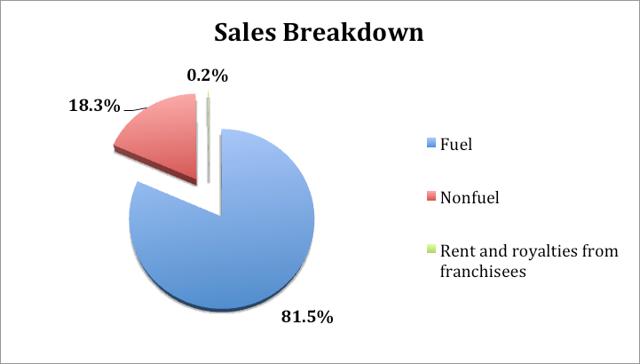 Source - 2013 10K
The company's gas and fuel business, with a gross margin of ~ 4%, really only serves as a loss leader, getting customers to stop by and purchase their food and truck services with a 57% gross margin.
Just to give you an idea of what the typical travel center consists of, here's a description from TravelCenter's 2013 Annual Report.
"Our typical travel center includes:

Over 23 acres of land with parking for 190 tractor trailers and 100 cars;
A full service restaurant and one or more quick service restaurants that we operate as a franchisee under various brands;
A truck repair facility and parts store;
Multiple diesel and gasoline fueling points;
A travel and convenience store, game room, lounge and other amenities for professional truck drivers and motorists"
What initially struck me about this description was the sheer enormity of these truck stops. 23 acres is a huge swath of land to operate and maintain, which probably won't come cheap. This could prove to be a valuable asset (since it makes for expensive barriers to entry), or a drain on profitability (high upkeep).
With these thoughts in mind, let's see how their business model works out in terms of profitability.
Profitability and Cash Flow
So how does TA's free cash flow look over the past several years?
TA Historical Net Income and Free Cash Flow

Not very impressive. In fact, in only two years since 2009 has TA generated positive free cash flow, despite steadily increasing net income. The reason? In essence, TA's business requires regular capital investments that end up negating most of the operating cash flow they generate. The company admits as much in their most recent 10K:
Investing Activities, Pg. 68
"Our business of operating high sales volume travel centers open 24 hours every day requires that we make regular capital investments in our business to maintain our competitiveness. During the year ended December 31, 2013, we made capital expenditures of $164,242,000, including $45,338,000 to upgrade the travel centers and businesses we acquired in 2011, 2012 and 2013 and including certain capital expenditures which were sold to HPT."
This is only from one annual report, but looking at past filings the same comments about high capex are restated again and again. High capex can be a good thing, if it's being used to expand the business. But if capex is high simply because the business requires it to maintain current sales, then that, to me, is a big red flag. As it stands now, sales growth has slowed to a crawl, increasing a little over 1% into 2012, and actually decreasing in 2013. This is including a string of acquisitions the company made over the past few years. However, the real problem is that even if TA wasn't expanding at all, even if it simply focused on taking care of its existing travel centers while foregoing the purchases it made in 2011, 2012, and 2013, it still wouldn't have generated any free cash flow. According to the company's 2013 cash flow statement, shown below, last year TA generated about $71 million in operating cash flow. But as the excerpt above states it spent almost $120 million ($164M total - $45M for upgrades on acquired centers) on existing travel centers.
Cash flows from Operations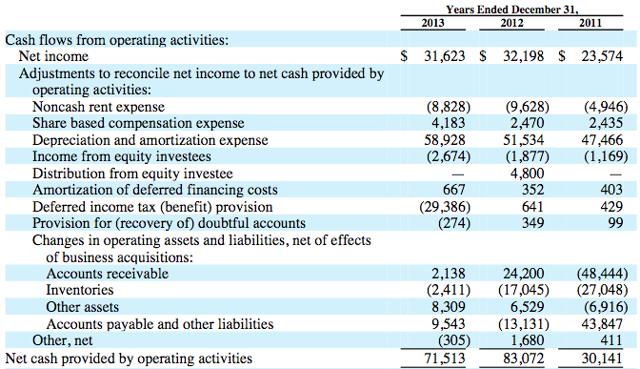 Lastly, all this bad news is after TA had a huge legal victory in January, 2011, when activist investor Alan Khan alleged that managers of TA continued to operate TA as a captive subsidiary of their lessor, Hospitality Properties Trust without regard to their duties of loyalty or good faith (more on this later). The court ruled in favor of Khan, with the end result being that TA could reduce its rent payments to Hospitality Properties Trust and defer $150m in payments and interest well into the future. While net income has indeed gone positive to a large extent, and looks likely to remain there for the foreseeable future, owners' earnings remain deeply in the red. It seems that TA simply can't win, unless they massively increase operating cash flows while keeping additional increases in capex to a minimum. History doesn't seem to suggest this is likely.
After reading through their annual and quarterly reports I found nothing to suggest they were radically altering their course to contain capital expenditures. In fact, if we go back to a conference call the company held in 2012, CEO Thomas O'Brien makes it clear that Capex is probably not going down anytime soon. Here is an exchange between him and an analyst from Milwaukee Private Wealth:
Jeff Geygan - Milwaukee Private Wealth
"Can you please talk a little bit about your anticipated 2013 CapEx as well as rent expense? And secondly, I don't recall you making any comments about your natural gas dispenser initiatives. If there are updates, can you please do so?"
Thomas M. O'Brien - CEO
"Well, we've not talked about 2013 capital expenditures. I think it's safe to say that I don't expect that they'll be wildly different from 2012. Now the dispenser projects are coming to an end and the DEF is coming to an end. But we have a fair amount of improvement and -- to do for acquisitions that we've made in the last 2 years. In fact, probably the biggest project that we've got going on is one for a location that we purchased in 2011, which has, frankly, taken us a while to get the shovels in the ground just to work through some area of issues with the city there. But shovels are in the ground now, and it's proceeding. So on the CapEx stuff, not -- I wouldn't see -- I don't see a picture much different than 2012."
Whether you're a long-term holder or just in the make a quick buck, this is likely bad news. The company continues to put more and more money into simply maintaining its existing structures, and the ones it acquires appear to require substantial improvements as well. For any shareholders expecting dividends or buybacks, I suggest looking elsewhere as it's more likely that TA continues to acquire new travel centers that cost more to maintain than they generate in cash.
Solvency and Liquidity
At first glance, it seems that nothing is really wrong at all with TA's balance sheet. Current assets of $532.6 million versus current liabilities of $365 million? Not a problem. Even when you go into sites like Yahoo Finance their key statistics page shows total debt of $110m, which seems manageable for a company with almost $8 billion in revenue. But the true burden on TA lies in its constant leasing obligations it owes to Hospitality Properties Trust (NYSE:HPT), the REIT that leases its properties to TA. The table below, taken from 2013's Annual Report, details that TA owes HPT some $2.3 billion in total.

Now, this doesn't mean TA is going bankrupt any time soon, as the payments are spread out over many years. It simply means, as the company states under Risks in their 10K,
"During periods of business decline, like the one we experienced during the recent recession, our revenues and gross margins may decrease but our minimum rents due to HPT do not decline. A decline in our revenues or an increase in our expenses may make it difficult or impossible for us to meet all of our obligations and, if we default under our HPT leases, we may be unable to continue our business."
As a result, any investor looking at this company should be aware of the large fixed costs and leverage this company bears and tread carefully.
If TA gets tired of leverage, or the capital markets just won't lend it another penny, it can always turn to sales of its own equity. And this is exactly what the company has done over the years. As shown by the chart below, since 2009 TA's shares outstanding have doubled, diluting the living daylights out of investors.
Shares Outstanding

Source - Ycharts
As an example of how dilution impacts shareholder value, consider Company X. It has one million shares outstanding and currently earns $10 million in free cash flow per year. So, in effect, every shareholder of that company is getting $10 per share/year from the company. Now say this same company decides to issue another million shares to sell to the public. For example's sake, let's say this company's earnings go up 50% during this same time, bringing its earnings to a total of $15 million. This leaves investors with $15 million / 2 million shares = $7.5/share. Even though earnings went up 50%, the earnings of investors went down 25%. In the case of TravelCenters of America however, cash earnings haven't gone anywhere, leaving shareholders with even less than this example would suggest. While dilution is enough of an issue to make consistent share issuances unappealing to investors, I think it's also important to emphasize the idea of simply avoiding companies that constantly need to access the capital markets. As an investor, do you really want to own a piece of a company that doesn't throw off enough cash to keep its operations running?
Conflicts Inherent in TA's Leasing Structure
In terms of their business structure, the company leases most of its properties from a REIT called Hospitality Properties Trust, which spun off TA in 2007 and distributed all its outstanding shares to HPT shareholders. I'll let TA's 2013 10K explain the rest about their relationship with HPT:
Relationship with HPT
"HPT is our former parent company, our principal landlord and our largest shareholder. We were created as a separate public company in 2007 as a result of a spin off from HPT. As of September 30, 2012, HPT owned 2,540 of our common shares, representing approximately 8.8% of our outstanding common shares. One of our Managing Directors, Mr. Barry Portnoy, is a managing trustee of HPT. Mr. Barry Portnoy's son, Mr. Adam Portnoy, is also a trustee of HPT, and Mr. Barry Portnoy's son-in-law is an executive officer of HPT. Our other Managing Director, Mr. Thomas O'Brien, who is also our President and Chief Executive Officer, was a former executive officer of HPT."
I'm not usually one for conspiracy theories, but I sense a hint of Portnoy nepotism among this group. If you're interested in how the Portnoys rank shareholders on their list of priorities, I suggest reading this article. To make a long story short, the Portnoys have consistently blocked any chance investors have of installing new board members in an attempt to unlock value from the company. Furthermore, because several of TA's board members or chief employees are trustees or members of HPT, there exists a large conflict of interest in terms of setting lease rates. If you're the director of one company (the lessee) and a trustee of another (the lessor), how high do you set lease rates? Evidence of this conflict appeared in the 2011 court case mentioned previously where TA was allowed to reduce lease payments. HPT seems willing to let TA make a profit but the crippling lease payments TA must pay aren't very encouraging. In addition, shareholders can have no confidence that the HPT is on their side, as evidenced by the Portnoys' behavior in the article linked to above.
Conclusion
TravelCenters of America might be starting to become profitable, and may continue to be. But the fact of the matter is that for essentially their entire life as a public company they have always needed to plow earnings back into capex to simply maintain and refurbish their travel centers. The end result? Shareholders are left with little, if any, of the company's earnings in their pockets. Based on their conference calls, the company has little interest in holding back capex (the truth may be that the nature of their industry simply doesn't allow any trimming of capex) and will continue to struggle to generate meaningful free cash flow in the future. Indeed, in their 10K they state that they have an additional eight "land parcels that may be suitable to develop as travel centers," however, "we estimate our total cost to develop these sites would be substantial." Could TA be in a temporary high-capex phase, repairing old travel centers to be modern and attractive? They could. But the past certainly doesn't seem to suggest that. This company's history of poor cash flow, large fixed costs, and conflicting management incentives puts me on the sidelines until I see some drastic improvements on all fronts. Should TravelCenters of America turn free cash flow positive, align management interests with those of shareholders, and trade at a reasonable price despite these improvements, it might be worth another look.
Disclosure: The author has no positions in any stocks mentioned, and no plans to initiate any positions within the next 72 hours.
The author wrote this article themselves, and it expresses their own opinions. The author is not receiving compensation for it (other than from Seeking Alpha). The author has no business relationship with any company whose stock is mentioned in this article.