My grandmother believed that Coca-Cola was medicine. If you had a headache, drink a coke. Stomach flu? Coke. Wake up blind? (She claimed this actually happened to her, but it might have been a diabetic thing?) Carbonated, caffeinated, vanilla flavored water would cure it. She had a supply of Coke at any given moment that would rival what the local supermarket had in storage. I personally believe that part of Warren Buffett's wealth is due to my grandmother.
To answer the question you are no doubt thinking, no, I do not feel that Coke is true medicine – although I do have a couple bottles on hand. (If you need something stronger than Coke, try out these 2 Cheap and Growing Healthcare Stocks to Buy on a Pullback) But your financial health is another matter. Is Coke still a relevant stock to own after all these years?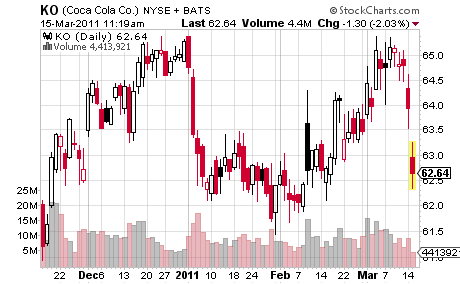 Shaking Coke for rocket-propelled profits?
Coca-Cola (NYSE:KO) needs no introduction so we will go ahead, shake its contents and pop the cap. Our valuation will focus on book value.
From 2001 - 2010, book value increased from $4.57 to $13.53, which works out to a compound annual growth rate (9 years of growth) of 12.82%. If we project forward another 10 years this gives us a book value of $45.21. We will need to calculate a future price based on price-to-book ratios. If we use the current multiple, the price of Coke could be $218.36 in 10 years time.

This is a whopping average annual 13.3% capital gain plus a 2.9% dividend for over 16% combined annual profits!
Coke Gone Flat?
But hold on just a second. We need to consider exponential growth problems. Is it reasonable that Coca-Cola will continue to grow its book value 12.82% every year?

Perhaps a longer-term average of 10% would more aptly reflect the difficulty of a growing elephant. This gives us a book value of $35.09. Furthermore, what is a fair price-to-book ratio? The P/B ratio has fallen roughly 7% per year over the past 9 years on this carbonated beverage.

But to put this into context, the entire industry group has dropped its average price to book value during this same period. And we have to consider that Coke is merely following the trend – although with less volatility. Still, as Coke grows in size we may see the price to book multiple get lower still. Even if the industry group's P/B value rose over the next few years, (thus slowing the trend) Coke could still have a multiple that drops to 3 or below in 10 years due the possibility of slowing growth and the potential for market saturation. This would give a share price of $105.27.
Note that Pepsi (NYSE:PEP) had a similar downward trend in price to book ratios while Dr. Pepper Snapple Group Inc. (NYSE:DPS) had an increased multiple over the past few years.
To boil this down, if equity growth slows and the price to book multiple continues to compress down to 3, we could see an average annual compounded capital gain of 5.3%. Add a dividend of 2.9% and you get a total of 8.2% gain per year. (A Buffett method of valuating dividend stocks is outlined here using ROE)
The 8.2% gain is a quasi-conservative estimate. On the other hand, if Coke continues the high returns on equity while delivering low payout ratios, the internal growth could actually exceed expectations for a while. If buying momentum strikes the PB ratio, it could expand. If we exit when price to book valuations are at the high end of historical averages, we could potentially achieve returns up to double this amount, or more.
Time to Buy Coke?
My grandmother liked Coke, my mother drinks it daily, and I like the bubbling upside in share price over the next 10 years. I feel that it is a fair value at these prices, and if the market puts some more downward pressure on Coca-Cola, it would be high time to accumulate shares for a lower risk holding. (If you are extremely nervous of the market, consider going defensive with these 6 stocks)

Coke is indeed a wonderful company at a fair price, but Mr. Market looks ready to give us a better deal yet. As prices are about to touch a support of $62, I feel the need to grab a soda and watch the market.

Disclosure: I have no positions in any stocks mentioned, and no plans to initiate any positions within the next 72 hours.