It has been hard to miss all the buzz surrounding innovative mobile devices. After a long wait, Apple (OTC:APPL) released the iPhone on the Verizon (NYSE:VZ) network in February. HTC has been making noise with the Evo and the Thunderbolt. And even Microsoft (NASDAQ:MSFT) has made a foray into the smart phone market with the Windows phone.
Aside from mobile devices, there has been a great deal of attention aimed at the networks hosting these phones. AT&T (NYSE:T), Sprint (NYSE:S), Verizon and T-Mobile all boast 4G networks. The data supporting rapid global wireless growth is undeniable, but how can investors capitalize on this information? This article will not focus on smart phone makers or analyze which wireless company boasts the best network, but will instead consider one company in the often-overlooked industry responsible for wireless infrastructure: Ceragon Networks (NASDAQ:CRNT).
Ceragon focuses on wireless backhaul infrastructure that enables cellular operators and other wireless service providers to deliver voice and data services, such as Internet browsing, music, and video applications. In simplified terms, when Verizon, AT&T, an Indian telecom firm, or any other company wants to upgrade to 4G, 5G, and beyond, a firm like Ceragon is employed to beef up the wireless infrastructure in order to handle the increased data demands.
Growing demand in this industry has been evidenced by Ceragon recording record revenues for the past several quarters. Over the past four years, revenues were volatile (as can be expected during an economic downturn), but nevertheless, the company's sales had a compound annual growth rate (CAGR) of 23.3% during the period. Earnings were even more volatile as operating expenses had wild swings.
The bright spots for growth are emerging markets. India has traditionally been the country responsible for the greatest share of revenues. Ceragon has a history with the two largest Indian telecoms, Bharti and Reliance. In addition, the companies partnering with Ceragon account for 59.04% of the Indian market. CRNT's 2010 20-F filing notes that the percentage of sales from Asia Pacific were 42%, 52%, and 37% for 2007, 2008, and 2009, respectively. The drop off in 2009 was partially due to a freeze by the Indian government on all foreign projects for security reasons. That issue has been resolved, and new orders from India have been added to the backlog since that time.
The chart below (extracted from the Telecom Regulatory Authority of India's 2010 annual report) shows the astounding growth in Indian wireless subscribers. The CAGR from 2005 to 2010 is over 40%. This clearly illustrates the need for networks that can handle more traffic and more data.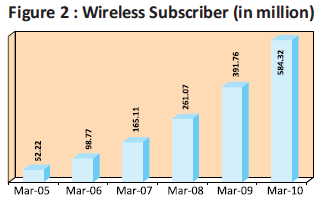 Another recent development was the acquisition of Nera in January. Nera's long-wave microwave expertise perfectly complements Ceragon's short-wave expertise. There are also substantial cost-of-goods-sold synergies that should increase earnings. As can be expected with any acquisition, short-term results might be less than impressive, but the deal is projected to begin adding value by Q3.
Ceragon also recently announced plans to reduce headcount by two hundred. These heads are likely from Nera's short-wave group. This eliminates redundancy and keeps Ceragon's superior short-wave division intact.
Ceragon is a company that should enjoy strong demand for the foreseeable future. The services provided by the firm are essential to communication in the United States as well as other countries around the world. Ceragon has customers in developed countries, as well as emerging areas of the globe such as Asia Pacific, the Middle East, and Africa, where the ceiling on growth is out of sight. The macro case for this stock is very compelling, and the current share price also seems very attractive. According to Thomson One Analytics, the aggregate analyst price target is $16, or 52% above today's open of $10.56.
Disclosure: I am long CRNT.