The ongoing tragedy in Japan is impacting a variety of industries, both positively and negatively.
A niche sector being impacted by the developments in Japan is a part of the Specialty Cellulose industry. If you believe consumer electronics firms will survive the current troubles in Japan, then you should look at TAC.

Ultra-purified wood cellulose producers for specialty applications in LCD (liquid crystal display) screen manufacturing include Rayonier (NYSE:RYN), Tembec and Buckeye Technologies (NYSE:BKI). These stocks weakened during today's market sell-off but this presented buy opportunities.
The type of specialty cellulose used by LCD's is called "TAC" or Tri-Acetyl Cellulose, and the films made from it are critical components of LCD panels used for flat panel TV's, smartphones, tablets, medical diagnostic imaging equipment and GPS devices in automobiles.
Some of these uses, as you can imagine, have been growing like a weed and so has TAC demand. In the slide below, TAC is used in both a film to protect polarizing light panels, but also in the WV film, which allows wide-angle viewing in a flat-panel screen.
TAC film production is dominated by Fujifilm Holdings (80% of the market they say) and Konica Minolta. Shinkong is also a new optical film producer in Taiwan.
Given some of the Japanese electronics makers such as Toshiba and Sony have shut down plants temporarily due to the earthquake, tsunami and power blackouts, the market has penalized sellers of specialty celluloses.
There is no market price quoted for TAC, but it is part of the cellulose acetate component of dissolving pulps which command at least $1,600-$1,800/mt, or double what your typical bleached hardwood paper pulp does.
No doubt purified TAC is sold on a long term contract basis and prices are adjusted annual, mainly upwards.
The cellulose acetates also include use for the larger cigarette tow (filter) market. I estimate the acetate cellulose market at about 650,000-700,000 tons per year.
Here is a pie chart showing consumption of all acetate celluloses in 2008.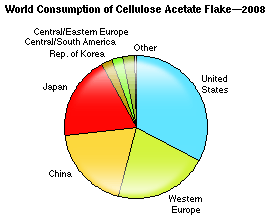 The stock of Rayonier (RYN) closed at $60.25 down 26 cents after being as low as $59.07. Rayonier sells logs to Japan from its Washington state timberlands (400K acres) and JV interest in 300,000 acres of timberland in New Zealand. We are looking for $4.50 in 2011 EPS for Rayonier and it pays a $2.16 annual dividend to yield 3.6%.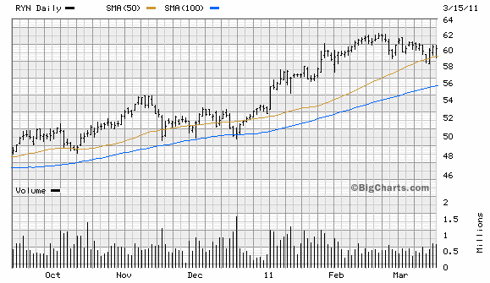 (Click to enlarge)
Similarly, Tembec (OTCPK:TMBCF) was down 19 cents to $5.01 CDN after hitting a low of $4.88.
Buckeye was as low as $22.91 before recovering to close at $23.99, down 91 cents. BKI raised the dividend to 5 cents per quarter in January and has reduced debt aggressively with free cash flow and benefits from federal alternative fuel tax credits.
Buckeye is guiding for 63-65 cents a share for the Q3 ending March 31, and expects rising earnings going forward due to buoyant pricing for its SC division. The stock is trading at less than 10X earnings on an annualized Q3 basis.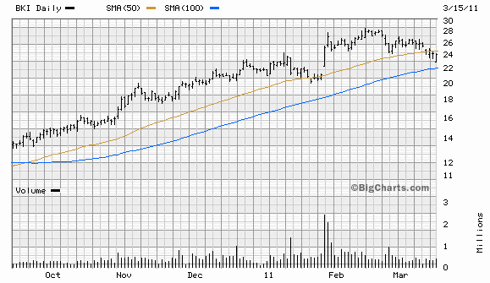 (Click to enlarge)
Checking the overall sales exposure to Japan, it was 4% for Buckeye Technology and 13% for Rayonier. Tembec does not segregate out Japanese sales.
We recommend Buckeye at $23.50, Rayonier below $60.00 and Tembec below $5 CDN, subject to stock market conditions and developments in Japan.
Disclosure: I am long BKI, RYN. This information was disseminated to subscribers and clients of the BCMI Report and the BCMI Flash anywhere from 12 to 48 hours before appearing on Seeking Alpha.