Intel (NASDAQ:INTC) sold 15 million tablets in Q3 2014. However, the company's mobile chip division posted another $1.04 billion in operating loss for Q3. While the management is promising significant reduction in contra revenue next year, x86 mobile chips will remain a money-losing enterprise. It is therefore welcome news that Samsung (OTC:SSNLF) decided to use an Intel Celeron N2840 for the latest version of its Chromebook 2. Previous versions of Samsung's Chromebooks used tARM-based Exynos processors. Samsung's decision to use an x86 processor is a long-term tailwind for Intel. Tablet sales growth is slowing down but Chromebooks are rapidly gaining popularity. Gartner estimated that tablet sales only grew 11% in Q3 2014, which is far lower than the 55% growth it posted in the same period last year. ABI Research says Chromebook sales grew 67% in Q3 2014. Gartner estimates that more than 5 million Chromebooks will be sold this year, more than 70% greater than the units sold last year. Yes, the tablet market is much bigger than Chromebooks right now. However, Intel is losing big money in its quest to sell 40 million tablet chips this year. Chromebook sales are therefore more beneficial to Intel than tablets are right now. Thanks to Intel's strong support, sub-$250 Chromebooks are now proliferating in the market. Samsung is selling the Intel-powered 11.6-inch Chromebook 2 for $249.99 - $50 cheaper than its previous Exynos-powered Chromebook 2.
Cheaper Intel-Powered Chromebooks
The lower price tag of the Intel-powered Samsung Chromebook 2 might help the South Korean company regain its position as the world's top vendor of Chromebooks. Samsung posted 64.9% market share in Chromebook sales in 2013. However, low-priced Intel Celeron and Atom processors helped other OEMs come out with cheaper Chromebooks this year.
Figure 1. Vendors' Market Share in Chromebooks by end of 2013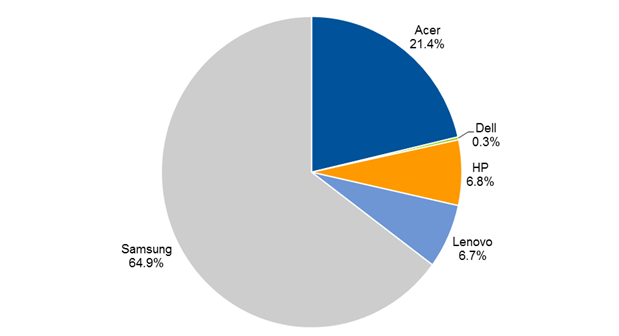 Source: Gartner July 2014
Acer (OTC:ASIYF), which always uses Intel x86 processors in its Chrome OS products, is the new No.1 vendor of Chromebooks. The $199.99 C720 Chromebook has helped Acer surpassed Samsung. There is a possibility that Samsung may also lower the Chromebook 2 to $200 to keep it competitive with the Acer C720. The value presented by a $200 Chromebook that is faster than a $300 ARM-based one will eventually lead to more OEMs switching to x86 processors for their Chrome OS notebooks. Earlier this year, Liliputing's hands-on review showed that the Intel Celeron 2955 SoC inside a $200 Acer C720P Chromebook outperformed the Exynos 5-powered Hewlett-Packard (HPQ) Chromebook11.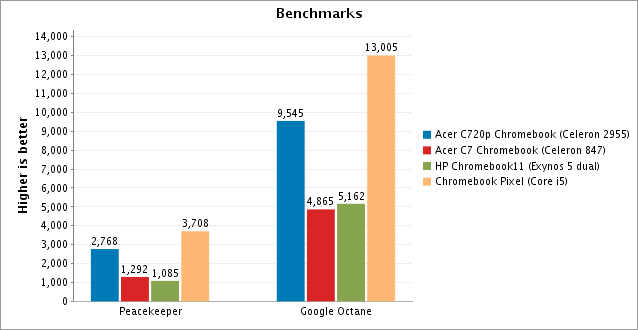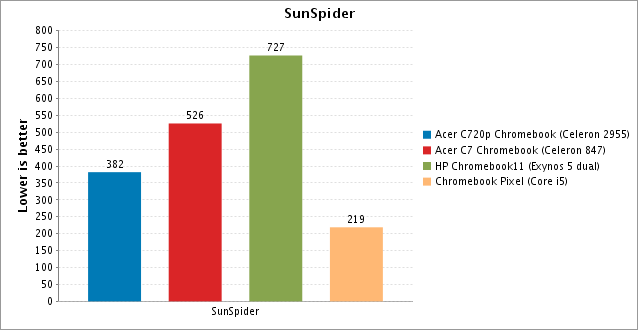 Source: Liliputing
Intel Also Benefits From Microsoft's Aggressive Response to Chromebooks
Microsoft (MSFT) is also aggressively responding to the threat posed by Google (GOOG) Chromebooks. The education sector in the U.S. has rapidly adopted Chromebooks. Microsoft is making sure Chromebooks do not proliferate in the enterprise market too. Thanks to Microsoft's much lower licensing fees, OEMs like Hewlett-Packard and ASUSTeK (OTC:AKCPF) already have $200 Windows 8.1 notebooks. Hewlett-Packard's Stream 11 is a $199 Windows 8.1 notebook that should appeal to students, teachers, and office workers. Asus is now also accepting pre-order for its $199 EeeBook X205 Windows 8.1 notebook. A $179 Windows 8.1 hybrid 10.1-inch notebook/tablet will soon be available at Wal-Mart (WMT) stores this month. Unlike the $799 Surface 3, the E FUN Nextbook already comes with a free detachable keyboard. The touchscreen display of the Nextbook also makes it a cut above $200 Chromebooks that still use ordinary LCD screens.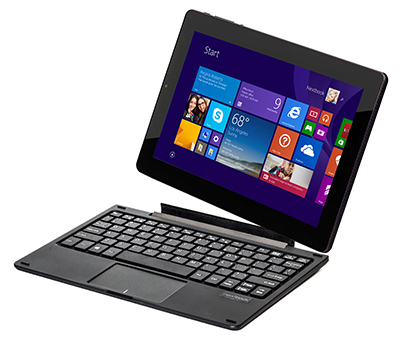 Source: copernio.com
A quad-core Intel Atom Z3735G processor is inside the Nextbook. Based on the benchmark scores of the Atom Z3735G, it is a capable SoC for everyday home and office use. E FUN, the company behind the $179 Nextbook Windows 8.1 hybrid is the fifth biggest supplier of tablets in the U.S. Wal-Mart is also the biggest retailer in America. Intel investors can assume that the Nextbook has the potential to reach millions of would-be buyers this holiday season.
Conclusion
Intel will make more money selling 20 million low-end notebook processors than selling 40 million tablet processors this year. The intense battle for low-priced notebooks between Google and Microsoft ultimately benefits Intel. Advanced Micro Devices (AMD) continues to ignore Chrome OS-based computers. Intel's almost-monopoly hold on Chromebooks processors will therefore continue for many years. Since cheap Chromebooks are ideal for the education and regular consumer markets, Chromebooks will likely continue its double-digit sales growth. Chromebooks will also increasingly find acceptance in the corporate world especially among budget-constrained small business enterprises. In the near future, Microsoft might eventually have to give away free licenses to laptop makers to make sure they continue their support for the Windows operating system. A free Microsoft Windows OS might mean E FUN's $179 Nextbook will likely lead to $150 Windows 8.1 notebooks. Students in emerging markets like the Philippines or China can comfortably afford a $150 Windows laptop. Laptop sales are still very important for Intel. After seven consecutive quarters of decline, notebook PC sales jumped 1% YoY in Q2 2014. NPD Group estimated that 45.1 units of notebook PCs were sold in Q2 2014. NPD is also predicting that 167 million notebook PCs will be sold this year. The fact that Intel is coming up with cheap (but better performing) x86 SoCs for the Chromebook market convinces me that ARM-based processors is unlikely to unseat Intel's grip on notebook PCs. Intel is a great long-term investment but the current Exponential Moving Average (EMA) numbers for INTC are very bearish. Seeking Alpha users should therefore wait for a cheaper entry point.
(click to enlarge)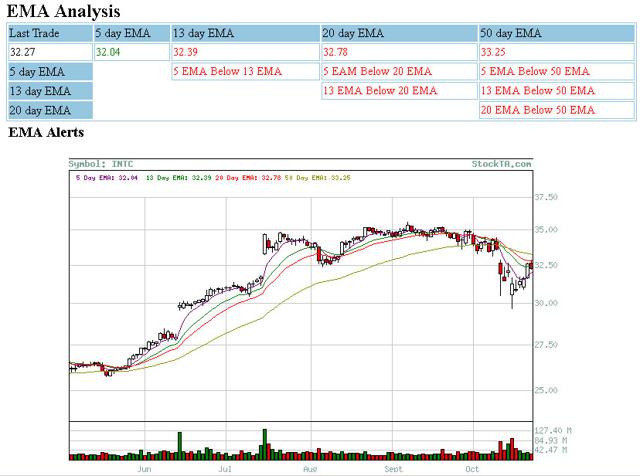 Editor's Note: This article discusses one or more securities that do not trade on a major U.S. exchange. Please be aware of the risks associated with these stocks.