Capstone Turbine's (NASDAQ:CPST) increasing share price has held its own of late, even in light of global political instability, a natural disaster in the Far East and a downturn in the markets.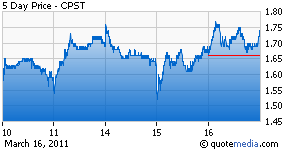 Although the short interest continues to increase in CPST, this 'green energy' company has always done well during times of rising or uncertain oil prices - we're there now - and it looks now Capstone is also on the map in Washington.

A press release issued on Wednesday announced that Capstone's Executive Vice President of Sales & Marketing would appear to testify before the Subcommittee on Commerce, Manufacturing and Trade in Washington, D.C. that day.

The event underlines the efforts of the Obama Administration to increase both American exports and green technology while decreasing the United States' demand on oil.

Capstone fits very nicely right into that picture, on all fronts, and as an exporter of a 'green' American product, even Washington may be taking notice.

Additionally, the catastrophic event in Japan has resulted in a global second-guessing of the benefits provided by nuclear energy when compared to the risks - and in turn, some nations have put on hold their plans to construct new nuclear facilities.

Often considered the preferable choice of clean energy, nuclear power could be on the way out after the earthquake in Japan has demonstrated just how vulnerable a reliance on that power can be.

That means, again, that attention is going to be drawn to other clean energy platforms, and that always benefits Capstone Turbine.

With the short interest where it is, and with market volatility sure to rule the day in this global climate of political unrest and natural disasters, there's a distinct possibility that we may see CPST reach 'buy the dips' territory at some point in the near future.

That being said, there's no doubt that CPST is still an appetizing mid to long term green play.
The orders are rolling in and the geopolitical trends in the United States are right, so it can only be a good thing when Capstone goes to Washington.



Disclosure: I am long CPST.