In a previous article, I mentioned purchasing Newcastle Investment (NCT) based on valuation. On March 1, it reported $3.18 on $75.0 million, compared to analysts' expectations of $2.36 on $82.25 million.

[Click all to enlarge]
Revenue fell short of expectations, but earnings handily beat expectations. Understandably, investors were disappointed, and the stock fell. But a fall from its peak on February 27 at $8.70 to a current price of $6.14 seems a little excessive. The global events that followed its earnings report likely exacerbated the fall. The company has $6.43 in revenue per share, so the possibility of a further fall is limited.
Technicals are all near or in oversold territory and at their lowest point of the year. This is very bullish.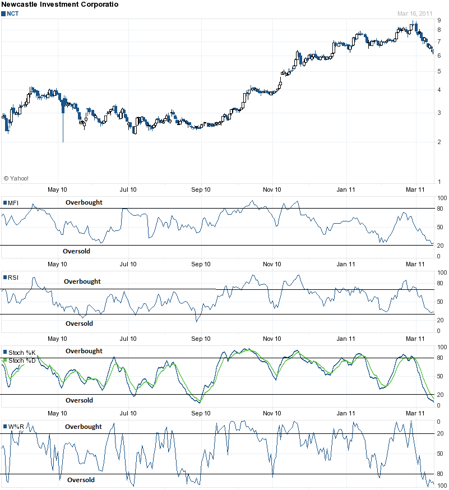 Disclosure: I have no positions in any stocks mentioned, and no plans to initiate any positions within the next 72 hours.