If this sexual harassment lawsuit against American Apparel (APP) CEO Dov Charney goes to court, it will likely be the straw that breaks the camel's back.
American Apparel's executive, Dov Charney, is trying to launch a comeback for his company that is nearly bankrupt, but now is distracted by this lawsuit. I believe Wall Street has underestimated the serious ramifications of this lawsuit.
If you don't know about it, here's the story.
American Apparel is countersuing, claiming that Irene Morales and her attorneys are trying to take advantage of Charney's status and swinger's history. I don't believe Morales is doing this as a scheme, I think she really believes she is the victim.
Charney has had three other cases of sexual harassment charges, but none were proven. In at least one case, he settled and paid the lady $1.3 million to withdraw the accusations. This latest sexual harassment case seems different from the others and much more serious. Irene Morales is out for blood - suing Charney and American Apparel for a whopping $260 million. In my opinion, $260 million is a pretty ridiculous amount of money. I don't know how Morales' attorneys came up with that number and it might even make a mockery out of their case. $1 million seems more than sufficient. I doubt Charney or the company would be able to afford to pay over $10 million anyways without going broke.
It means nothing that Morales wrote a letter upon quitting her job saying she had a positive experience working for American Apparel and that she won't sue. This may even confirm guilt by Charney and American Apparel. Why would a company have an ex-employee write and sign a letter saying she won't sue? If they didn't do anything that merits suing, then they wouldn't have needed her to sign the letter.
Even if Charney ends up being innocent, having to fight it out in court against a hurt woman is a loss no matter what. While Charney should be working at his company and figuring out ways to increase sales, he is stuck worrying about how to win the case and dealing with the public embarrassment. He is a very distracted CEO.
Charney and American Apparel are low on funds. Neither one of them can afford to settle out of court and will try to win this case in court. Charney has been trying to dig his company out of a massive amount of debt that gave them trouble in 2009 but started to really pile up during 2010. His company is on the verge of bankruptcy and he's no stranger to that. Before American Apparel, Charney had a t-shirt manufacturing company where he had to file for Chapter 11 in 1996.
Charney is most likely low on funds personally because not only has he been making less money from American Apparel and his stock value has plummeted, but he has also been buying up shares like crazy. In November and December of 2010, he bought about 2,900,000 shares of his company in the secondary market at an average price of around $1.30. He is by far the largest holder of company stock with 41 million shares, over 50% of the company.
In addition, this is very bad publicity for American Apparel. American Apparel's image is mainly sexy clothes for women, like singlets and skirts. I'm sure they will lose many customers from this negative publicity. The banks and Lions Capital, who bailed the company out with more loans in 2009, are even more nervous from this lawsuit and will probably be more willing to force it into bankruptcy.
American Apparel's Financials
The Balance Sheet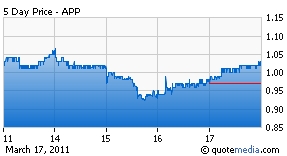 American Apparel's total debt increased in Q3 2010 by $13.3 million to $133.6 million. Despite its large debt load, it has a positive book value mainly because of its large inventory. Because of lagging sales, more clothes are kept in the warehouses and inventory has been up every quarter of 2010. As of the Q3 2010 financial report, inventory was at an all time high for the company at $166.5 million. This is probably overstated. The company has a history of exaggerating numbers, their former accountant Deloitte and Touche resigned last year because they believed the company was withholding information from them. If American Apparel is having trouble selling a certain clothing line, excess amounts of that type of clothing should be marked down in value. Surely, if American Apparel has a liquidation sale, its inventory will be sold for less than the recorded value.
Income Statement
American Apparel must improve performance, or face bankruptcy. The company's third quarter 2010 income statement didn't look good. Gross margin is down from 58.1% in the 3rd quarter 2009 to 52.2%. This is because of an increase in production costs, more complex retail styles, and more wholesale sales, which generate a lower gross margin. I doubt gross margin can improve much, the labor is all in the United States, so more costly.
Selling, General, and Administration expenses increased to 57.7% of net sales compared to 49.8% in the 3rd quarter 2009. This is due to increased salaries, wages, and benefits. It isn't from increased advertising, which they need but cannot afford.
Their adjusted EBITDA for the 3rd quarter 2010 was -$769,000. In addition, they had interest expenses of $6,363,000. That's a total of $7,132,000 that needs to be improved in future quarters. These next two quarters, ending December 2010, and ending March 2011, are crucial for American Apparel. If they haven't gotten their act together with a positive EBITDA of at least $500,000, which they haven't been able to do so far in 2010, then I don't see how they can go on. Even if they do make a positive EBITDA in those two quarters, this sexual harassment suit will continue to cause headwinds for future quarters.
Is American Apparel a good short at $0.90 and above? I think so. It went as low as $0.66 in August of 2010, and that was before the dismal Q3 2010 report and less debt was on the balance sheet. If you decide to take a position, one can always have a stop loss order of 10% if you feel like the following earnings results might be good. That's what I did. On bankruptcy fears, the stock could easily drop to $0.50 and below.
Charney's Insider Buying
One can make the argument that because of all the insider buying by Charney that it isn't a good short. One can say that Charney must know something that the investing public doesn't. I think one can equally make the argument that it's a good short BECAUSE of all his insider buying. This might have been a ploy to encourage more confidence in his company and stock. His insider buying is possibly what's keeping the share price up.
Investors are wary of shorting the stock because they're concerned that Charney may go on another million dollar share shopping spree. Notice no other insiders are buying shares, only the founder and CEO. According to celebritynetworth.com, Charney is worth $20 million. I don't see him making any other big share buys this year; I doubt he can afford it.
Disclosure: I am short APP.