I have built a discounted cash flow model for Molycorp (MCP) to test the value of the company based on different pricing scenarios. A lot has been made of the JP Morgan and Morgan Stanley price targets of $66 and $63 respectively, but not everyone has access to these reports that have brilliantly articulated the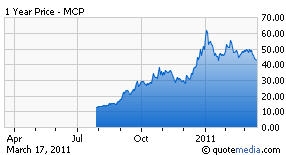 investment thesis for Molycorp. So I decided to build a valuation model to share with the investing public.
Introduction
What I hope to provide here for the general investing public is a discount cash flow model for Molycorp that helps clarify the risk/reward tradeoff of an investment in Molycorp . I have made some very basic assumptions at the outset:
Assumptions
1) Mountain Pass will go into production on time. This assumes the following:
a.The natural gas pipeline is built (permit schedule for July)
b. California is not going to through obstacles in front of the exploitation of an asset that will give the state much needed revenue during while in financial straits.
c. We do not have a Macondo-like event.
2) Management will easily raise the remaining $120 million capital requirement:
a. On the 4Q conference call, management said that they let the exclusivity period with BNP Paribas for a $150 million debt facility expire because there were cheaper forms of debt capital available. This tells us that the capital can be raised.
b. I think in a worst case scenario Molycorp can raise equity to complete the Project Phoenix fundraising requirements.
3) I included oxides to metals and oxides to magnets in our analysis because the Project Phoenix capital costs include the cost of bringing those facilities online based on our reading of the IPO prospectus.
Those that disagree with these assumptions can stop reading at this point. While I respect that there is a very small chance some of these assumptions are false, I think the probabilities are so far out in the tails of the bell curve that I will take my chances.
At the same time, I have made some very conservative assumptions on that restrained valuation on the upside:
1) I assumed zero interest income in all years.
2) I assumed zero profit in 2011 and 2012 (i.e. the revenue from stockpile sales covers the cost of refining stockpiles and SG&A costs in 2011 and 2012).
3) I depreciated all capital costs on a 30-year schedule.
4) I have not accounted for any possibilities such as Molycorp's infrastructure being used to separate rare earths from the ore at other North American rare earth mines.
5) I assumed SG&A expenses run $25 million in 2013 and grow at 2% per annum.
Other assumptions:
1) I assumed 85 million diluted shares outstanding (82 million current outstanding plus the million from convertible preferred plus approximately 2 million from Sumitomo deal (not yet closed so price not known yet))
2) I assumed a 33% effective tax rate
I used an 8% cost of capital in line with the engineering study outlined in the IPO prospectus.
Best Case Scenario
My best case scenario was that current FOB spot prices for rare earths would sustain through the Mountain Pass mine life (something I acknowledge as unfeasible, but I figured I would capture the maximum upside in addition to the maximum downside).
In this scenario, I get a net present value of $186/share. This number is below that given in sell-side research I have read which gives a Net Present Value of excess of $200/share if current spot prices are sustained while Mountain Pass is in operation, and seeing as their analysis is a little bit more detailed then ours - I think this is a little on the low side due to some of our assumptions.
The IRR in this scenario is approximately 29% (based on March 11th closing price).
Worst Case Scenario
My worst case scenario was that starting in 2015 rare earth prices collapse to the levels Molycorp cited in their IPO prospectus (which was prior to the China 2H10 export quota cuts that started the move that sent rare earth prices to current levels). In this assumption, rare earth prices magically collapse because every junior rare earth miner gets the funding necessary to go into production and the pricing power collapses.
In 2013 and 2014 I assumed rare earth prices at 70% and 50% of current FOB spot prices. I assumed these discounts in 2013 and 2014 even though Molycorp and Lynas are the only two companies with an opportunity to capitalize on the positive supply side economics that currently exist in the rare earth space, so I am going to assume the decline in prices comes from something unforseen.
I get a current fair value in this scenario of $39/share. The closing price on March 17 was $42.56.
How unlikely is this dramatic price collapse in 2015 scenario? It prices in the following product price declines:
96% decline in Ce Oxide for glass polishing
86% decline in Ce Oxide for Water Filtration
43% decline in Eu Oxide
88% decline in La Metal
84% decline in Pr Metal
83% decline in Nd Metal
58% decline in NdFeB
27% decline in SmCo
Bears argue that all the juniors due to start production in 2015 will break the rare earth bubble and prices will collapse. Well, I have not found another rare earth miner (including China) with an expected lower cost of production than Molycorp on a mining and oxide basis. In this scenario as presented, the IRR on Molycorp is a pathetic 5.70%. In this scenario, I doubt we see investors throwing money at the junior rare earth companies to develop their mines as the potential returns would not be comparable to the risks.
Bringing Reality into This Equation
I have publicly expressed my views that FOB spot prices are not long term sustainable with the potential supply response starting in 2015. FOB Rare Earth Prices as of March 11 are as follows:
| Item | Spot FOB Price |
| --- | --- |
| Ce Metal | $96.75 |
| Ce Oxide | $96.05 |
| Dy Metal | $695.50 |
| Dy Oxide | $526.00 |
| Er Oxide | $172.00 |
| Eu Metal | $960.00 |
| Eu Oxide | $835.00 |
| Gd Oxide | $37.96 |
| La Metal | $114.50 |
| La Oxide | $93.05 |
| Lu Oxide | $441.17 |
| Nd Metal | $226.50 |
| Nd Oxide | $174.75 |
| Pr Metal | $236.50 |
| Pr Oxide | $155.25 |
| Sc Oxide | $2,510.08 |
| Sm Metal | $141.75 |
| Sm Oxide | $95.05 |
| Tb Metal | $1,035.00 |
| Tb Oxide | $837.00 |
| Y Metal | $114.00 |
| Y Oxide | $127.50 |
| Yb Oxide | $50.96 |
| Tm Oxide | $27,762.99 |
I understand that Molycorp should trade at a discount to Net Present Value because Project Phoenix (the Mountain Pass renovation) is not complete. There has to be some reward for investors shouldering the risk of the project not being successfully completed.
Nonetheless, I see the current price of Molycorp as pricing in an extremely conservative long term price in rare earth that I find almost as unlikely as current spot prices sustaining themselves.
In fact, the March 11 closing price for Molycorp reflects a scenario in which the Mountain Pass rare earth basket in 2013 is 30.25% what it was on March 11th and that it remains at that level until 2028. I just do not think at those price levels the junior rare earth mining companies will be able to raise the necessary capital to achiever producer status. I also have no idea how rare earth prices would collapse in the 2013-2014 time frame.
My Present Fair Value Estimate of Molycorp
With only Lynas and Molycorp having a high probability to come into production by the end of 2013, I see very positive pricing economics continuing in the first few years of Molycorp's production horizon.
In all scenarios I used the cost parameters outlined by the engineering study conducted by SRK Consulting. Those cost parameters are on page 75 of the Molycorp IPO prospectus.
I assumed the following pricing for the Mountain Pass rare earth product basket:
2013: 100% FOB Spot ($101.82/kg)
2014: 87% FOB Spot (88.58/kg)
2015: 65% FOB Spot ($61.09/kg)
2016-2018: 50% FOB Spot ($50.91/kg)
2019-2028: 40% FOB Spot ($40.73/kg)
My rare earth price forecasts are conservative in comparison to those used by JP Morgan, however I have used a lower cost of capital of 8% (as was used in the engineering study conducted by SRK consulting).
Based on my assumptions, I think the current fair value of Molycorp is in the range of $90/share, and I think that is even a conservative figure as I think pricing will be stronger than our assumptions in the long term.
I have a rule of determining our thesis and then toning it down when doing the valuation work, as I would prefer to be positively surprised versus negatively surprised with regard to deviation from our valuation forecast. If I let ourselves drop that conservatism, I can easily make a base case argument for Molycorp being a $100 net present value. But I will show some restraint and put a conservative base case current fair value on Molycorp of $90/share given an 8% discount rate.
Note that I have assumed that the price for XSORBX is the same as it was in the IPO prospectus ($9.90/kg). XSORBX is a cerium based product and Ce Oxide is currently at a FOB spot price of over $96/kg. If Molycorp reduced XSORBX production and shifted cerium output towards Ce Oxide due to the better pricing, it would put upwards pressure on our base case valuation.
Where I Could Be Wrong (And There Actually Is Somewhat of a Feasible Chance I Am)
If Molycorp fails to successfully execute its downstream integration it would materially impact my fair value estimates.
If Molycorp executes Project Phoenix on either an accelerated or delayed schedule it would materially impact my estimates.
If Molycorp's XSORBX product catches on as a water filtration product or sales price is substantially different from that in the IPO prospecuts, my estimates would be materially impacted.
Conclusions
Based on the mine plan for Mountain Pass and the parameters I have set out in this article, I see substantial upside to Molycorp shares from current levels. As Project Phoenix achieves milestones, I see the current valuation gap converging.
Investors looking at Molycorp should not evaluate it on 2011 and 2012 operational results. The Molycorp investment story is one of development and execution of Project Phoenix for the next two years. Starting in 2013, the Molycorp investment story is connected to the long term rare earth price. While there is a possibility of oversupply in the long term, Molycorp is projected to be the low-cost producer on a mining & oxide basis and as such would emerge from any oversupply "price war" as a victor in our expectation.
The IRR on my base case pricing scenario for Molycorp is approximately 18.20% in a takeover scenario. With such an excellent risk/reward outlook, I think Molycorp should be a core long portfolio position. I do not see compelling short selling thesis despite the plethora of short sellers I have read on various internet message boards.
In a bearish scenario even more extreme the one I outlined here, fair value at an 8% discount rate still came out at $28/share. In order to get a fair value in the region of the price at which Molycorp IPO'd, I would have to take this even more extreme bearish scenario and throw on a 15% discount rate.
Bottom line: I don't see a feasible scenario where long-term fundamental short sellers of Molycorp make money. I do see a very realistic scenario where Molycorp doubles in the next twelve to eighteen months and is potentially a $105 stock at the end of 2013, which would generate a 38% internal rate of return from the March 11 closing price of Molycorp as investors recognize the value in Molycorp and the project risk dissipates.
Disclosure: I am long MCP.
Additional disclosure: The facts in this newsletter are believed by the Strategist to be accurate, but the Strategist cannot guarantee that they are. Nothing in this newsletter should be taken as a solicitation to purchase or sell securities. These are Mr. Evensen's opinions and he may be wrong. Principals, Editors, Writers, and Associates of The Strategist may have positions in securities mentioned in this newsletter. You should take this into consideration before acting on any advice given in this newsletter. Investing includes certain risks including loss of principal. The contents of this article do not take into consideration your individual investment objectives so consult with your own financial adviser before making an investment decision. And finally, remember the famous proverb that something is worth what you paid for it before relying on anything written here. We are not responsible for your decision to listen or not to listen to the comments written here or any consequences arising from that decision.