Gold's price is up, but what about its value? We know gold is supposed to protect us from inflation, but where does that protection begin and end?
Gold's claim to fame: Store of value
The investable quantity of gold remains relatively static. In addition, gold doesn't age and it has a history of trade acceptance. Therefore, gold is viewed as an excellent store of value. However, gold may be good at storing (keeping) its value, but just what is that value?
When countries used gold as a monetary standard, they set the value -- the price at which they would buy and sell gold. Nowadays, without established rates, the price of gold is free to float in the market.
Enter investors and their fickle sentiment
While the quantity of gold available (supply) may remain stable, investor sentiment about owning it (demand) does not. Once the U.S. dropped gold (in 1971) and U.S. investors could buy gold (1975), gold began an extended roller coaster ride, composed of three phases:
1975-1980

: Gold rose 385% from $175 to $850

1980-2001:

Gold fell 70% to $256

2001-current:

Gold has risen 448% to $1404
The size and length of these moves show that much more is at work than simply inflation protection.
[Click all to enlarge]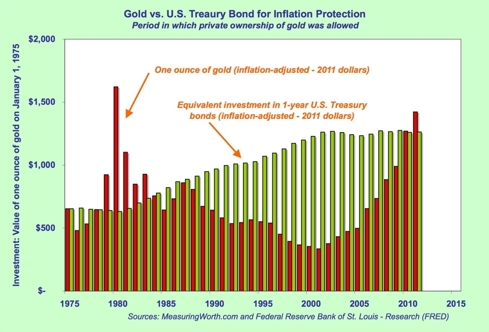 How high can it go?
Gold's supporters correctly say this is "unknowable." Lacking traditional investment valuations, gold's movements are determined mainly by investor whim -- demand and supply. Inflation protection plays a minor role.
However, this time we have something 1980's investors did not: Price barriers. Exceeding 1980's inflation-adjusted highs will require a large, committed amount of demand. Why? Unlike a stock, which can break through to new highs as a company grows, gold's lack of intrinsic value means that the previous high assumes a major role.
If
the current rise reaches the 1980 highs, everyone will be watching intently, because that is where the previous bull market ran out of steam and selling took over.
Determining the 1980 high requires analysis
Now, about that $850 high on January 21, 1980. It is popularly used (inflation-adjusted) to show how much higher the price could go. However, it was clearly a one-day event -- a classic blow-off. A few days before and a few days after, gold was trading well below that price. The January 1980 average was only $613.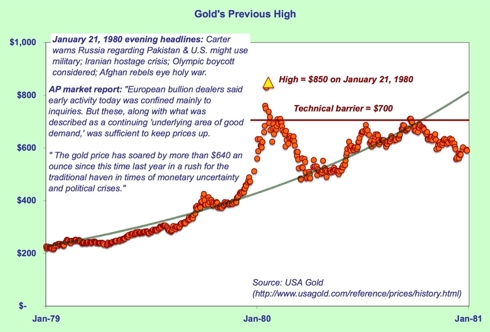 We can also do a bit of chart analysis. Note that the $700 level was touched three times before gold began its lengthy decline. This type of pattern is what traders and investors look for in determining important price points.
Bringing those highs forward to today's market
Since gold's reputation is to protect against inflation, its previous prices need to be brought up to date. Between 1980 and today, there was a lot of inflation: $1.00 in 1980 is equivalent to $2.81 today. Here, then, are the adjusted 1980 prices:
All-time-high: $850 times 2.81 = about $2,400
Monthly average: $613 times 2.81 = about $1,700
Technical barrier: $700 times 2.81 = about $2,000
Now we have a range of highs for comparison with today's market price of about $1,400. Here is the first graph with those high price points added. Also added is a horizontal line showing pure inflation protection for the January 1975 beginning investment.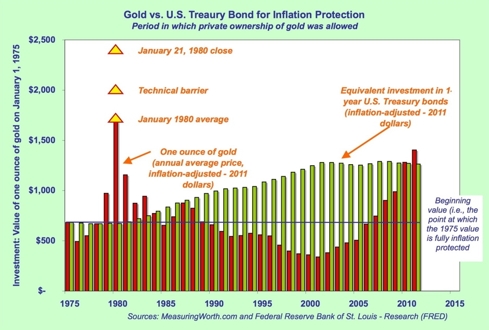 Note: Because the current price is getting ever closer to the highs, gold's proponents have taken their sharp pencils out. They have found the way around these limits: To declare the government's inflation calculation to be bogus. There are many alternatives being proposed that produce higher adjusted levels; the highest I've seen so far is over $31,000. The problem is that most investors will rely on the established inflation numbers.
Now let's compare 1980 period to today.
The 1980 situation
In 1980, the U.S. was continuing to deal with serious problems, some similar to today: A sluggish economy, unemployment (11%) and high oil prices. However, there was a major difference. Back then, inflation and interest rates were double-digit: CPI almost 15%, three-month U.S. Treasury Bills over 15% and the 30-year conventional mortgage rate about 18%. Stagflation (stagnated economy with high inflation) was a major concern, with the question being what could stop it from getting worse.
Today's situation
"Here we go again" would be an apt description of what's being written about gold. The same rationale is being used to support buying and owning gold now, in spite of its climb and high price.
A sluggish economy, unemployment (9%) and high oil prices certainly are with us again. However, the first two are improving (unlike in 1980) and the oil price reflects country turmoil (e.g., Libya), not OPEC's near-monopoly control. Moreover, inflation and interest rates are very low.
So, what's driving gold up now? Concerns about
future
high inflation due to large government deficits. Plus, the many mega-trend and global frights have some looking for "safety" from something outside the mainstream financial system.
Is today "dangerous" enough to drive gold higher?
A stagnated economy with runaway inflation, serious unemployment, and crippling interest rates, all amid world turmoil, may be today's fears, but they were 1980's reality. Is the vision enough to send gold back to 1980's highs?
Certainly the possibility is there. However, the alternative – i.e., a move to other investments – carries a good probability. Nothing stops an old investment trend more assuredly than investors getting excited about a new one.
So gold's lack of intrinsic value has produced a high degree of long-lasting volatility. For someone looking for safety and inflation protection, the 80% drop from the 1980 top was disastrous. Troubling for today's gold holder, the price is up significantly and is approaching the inflation-adjusted 1980 highs. Supporting gold enthusiasm are the same 1980 fears, but without the reality.
While owning gold can be alluring, it is a good time to think about going elsewhere for inflation protection with less risk and greater earnings potential.
Disclosure: I have no positions in any stocks mentioned, and no plans to initiate any positions within the next 72 hours.