Oil & Gas equities continued their roller-coaster ride, with many stocks posting multiple 10%+ intraday moves in the past two weeks. However, in spite of this off-the-charts volatility, as of yesterday's close, the "correction scorecard" (the chart below) looks remarkably similar to the one that I posted ten days ago. The sole notable difference is a meaningful recovery by the Oil & Gas Trust and MLP groups and continued slide by the small-capitalization E&P and Land Drilling stocks.
The scorecard graph summarizes averaged "peak-to-current" performance by individual stocks that are grouped together by sector and size. Individual stock performance is provided in full detail in the spreadsheets at the end of this note.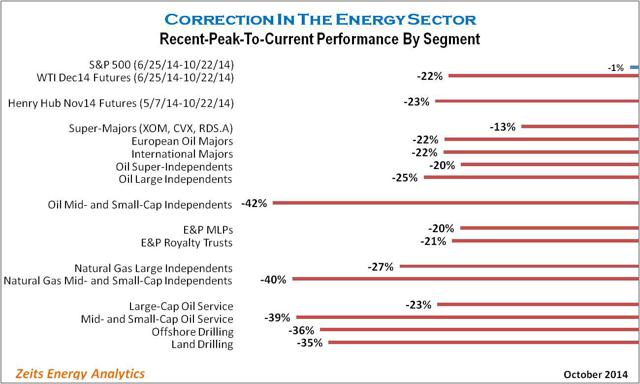 (Source: Zeits Energy Analytics, October 2014)
ExxonMobil Stands Out
Looking at Exxon Mobil's (NYSE:XOM) resilient performance throughout this correction, one may wonder if Exxon is an Oil & Gas stock. With a modest 10% decline from the peak the shares reached three months ago, Exxon stands out as one of the best performing names among the 125 stocks highlighted on the scorecard. Exxon is also by far the best performing stock in the Majors category (11 companies in the first three groups).
Several factors obviously contribute to Exxon's outperformance:
Low leverage to the price of oil due to high weight of international Production Sharing Agreements in the upstream portfolio and the effective hedge effect provided by the Downstream sector.
Enormous capitalization that makes Exxon a long-term holding for the largest long-only institutional funds.
Essentially debt-free balance sheet.
A natural question springs to mind though: given Exxon's resilient performance, how does it compare as investment opportunity versus other stocks that have experienced much steeper declines?
Also performing well are Chevron (NYSE:CVX), Royal Dutch Shell (NYSE:RDS.A) and Petrochina (NYSE:PTR) that have declined by 15%-16% from their recent peaks in the course of this correction.
Of note, these four stocks alone account for almost $1.1 trillion of the Oil & Gas Sector's market capitalization.
Stock Performance Differentiated By Capitalization And Leverage
~20% recent-peak-to-current declines has been fairly typical for large-capitalization stocks in the Oil & Gas Sector. However, stock performance continues to be very strongly differentiated by capitalization and leverage. Small- and mid-capitalization stocks continued to underperform in the past two weeks, extending their declines to a staggering ~42% on average as a group, based on yesterday's close. While financial leverage, heavy exposure to emerging resource plays and growth-based valuations are the obvious drivers of these steep declines, trading liquidity and participation by "fast money" in many of the "small" equities may have exacerbated the moves.
The following stocks have been particularly strongly impacted in large-capitalization categories (all stock prices based on October 22 close):
Petrobras (NYSE:PBR): - 38%
Apache Corporation (NYSE:APA): - 29%
Continental Resources (NYSE:CLR): - 31%
Noble Energy (NYSE:NBL): - 28%
Baker Hughes (BHI): - 30%
Halliburton (NYSE:HAL): - 26%
Transocean (NYSE:RIG): - 35%
Seadrill (NYSE:SDRL): - 40%
The declines by offshore drilling stocks are particularly pronounced given that rig utilization and dayrates have been softening already prior to the recent drop in the price of crude oil.
Two categories that did relatively well in the past two weeks are E&P Royalty Trusts and E&P Master Limited Partnerships. Units in both groups have bounced back quite noticeably since my last update. LINN Energy (LINN), for example, closed at $25.19 yesterday, which is 19% above the low price of $21.25 achieved intraday on October 15. The recovery in these two groups makes some sense given that Trusts and MLPs have low operating leverage (new drilling is a small component of their business) and in some cases are very well hedged against near-term commodity price volatility. The 25%-30% declines, on average, seen a week ago were clearly excessive relative to the rest of the sector.
The small-capitalization group offers a rich menu of stocks that have experienced dramatic re-pricing in the past three months, including stocks that have been viewed as exciting growth "stories." The following are just a few examples of small-capitalization stocks with particularly strong price changes:
Is This Correction "Forming a Bottom?"
While trying to predict the next move by the stocks in the sector is a thankless undertaking, I would argue that from a fundamental perspective, the risk reward profile for the sector has dramatically changed to a more favorable, due to the re-pricing of the stocks that has already happened.
Driving these conclusions are macro considerations that I discussed in greater detail in a separate note ("Oil & Gas Stocks: Is This Correction Over?"). The key point is that North American unconventional production does not appear to have been a disruptive factor, but rather a much needed growth component within the world's supply, barely sufficient to meet global demand growth.
As global demand continues to grow, U.S. unconventional plays will continue to be "called upon" for additional production volumes to help meet that demand growth. Moreover, the current oil price correction may help U.S. producers gain even greater market share at the expense of international projects.
Therefore, the North American shale oil story is far from over. Its growth is secular in nature, even though transitory oil oversupply may inflict temporary pain and weed out assets (and possibly, whole entities) with the least competitive economics.
Oil & Gas Sector Correction Scorecards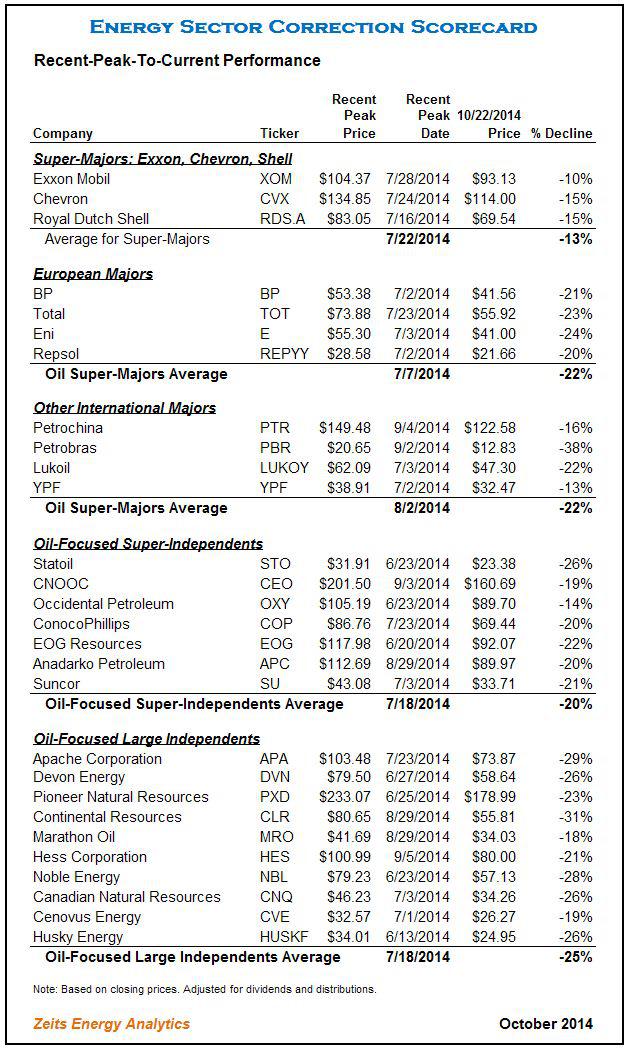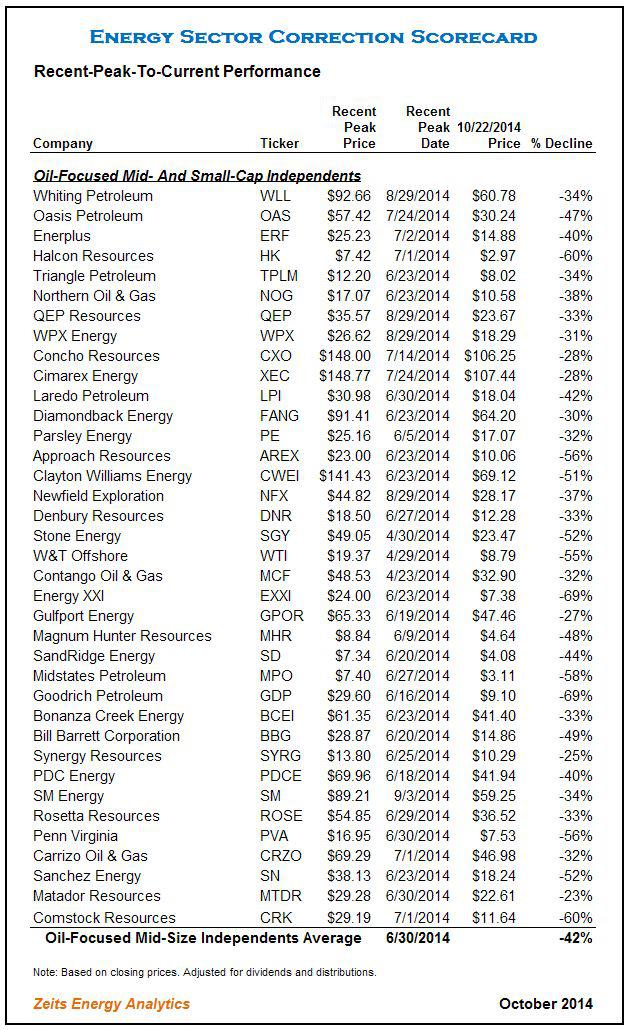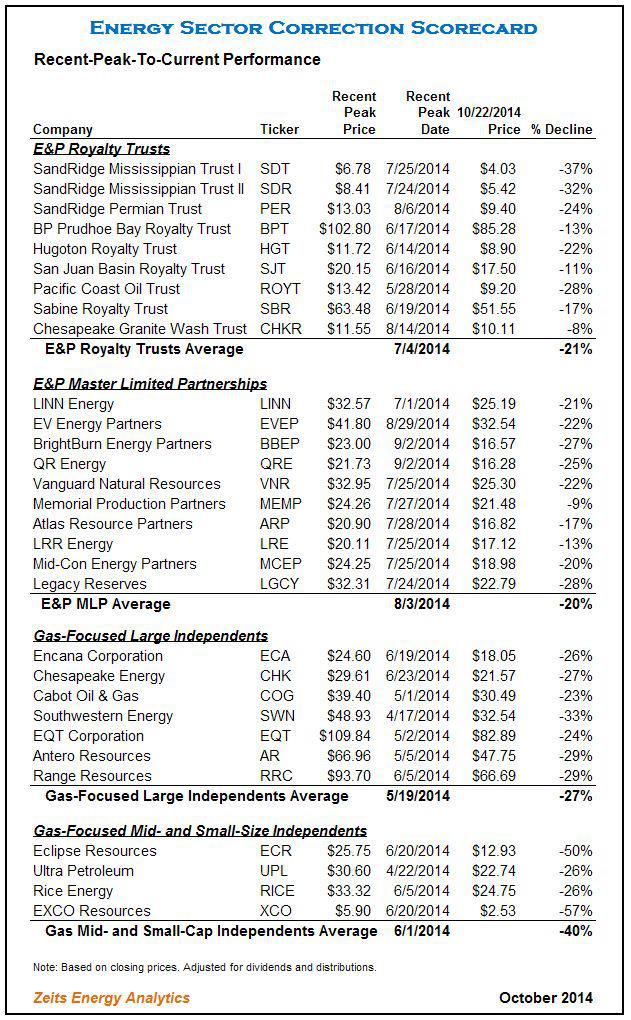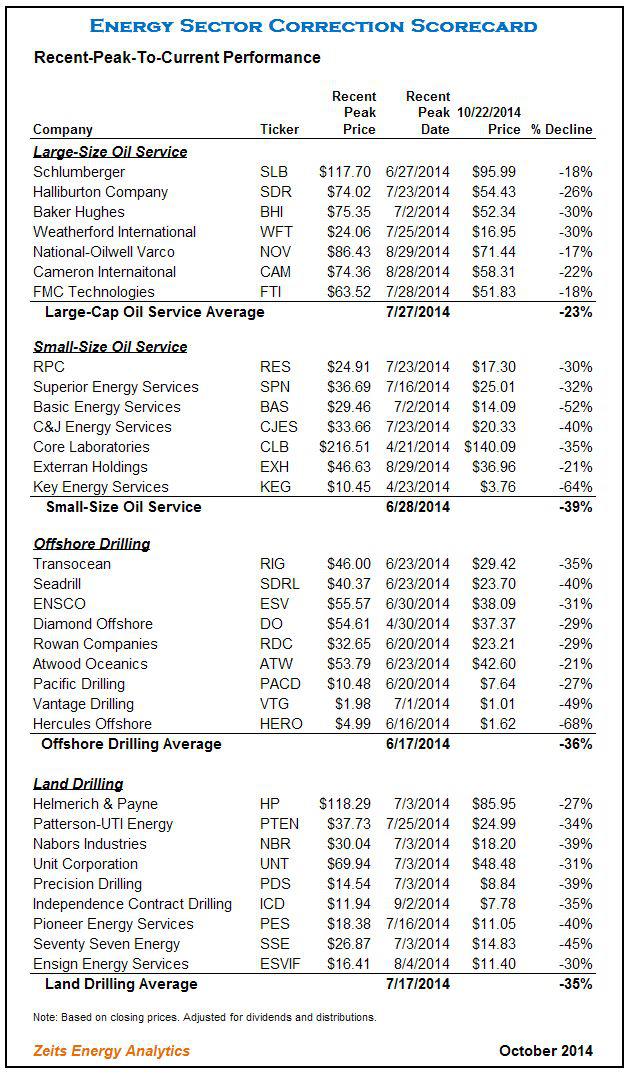 (Source: Zeits Energy Analytics)
Disclaimer: Opinions expressed herein by the author are not an investment recommendation and are not meant to be relied upon in investment decisions. The author is not acting in an investment advisor capacity. This is not an investment research report. The author's opinions expressed herein address only select aspects of potential investment in securities of the companies mentioned and cannot be a substitute for comprehensive investment analysis. Any analysis presented herein is illustrative in nature, limited in scope, based on an incomplete set of information, and has limitations to its accuracy. The author recommends that potential and existing investors conduct thorough investment research of their own, including detailed review of the companies' SEC filings, and consult a qualified investment advisor. The information upon which this material is based was obtained from sources believed to be reliable, but has not been independently verified. Therefore, the author cannot guarantee its accuracy. Any opinions or estimates constitute the author's best judgment as of the date of publication, and are subject to change without notice.
Disclosure: The author has no positions in any stocks mentioned, and no plans to initiate any positions within the next 72 hours.
The author wrote this article themselves, and it expresses their own opinions. The author is not receiving compensation for it (other than from Seeking Alpha). The author has no business relationship with any company whose stock is mentioned in this article.