This morning I added Kongzhong (KONG) to the Barchart Van Meerten New High portfolio for very positive price movement. This is one Chinese ADR that you should put on your watch list.

I know many investors are investing in Chinese ETF's but I think you have a better opportunity if you invest in individual Chinese ADRs selectively rather than Chinese baskets of stocks.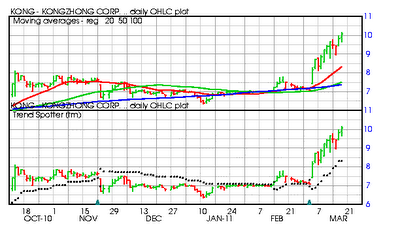 (Click to enlarge)
Kongzhong is the leading provider of 2.5G wireless interactive entertainment, media and community services in terms of revenue to customers of China Mobile.
Technical Factors:
96% Barchart technical buy signal
11 new highs and up 39.27% in the last month
Relative Strength Index is 81.09% and rising
Trades around 10.07 with a 50 day moving average of 7.51
Fundamental Factors:
Wall Street brokerage analysts have published 1 strong buy and 2 hold recommendations
Sales are projected to increase by 16.90% this year and 16.60% next year
Earnings are estimated to increase by 62.10% this year, 27.70% next year and 15.00% annually for the next 5 years
Investor Sentiment:
The general investing public is looking for Chinese ADRs and have found this one
The CAPS members on Motley Fool vote 988 to 50 that this stock will beat the market
The more experienced All Stars agree 328 to 11
For those of you that want to be in BRIC stocks and are ready to move beyond ETFs then selecting individual ADRs is your next logical step,
Disclosure: I am long KONG.