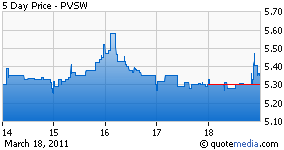 After two years of hibernation, shares of Pervasive Software (NASDAQ:PVSW) are ready to re-launch.
The reasoning is simple – Pervasive's revenue growth and stock price ebbs and flows with its product release cycles. In September 2007, it released new versions of its two flagship products: PSQL (version 10) and Data Integrator (version 10). Six months later, the company's revenue growth had moved from negative to positive and its share price followed suit. After underperforming the NASDAQ for 4 1/2 years, PVSW went on a tear, rising 65% over the next 15 months while the NASDAQ declined by 20%. If stocks weren't mired in a bear market at the time, PVSW's shares might have doubled.
History is now repeating itself.
Eighteen months later, these upgrade cycles ran their course and PVSW shares started drifting lower again. Over time, investors forgot about the company and the fact that its next product-release cycle would eventually come. Indeed, that time has come. After underperforming the NASDAQ for the past couple of years, Pervasive has once again released new versions of its flagship products.
In September, the company released PSQL version 11, its most significant release since the 2007 upgrade. Then, in November, it released the Cloud Edition of Data Integrator version 10. The full version is scheduled for release during the coming quarter. With significant enhancements to its functionality and user interface, this release of Data Integrator is expected to be Pervasive's most significant in 10 years.
The impact should be significant. Typically, when a software company prepares to release a new version of its software, sales slow for a couple of quarters. Why? Simple -- customers will gladly wait a few months to get the latest and greatest features. So, they delay purchases. However, once the new products are released, pent-up demand fuels several quarters of strong sales. Indeed, Pervasive's PSQL sales have been declining for several quarters, so a great deal of pent-up demand has likely built up.
Taking all of this into consideration, the logical conclusion is that PVSW's sales will pick up again. Consequently, its stock price should also take off.
But this time, the stock should gain much more than 65%. Why? Simple -- this time there's a bonus (actually, there are two):
1. A Move to Subscription- and SaaS-Based Revenue
With the success of companies like Salesforce.com (NYSE:CRM) many software companies have been moving towards subscription and Software as a Service (SaaS) based sales models. Wall Street has rewarded the successful ones with premium multiples [CRM, Success Factors (NYSE:SFSF), Cornerstone on Demand (NASDAQ:CSOD), etc). This is important to note, because Pervasive has been successfully transitioning its Data Integrator product to be delivered via subscription or as a SaaS.
Because subscription revenues are recognized little by little (versus perpetual license revenues, which get recognized upfront), the transition has made Pervasive's revenue growth appear flat. In actuality, its bookings have been increasing. The proof is in its deferred revenues growth, which has accelerated. This is a clue to investors that revenue growth will also begin to accelerate. In fact, this has already begun. After three quarters of flat or declining revenue, Pervasive's integration business showed year-over-year growth and jumped 14.7% sequentially. With the subscription/SaaS transition gaining momentum and its product release cycles ramping up, investors have two reasons to believe this trend will continue. Thus, PVSW's shares should soon reflect the company's momentum.
2. A New Product Geared Toward Big Data and Cloud Computing
Over the past several years, Pervasive has invested most of its profits into R&D. While net income has averaged $700,000 (4-cents per share) per quarter for the past four quarters, R&D spending has been four-times larger, averaging $2.8 million (16-cents per share). Clearly, this has held earning down, which has kept the stock price in check. However, the company (and presumably investors) are about to receive a payback on these investments. Its latest product, DataRush, accelerates the processing time for massive amounts of information, also known as "Big Data."
Big Data has recently become a hot topic in technology. This is due to the overwhelming amount of data that gets created on sites like Google and Facebook every time someone uses those sites. As Internet usage grows, data piles up at an accelerating rate. Luckily, the cost of housing this data has become much cheaper as storage prices plummet and technology improves (i.e. virtualization). As a result, customers are now opting to keep virtually 100% of its data. This presents a great opportunity for companies that can help customers process and analyze it.
Companies that do this include Aster Data, Informatica (NASDAQ:INFA), Netezza, and Teradata (NYSE:TDC). Because of this Big Data trend, INFA and TDC have become two of the hottest stocks on Wall Street. Over the past 12 months, both have risen 70%. Meanwhile, Netezza (which was also a hot stock) was acquired by IBM for $1.7 billion (more than six times revenues). Also, privately-held Aster Data was acquired by Teradata for $263 million despite having virtually no revenue.
If Pervasive is given similar metrics, is enterprise value will increase to $300M ($50M in revenue multiplied by six). Add in the value of its balance sheet and that number increases to roughly $340M…or $21.25 per share, more than triple current levels.
Thanks to the newness of its product line, Pervasive remains under the radar screen -- its market cap remains under $100M. This presents a unique opportunity for investors. As its new products gain momentum in the marketplace, its fortunes should change quickly. Big Data is hot and Pervasive is now well-positioned to capitalize on the trend with two major upgrades and a brand new product.
Management appears keenly aware of this. It has been buying back shares aggressively. As a result, investors have the potential to triple their investment, while knowing that management will support the share price if it falls. That is called superior risk to reward.
So how will the play out? There are several scenarios:
1. If Successful
Pervasive stands to benefit from two simultaneous upgrade cycles and a hot new product. If any of these initiatives succeed, revenue and revenue growth will rebound. Because it's a software company, much of these increased revenues will drop straight to the bottom line. Marketing and R&D costs are already at elevated levels, so costs won't have to increase, even as the cash flow starts rolling in. In other words, EPS will rebound much more violently than revenue.
If all of these initiatives succeed, the result will be explosive. A mere 30% increase in revenue would add close to $4M to Pervasive's quarterly revenue. Based on its current cost profile, this could boost its average net income by $1.8M per quarter, from $700,000 to $2.5M. That equals 62-cents in annual EPS, more than double Wall Street's current estimate for fiscal 2012. Given a 30 P/E for its growth, subscription model, and emergence in several hot markets (SaaS, Cloud, and Big Data), PVSW's enterprise value would expand to $18.60 (62-cents x 30). Adding back the value of its balance sheet (about $2.50 per share), its total stock price would top $21, confirming the valuation exercise above.
Investors can feel good about the chances of this scenario playing out. DataRush is geared towards the Enterprise space (Fortune 2000-type customer). This market is several times larger than the mid-market, Pervasive's traditional stronghold. For example, sales at INFA (the leading pure-play at the Enterprise level) are FIFTEEN TIMES greater than Pervasive's. In other words, Pervasive now has a lot more room to grow. Because this is a new offering in a vastly larger market, DataRush could enable Pervasive to become several times its current size.
Looking at INFA again, its enterprise value is 6x revenues with growth expectations in the mid-teens. Meanwhile, virtually unknown, PVSW's stock trades with an enterprise value of just 1x revenues. The math here is simple. If PVSW's sleepy stock tripled, it would still sell at a hefty discount to INFA (despite having significantly more opportunity to grow from its small base). While a continued discount to market-leading INFA would likely be justified, if PVSW's growth rate accelerates enough, it could justify a premium revenue-multiple (based on growth and momentum). Such a premium would require PVSW's stock to exceed $21 per share. This, we have another scenario telling us that PVSW's shares could be poised to triple. Keep in mind, INFA's market cap is currently $4.4B. Just a tenth of that would represent $20 per share for PVSW.
2. If Unsuccessful
If all else fails, the company will likely fall into the hands of activist shareholders. Such investors would push for the conversion of Pervasive from growth-mode into a cash cow. This would be done by cutting R&D and SG&A, potentially in half. The result would be an increase operating margins approaching $20M or $1 per share (60-cents of EPS if taxed at 40%). These cuts alone would justify a $9.00 stock price -- 10x 60-cents + the value of PVSW's balance sheet and other miscellaneous cost savings (i.e. Sarbanes-Oxley expenses). This triangulates well with its technical resistance-levels in the high-8s.
In this scenario, PVSW's share would not triple, but $9 per share represents a fantastic "worst-case" scenario.
For the record, one of my past picks, Vignette (VIGN), was acquired by Open Text (NASDAQ:OTEX) for this very reason. OTEX paid a 41% premium (74% above its average price of the previous 30-days) and then cut expenses. OTEX made a bundle on the deal, leading to its current $57 share price, nearly double its value before acquiring VIGN (less than 2-years ago). Indeed, deals like this are very attractive to acquisitive companies like Open Text and Oracle.
Incidentally, this scenario wouldn't require activist shareholder involvement. Management could do all of this voluntarily and then sell the company to a vendor or private equity shop -- again, not a bad outcome for a failed strategy.
3. If Coveted
As I outlined above, Pervasive could be acquired if unsuccessful. However, it has an equal chance of being acquired if its new products are successful. Despite being much larger and formidable competitors, INFA, ORCL, and IBM (among others) lack some of PVSW's latest technological capabilities. In addition to having new cutting-edge products, PVSW has patent protection on its parallel dataflow technology. This patent is the key to accelerating Big Data analysis. This is the key competitive advantage provided by its latest DataRush offerings. By obtaining PVSW's functionality and intellectual property, its larger competitors could gain a critical advantage over its peers.
These vendors could also generate a lot more revenue with Pervasive's products than Pervasive can on its own. This is because 1) those larger vendors already have a massive installed base of Enterprise accounts. In contrast, this is a new market for PVSW – it is building an Enterprise customer base from the ground floor 2) the larger vendors also have expansive and experienced Enterprise sales forces. They which could simply and immediately extend Pervasive's products to the Enterprise level on a global level.
Due to these facts, several vendors could justify paying a significant premium to acquire PVSW. For example, a company like INFA could afford to pay upwards of $20 without the deal becoming dilutive to earnings. That being said, if INFA did pull the trigger, it would likely cut R&D and SG&A pretty significantly (due to overlapping efforts and processes). This would make the deal accretive at even higher share prices. In addition, Software AG (OTCQX:STWRY) and Microstrategy (NASDAQ:MSTR) are two other vendors that could seek to acquire PVSW. Both need the functionality to defend themselves against encroachment from their larger, increasingly-holistic competitors. Because of the multitude of vendors that could benefit from acquiring PVSW, a bidding war could ensue, driving its share-price to levels well above the $20 outlined in the INFA scenario. Yet another way PVSW's shares could possibly triple.
One More Scenario
A hybrid of outcomes could also occur. Since Pervasive's new offerings target the Enterprise, the company could sell off its legacy, mid-market product lines. Its legacy customer base pays annual maintenance fees as insurance on their software. This revenue stream is very profitable, which is attractive to financially-oriented suitors (i.e. private-equity shops).
Such a spinoff would make Pervasive a pure play on Cloud-Optimized, Big Data, with SaaS delivery – a trifecta of the industry's hottest buzzwords. As outlined above, vendors with similar monikers have routinely attracted multi-$100M price tags, despite tiny levels of revenue. Thus, if PVSW could fetch $100M for its legacy business and achieve a $200M valuation for its hot new businesses, its shares will have triples from current levels.
Bottom Line: With two major upgrade cycles and a hot new product, PVSW offers investors several ways to win. Meanwhile, its low valuation and share-buyback program provides few ways to lose. Indeed, based on its current valuation and prospects for 2011, PVSW's shares appear poised to triple.
For an in-depth financial analysis, see the follow-up article, entitled, Why Pervasive's Shares Remain Under the Radar.
Disclosure: I am long PVSW.