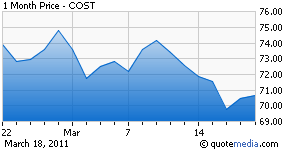 Costco (NASDAQ:COST) is one of the largest retailers in the United Status with over $75 billion in annual revenue. The company operates over 420 stores in the US and 580 in the world.
Based upon the company's decline in stock price since the horrific earthquake and tsunami hit Japan, how many of those 580 would you guess are in Japan.
Surely you would think that a large number of the remaining 160 are in Japan, right? Think again.
Yes, that is correct – only nine of Costco's stores are located in Japan, representing 1.6% of total stores. One of those stores has been closed for the indefinite future due to damage from the earthquake/tsunami. If you are extremely concerned about the health of the Asian continent, you can take additional comfort knowing that less than four percent of Costco's stores are located in Asia. With this information, the next step is to attempt to gauge the financial impact of this lost store on Costco earnings by examining segment reporting per the November 10-Q.

Unfortunately for investors, Costco does not disclose detailed information about its segments outside of North America. Despite this omission, we are able to estimate with reasonable accuracy. Japan's nine stores represent only 11.7% of the "Other" segment; therefore, I estimate that Costco generates $732M in revenue from Japanese stores, or $81M in revenue per store. As you can see, any single Japanese store accounts for a meager .1% of overall sales. Based on Costco's gross margin of 11%, the impact on earnings of being forced to close the damaged store could potentially be $9M or $.02 per share.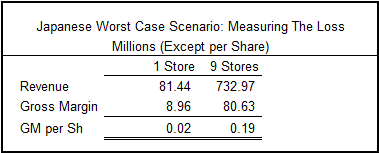 In addition to the lost revenue I must mention the increased costs. Costco spends an average of $2.5M on new stores so this serves as a good proxy for the amount that the company will have to spend on the rebuild. There may also be potential liability issues as two people tragically died in the store during the earthquake but I do not anticipate this having a material impact on earnings.
In conclusion, it is apparent that irrational pessimism has engulfed Costco and unfairly punished the stock. Ask yourself, does a ten basis point decline in revenue justify a five hundred basis point decline in price?
Disclosure: I have no positions in any stocks mentioned, but may initiate a long position in COST over the next 72 hours.