I've been a big proponent of option-income, equity Closed-End Funds (CEFs) even as their popularity diminished in the face of a strong ramp-up market over the past 2-years. A series of dividend cuts since the market rebound from early March, 2009 for virtually ALL option-income CEFs from ALL fund families (not just Eaton Vance) may surprise a lot of investors as counter-intuitive when a market is rising, but option-income funds are defensive in nature and do not perform as well in a ramp-up market.
Being short index or individual stock options when a market is up 1% or more month after month forces these funds to buy back their open option contracts usually at a loss, hence the need to re-balance their distributions if losses continue to accumulate. This is not to say that the fund's Net Asset Values (NAVs) are losing value each month, since the rise in value in their underlying portfolios more than offsets these option losses but when these funds are also paying high dividends, the net appreciation (portfolio appreciation minus option losses) may not be enough to offset the high distributions.

Since most of the option-income CEFs use rolling 1 to 2 month option expirations (for average durations of 20-45 days), if say 10 out of 12 months of a year the funds are being forced to buy back their open option contracts due to their correlated indices rising 1% or more each month, then yes, the funds may need to rebalance their distributions. This has been the case for the last 2-years up until March, but whether the markets can continue this ramp-up mode now remains to be seen.
In fact, in just about every other market environment, option-income funds NAVs will typically outperform their correlated indices. This is because the option premium is a time depreciating asset for the purchaser of the contract so unless the broader market indices rise more than roughly 1% each month, the seller of the option contract (i.e. the option-income funds) can usually have a net positive trade in most market environments; i.e. down, flat or even up less than 1%.
This is one reason why I favor option-income CEFs over leveraged or dividend harvest CEFs. It's only in a ramp-up market like we've seen over the past 2 years, March notwithstanding, that the NAVs of option-income CEFs will typically underperform their correlated market indices.

All of that may be changing however as current events in Japan and the Middle East as well as a reduction in quantitative easing may make it more difficult for the markets to show a repeat of the last 2 years. A more volatile and range bound market, such as we've seen just in the last month as represented by the S&P 500 volatility index up almost 50%, will play more into the hands of option-income funds. The more volatile the market, the higher the option premium for these funds to sell into. Already we are starting to see these funds' NAVs outperform the broader market averages. Below are a couple of option-income funds' NAV changes month-over-month from the February option expiration on Friday, February 18th to this month's option expiration last Friday, March 18th.

For simplicity, I only used option-income funds that include US stocks since global option-income fund comparisons are more difficult due to different country weightings, though it would be safe to say that most global option-income CEFs have also outperformed their global market indices as well.

The two option-income funds I chose are the Eaton Vance Tax-Managed Buy/Write Opportunities Fund (NYSE:ETV) and the Eaton Vance Tax-Managed Buy/Write Income Fund (NYSE:ETB). ETV is more technology weighted and thus sells (writes) call options on both the S&P 500 and the NASDAQ whereas ETB sells (writes) call options on only the S&P 500. The table below () shows how these two funds' NAVs performed relative to their correlated market indices over the past month.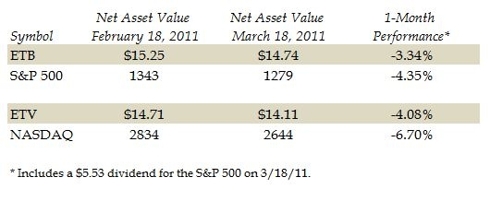 This example shows how option-income funds NAVs will hold up better in a down market environment and why I think that option-income funds represent the best values today since they are still out of favor, yet have some of the largest market price discounts among equity based CEFs.
Though one month does not a trend make, and continued market weakness would not be beneficial for option-income funds even if their NAVs outperform, the point I'm making here is that when a shift in market trends is occuring and there are funds that will do better in the new market environment, then eventually these funds valuations will improve.
With many option-income funds at 9%-10% market price discounts (ETV is at a 9% discount and ETB is at a 9.36% discount) and still out of favor, this is an opportunity for investors to get into these funds ahead of the curve. If the trend moves away from the risk trade back to income oriented equity securities, then that just fits into these funds' style even more.

Note: Each fund's NAV performance will be dependent on a number of factors such as the portfolio holdings, option coverage percentage, the moneyness of the options, i.e. in or out-of-the money and level of distributions.

Disclosure: I am long ETV, ETB.