When does Chinese loosening cause the market to rally?
Oil Search - strategic review release
CSR - performing like a train
China Construction Bank - 3Q result
German Manufacturing PMI for October rises to 51.8; forecast 49.5
---
1. When does Chinese loosening cause the market to rally?
The cause and effect of loosening in China is an interesting argument to have. Effectively; at what point does loosening (in this case in the form of falling interbank treasury yields) cause at the very least market bottoms and at most subsequent rallies?
It stands to reason that it is not loosening in itself that causes rallies but only when such loosening "gets ahead" of the economic slowdown.
We measure this by looking at the RSI for the Chinese 6 month interbank treasury and sure enough in every single case since 2007 (As Long As Data Is Available) of a falling interbank yield that has reached "oversold" territory in the RSI the market has bottomed and subsequently rallied.
Yet another indication that one should be BUYing China to add to the high likelihood of an RRR cut and the fact that high frequency property data suggests the beginnings of a recovery.
The fact is; that all this loosening is acting on an economy that is in a FAR better position than previous loosening cycles, that continues to improve their credit intensity and continues to focus on their reform agenda, yet remains cheaper relative to the region than it has been since 1999.
Every single time a falling interbank yield has moved into oversold territory on the RSI, the market has reached its bottom and subsequently rallied.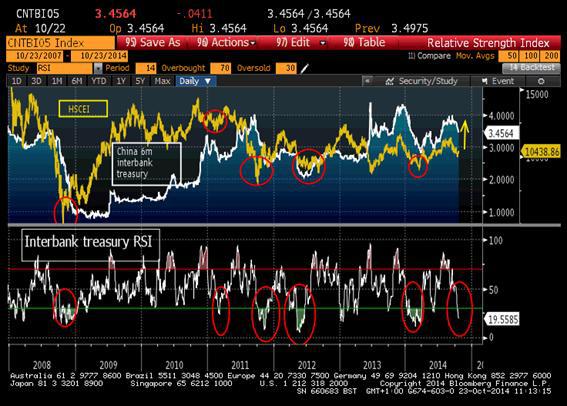 BUY China Overseas Land & Investment (OTCPK:CAOVY, 688 HK)
BUY Bank of China (OTCPK:BACHY, 3988 HK)
BUY Anhui Conch (OTCPK:AHCHY, 914 HK and 600585 CH)
2. Oil Search - strategic review release
The OSH 2014 strategic review was reassuring without major surprises or change of direction. A new formalised payout policy and commitment to focus on the existing portfolio are welcome but ultimately anticipated strategic moves, although the top of end of the expected payout range (50%) is probably 10% higher than sell side expectations and the cash balance in the Q improved from $368m end of June to $595m. OSH remains on track to deliver 18-20mboe for 2014 production and current valuations still imply any operational upside can currently be bought for FREE even at $85 oil. With the Elk/Antelope arbitration beginning in November this upside may not be too far away for OSH (adding 20% even at $85 Oil) and it is not too much of a stretch to surmise that the release of any expansion plans (that may or may not utilise feedstock from the Elk/Antelope assets) may well have been purposefully delayed to await the arbitration outcome.
Even at $85 oil, operational upside for OSH is currently free. BUY OSH AU
The key points from the Strategic Review for us:
M&A is not the focus. Positive. They will focus on the high returning PNG assets next 5 years
Formalised their payout ratio - 35-50% of core profit after tax. May be adjusted for large oil moves either way.
Debottlenecking T1 and T2 - global benchmarks suggest 10-15% uplift, market is probably around 10%
T3, T4 and T5? Sufficient discovered gas to cover at least two additional trains, "modest exploration success in 2015" would make a 3rd additional train possible. FID by end 2016, progressive delivery of additional trains 2019-2022
Total exploration and appraisal budget for 2015-2016 is US$350m-$450m
Dividend Reinvestment Plan suspended - highlights balance sheet strength
PRL 15 - no real discussion in presentation of asset. Unresolved dispute process likely caps what they can discuss.
Upcoming key dates
17-21 Nov - Investor site tour to PNG assets
Nov-Dec - Appraisal programmes for the Highlands area and PRL 15
Dec - Hides F1 Deep to start drilling
To highlight their competitive cost position and as part of their operational review, OSH outlined to investors that their competitive advantage only increases at $80-$85 oil as competing marginal projects and expansions would fail. They also highlighted their belief that $85 oil in the next 3 years is "realistic." We see this forecast as overly conservative, particularly as should the ISIS threat recede then Saudi would be free to reverse their recent increase in production as has been the case during all other periods of oil price weakness.
However, following OSH's 4% rally since last week, even should $85 oil persist into PERPETUITY (highly conservative), you are currently getting any further de risking of Train 3 and nearly all of the potential Elk outcome for free. (Elk arbitration begins in November with a resolution expected Q1 (would add 20% to current share price even at $85 Oil).
For sensitivities at higher oil prices please see notes here.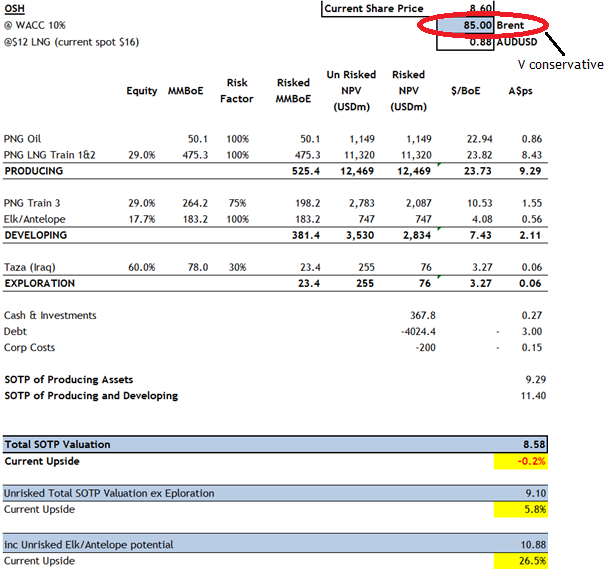 BUY Oil Search (OSH AU)
3. CSR - performing like a train
At the beginning of the year CSR made it on to our High Quality Growth "potentials" list and in May we highlighted to investors that (following improvements) the company would then have made the cut into the full blown HQG list and as such, should be bought. Following this (on the 28th July) CSR appeared in our list of "Best exposures in China" and we continued to push the stock for the next 2 months. The stock is now up 45% since May and 14% since July.
So has the stock run too hard? We think not.
CSR - performing like a train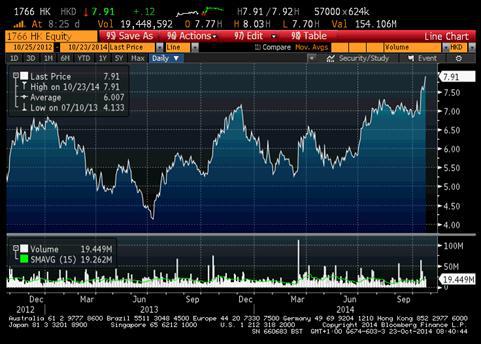 The buildout of rail infrastructure is one of the absolute key areas of structural and secular growth in China and vital to the country's ability to avoid the middle income trap and improve productivity. China currently has the same rail infrastructure and GDP per capita as the US in 1878 (The Great Urbanisation 1800-1900 US), before rail doubled and GDP per capita rose by 50% in 10 years. Further rail investment in China is not only needed, but inevitable. The fact is, however, that marginal new rail investment in China is now more likely to be weighted towards municipal projects, meaning the proportional investment to downstream (rolling stock) assets rises. This is the area in which CSR operates.
Government unveiled policies in July to invest 4X the amount in rail FAI in the 2H as they did in the 1H utilising municipal bond financing. The renewed commitment to rail is starting to be reflected in rail FAI numbers and further policy support is expected (see below).
China announced targets in May for 64 new project starts for 2014. If target is to be met 42 will be announced in the 4Q; BIG ramp up to come.
1.35tn RMB to be invested on new projects started this year (a record high).
A 3rd MU bidding process looks imminent (first time since 2007 there have been 3 in one year) and all of CSR's recent margin improvements have been due to increasing higher margin MU sales.
New railway project starts are beginning to gain momentum - NDRC approved 3 new projects last week
Overseas business development is providing further opportunities for Chinese operators - "Russia may build 7,000 km high-speed railways through cooperation with China" reported last week.
China National Rail (601299 CH) - yesterday won a contract to provide trains for the Boston underground.
China's investment in rail will ramp up still further in the 4Q, will focus more on MU thus supporting CSR's higher margins and despite CSR's EV/EBITDA being significantly lower than the last time, rail FAI growth was anywhere near 20% YoY (16X Vs. current 11X), broker upgrades have only just begun.
Chinese Rail FAI is growing at nearly 1.6X the level of overall FAI currently at 25% YoY. The last time Rail FAI rose to these levels (in 2011) CSR traded on 16X EV/EBITDA FY1 vs. current 11X (right)

The upgrade cycle has only just started for CSR if we compare it to the 2011 railway stimulus (left) and (right) CSR PE FY 1 (top) and EV/EBITDA trailing (bottom) - valuations are not yet stretched, even aside from the upgrade potential.

BUY CSR (OTCPK:CSRGF, 1766 HK, 601766 CH)
4. China Construction Bank (OTCPK:CICHY) - 3Q result
A 3.45% NI miss in the 3Q for CCB. Having said this, a solid NIM and an impressive NPL performance (when normalising for the Brazilian Bank BAC) despite the economic pressures of the 3Q should see these results taken well.
Just 4.7% YoY NI growth but NIM stable QoQ at 2.8%
LDR risen to 72% from 70% (this should be expected given the new deposit "deviation indicator" has now taken effect, lowering the ability for banks to deposit gather pre results. This may also provide a backdrop for a lower RRR.
T1 up to 11.65% from 11.2% in 2Q
NPLs were up 16% HoH with the NPL ratio up to 1.13% from 1.04% as at 1H; however, excluding the impact of the Brazilian Bank (BIC), NPLs only grew by 10% HoH (a slower rate than as at the 1H) and NPL ratio only rose by 3bp to 1.07%
Provisioning declined to 235% from 250% as at 1H, but again without the impact of BAC in Brazil allowances would have remained at 245%
We remain BUYers of the Chinese Banking sector.
BUY Bank of China
5. German Manufacturing PMI for October rises to 51.8; forecast 49.5
From our EU team - "This entirely consistent with our view the weakness in August, that precipitated a sell-off in German industrials, was misinterpreted due to seasonal shut-downs and a confluence of German state holidays. As we said at the time we expected a bounce in activity levels."
Chinese trade data already looks robust, particularly given the de-gearing of trade finance in the last 3 months. The perceived recovery in Europe should further support the Chinese outlook.
BUY China
Disclaimer: Aviate Global LLP is authorised and regulated by the Financial Conduct Authority (FCA reference 465131). Aviate Global LLP is not covered by the Financial Services Compensation Scheme (FSCS).
The material contained within this presentation is NOT INTENDED FOR RETAIL CLIENTS i.e. those who are not:
a)Per Se Professional Clients or an Eligible Counterparty as defined in the European Parliament and Council Directive on Markets in Financial Instruments (MIFID);
b)'Professional Investors' as defined in the Securities and Futures Ordinance (Chapter 571 of the Laws of Hong Kong) and its subsidiary rules;
c) Persons other than "major institutional investors" as defined in SEC Rule 15a-6 in the United States)
Aviate Global only trades on instruction from clients. Aviate Global does not hold proprietary positions and nor does it manage portfolios.
IMPORTANT INFORMATION FOR UNITED STATES PERSONS
This document / report / presentation has not been prepared, reviewed or approved by Aviate Global (US) LLP, Aviate Global LLP's affiliated U.S.-registered broker-dealer and a member of FINRA. This report is intended to be distributed by Aviate Global LLP in the United States solely to "major U.S. institutional investors" as defined by Rule 15a-6 of the Securities Exchange Act of 1934, as amended. For the avoidance of doubt, this report is not intended for individual or non-institutional investors and should not be distributed to any such individual or entity. Interested "major U.S. institutional investors" should contact Aviate Global, (US) LLP, our U.S. registered broker-dealer affiliate, or another U.S.-registered broker-dealer, to effect transactions in the securities that are the subject of this report. Aviate Global (US) LLP also is registered as an Introducing Broker with the National Futures Association (NFA ID 0439324). Aviate Global (US) LLP does not deal with or for U.S. persons that do not meet the definition of an Eligible Contract Participant (as defined in the U.S. Commodity Exchange Act).
Editor's Note: This article discusses one or more securities that do not trade on a major exchange. Please be aware of the risks associated with these stocks.
Editor's Note: This article covers one or more stocks trading at less than $1 per share and/or with less than a $100 million market cap. Please be aware of the risks associated with these stocks.