By Scott Tzu
Earnings drove the Dow higher on Thursday morning as companies like Caterpillar (NYSE:CAT) and 3M (NYSE:MMM) beat earnings, pushing the futures up before the market even opened on Thursday.
After opening modestly higher, about 130 points, the Dow Industrials took off into the afternoon, at one point looking like they were going to confidently push through a gain of over 300 points.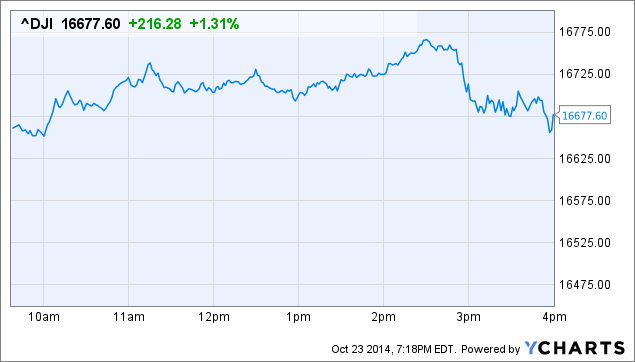 As things were looking like they were going to continue into the close, the Dow pulled back and began to pare its losses. Then, this report surfaced:
Just when you thought the Ebola virus outbreak risk was dwindling down… Fresh headlines from Dow Jones and the New York post have put the markets on Ebola watch all over again. The location could not be worse - New York City. A doctor who had treated Ebola patients in western Africa has reportedly been taken to Bellevue Hospital and has been quarantined.

New York City is the worst of all places that an Ebola case could be diagnosed. The city has a massive population density, which is likely one of the most densely populated cities in the world. CNBC ran a statement from Bellevue hospital signaling that the patient is being tested and has not yet been diagnosed.
On this news, the VIX instantly spiked and the Dow rally was cut short. Stocks like Tekmira (TKMR), which have basically been the "Ebola Fear Index" all popped up on the news. The good news of the morning's jobless claims report and earnings had been cut short as nerves got the better of most investors into the close. After the close, names like Pandora (NYSE:P) pulled back on earnings while the ETFs that track the indexes were mostly flat.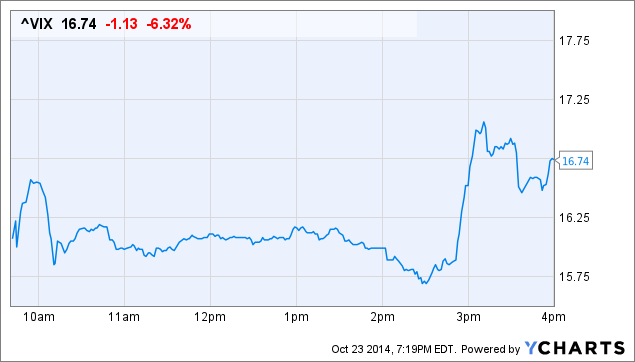 Friday, names like UPS (NYSE:UPS) and Ford (NYSE:F) will open the day up, and their earnings could also help shape the trading day ahead. New home sales consensus figures will be out at 10AM.
We're bracing for a tough day to end the week, and have shorted a couple of names heading into the morning. Although market direction will also eventually be dictated by the situation overseas in Asia and Europe when trading begins Thursday night and Friday morning, we're still predicting nerves to carry over into selling at the end of the week.
Disclosure: The author is short P.
The author wrote this article themselves, and it expresses their own opinions. The author is not receiving compensation for it (other than from Seeking Alpha). The author has no business relationship with any company whose stock is mentioned in this article.