The current loss of about 1.6+ million barrels per day of oil flow from Libya has a larger impact than merely its approximate percentage of total daily world production.

It is disproportionate because of the possibility of political contagion into other oil producing countries, and because the cost of mid-stream processing (shipping and refining) regardless of oil price will increase the price of refined products globally.

That, according to Deutsche Bank, is because Libya's oil is very "sweet" (low sulfur) and the world excess capacity to produce sweet crude is far less than its excess capacity to produce less sweet or "sour" (high sulfur) crude.

Libya's crude is less than 0.1% sulfur.

Saudi crude, which is where the bulk of excess production capacity exists (about 3 to 4 million barrels per day) is more than 1% sulfur.

Global refining capacity exceeds global oil production, but global sour crude refining capacity will be strained by replacing Libya's very low sulfur supply with Saudi's higher sulfur supply.

Refineries that can only process relatively sweet crude may have to reduce production, while refineries that can process higher sulfur oil will have to increase production. They are not all in the same countries. That means that crude shipments will need to be reallocated to different locations, and refined products delivery may have to be reallocated as well. These logistical issues will add marginally to the cost of gasoline.

Higher gasoline prices bring us closer to the tipping point where demand is destroyed by price, which in turn tends to reduce GDP.

Brent crude is the effective world standard. It currently trades at $115.41 per barrel for May delivery and $113.12 for January delivery. However, it was only about $80 to $85 in the June to October. Up around 40%.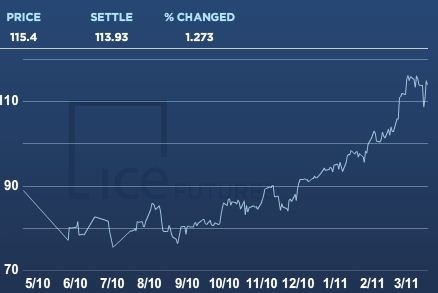 Deutsche Bank predicts the price will remain below $120 if the Middle East stays as is, but if another source goes off line, then $150 is possible. That they say could cut world GDP growth in half, from around 4% to around 2%.

According to the Dept of Energy, about 1/3 of total world oil supply comes from the Middle East, which is in turmoil top to bottom right now. Total world production is in the mid to high 80's million barrels per day.

Your can see the top 15 producers in this table: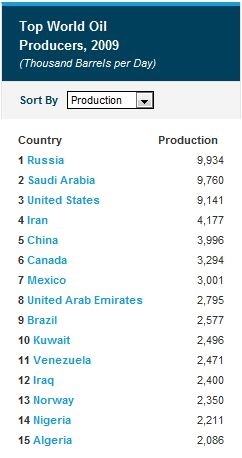 Libya has the largest proven oil reserves in Africa (about 46 billion barrels according to Oil & Gas Journal), but the Dept of Energy says it is still mostly unexplored.

Number two in Africa is Nigeria with 37 billion barrels of proved reserves -- and they are a revolutionary hot spot too. Nigeria produces about 2.2 million barrels per day.

If Nigeria were to go off line, then there would effectively be no remaining excess productive capacity.

Algeria may be working out its social matters. Iraq seems to be stable, by most news accounts.

Venezuela ought to be in line for a revolution based on the way current leadership is crumbling the economy.

The point is that just as there is a thin line between life and death, and an accident can take a healthy normal life in a second; similarly, the right political spark in one or more key oil producing countries could put oil into an upward spiral that would be auto-corrected by putting the world economy into a downward spiral.

That would be very bad for stocks and create a new rush to high quality sovereign debt.

These are precarious times, which we think makes owning above average amounts of energy assets and holding above average cash reserves a reasonable thing to do. That's how we are positioned in discretionary accounts at this time.

Disclosure: We hold CVX, COP, RDSA, TOT and VGENX in some but not all managed accounts as of the publication date of this article.
Disclaimer: This article provides opinions and information, but does not contain recommendations or personal investment advise to any specific person for any particular purpose. Do your own research or obtain suitable personal advice. You are responsible for your own investment decisions. This article is presented subject to our full disclaimer found on our site available here.