"Attack when they are unprepared, make your move when they do not expect it."
- Sun Tzu, The Art of War
Chinese reverse merger stocks have been getting shot down so often lately that it appears as if they are in the video game called "Duck Hunt". Unfortunately for many investors, it's not electronic ducks taking hits, but their portfolio. The pattern seems to be fairly consistent. Relatively unknown halfway around the world, Chinese mid-capitalization stock is doing great both in stock performance and earnings performance. Short interest starts building with the stock, along with option activity, followed by allegations of fraud and misappropriation of company funds by management and/or management cooking the books. When the dust settles, shareholder value is largely destroyed. Some examples include:
Rino Intl Corp (
OTC:RINO
) traded between $15 and $20 a share until fraud allegations besieged the company.

RINO ended up getting halted, delisted off of NASDAQ, with shareholder value losses of about 80%.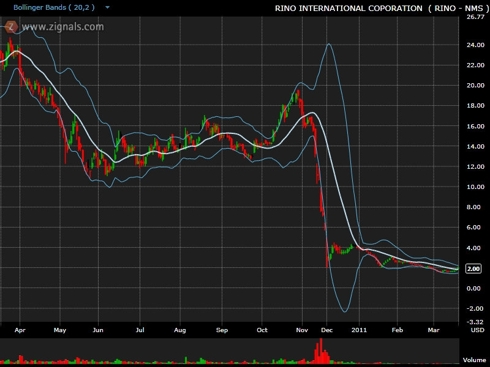 RINO now trades for about $2 per share on the "pnk sheets" OTCBB system.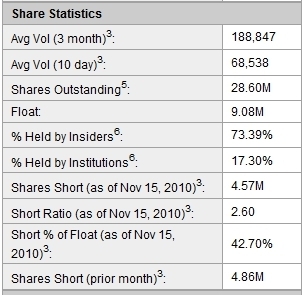 Even after four months, RINO is but a mere skeleton of what it once was.
Duoyan Printing, Inc. (NYSE:
DYP
), which traded around eight dollars per share before questions were raised about company accounting practices, can now be bought for less than two dollars per share.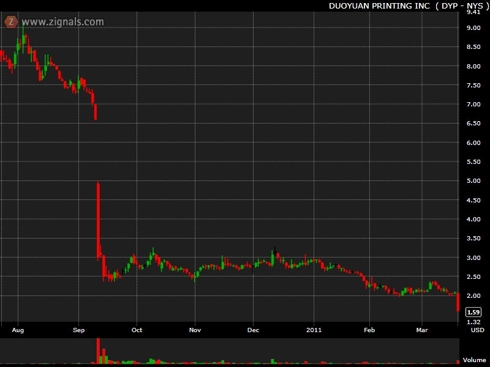 DYP currently has an
SEC investigation
; it is also currently out of compliance with SEC filings and has fired its auditor.
China MediaExpress Holdings Inc. (
OTCPK:CCME
), the hotly debated "
Is it a fraud? Is it not a fraud?"
Chinese advertising company, has investors sitting and waiting for the earnings report.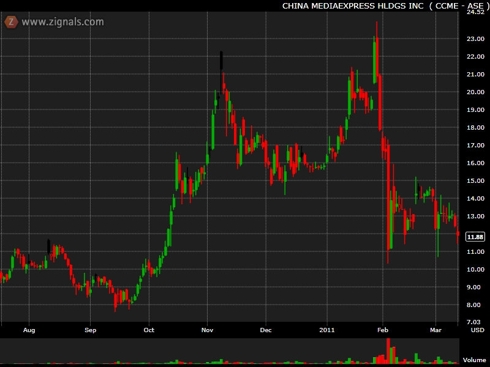 The stock is
currently halted
, the CFO has resigned, a board member representing a large investor has resigned, the company announced they will be late with their SEC filings, and the stock is down significantly since the time period before the fraud allegations.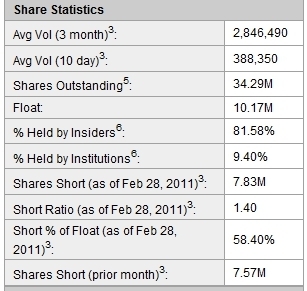 In part, what gave rise to such a heated debate in online forums is that the auditor for CCME was Deloitte, one of the largest, most prestigious auditing firms.
China Agritech Inc. (
OTCPK:CAGC
) was also recently
halted
by NASDAQ.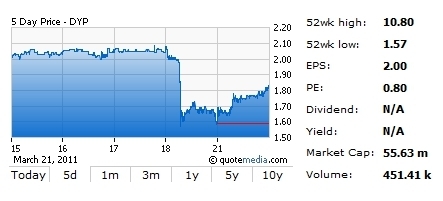 CAGC was using the Chinese division of Ernst and Young, but that relationship has now ended. CAGC has responded just as some of the other companies have, but talk is cheap when your SEC filings are expected to be late and you no longer are working with your auditor.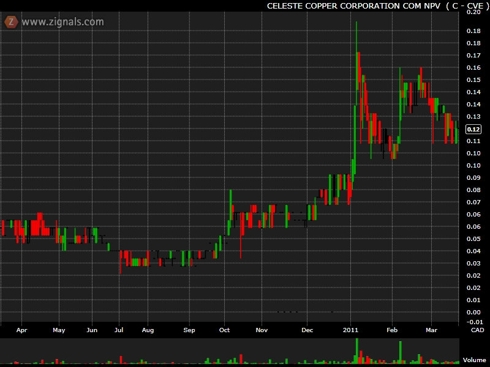 Meanwhile, the stock was trading above $12 a share and prior to the stock halt, was trading below $7 a share.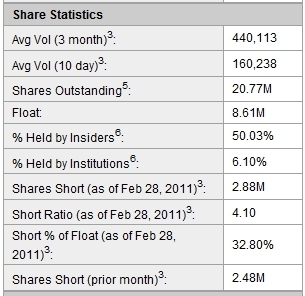 It is difficult to say when and at what price it will open back up, but I would not be the least bit surprised if it opens up for less than 50% of the last trade before the halt.
With the results that we have witnessed with the last four stocks, perhaps looking at others that either are or may be targeted by short sellers will be worthwhile. There is a lot of potential profit (along with risk) with trying to pick the next RINO or DYP. With well over 200 Chinese stocks trading in the United States, there are many from which to choose. Here are a few that caught my attention:
China Integrated Energy, Inc. (
OTCPK:CBEH
) is a $152 million cap fuel related reverse merger company.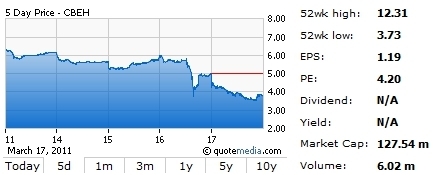 CBEH is already currently being targeted for
alleged misappropriation
of company funds and fraud.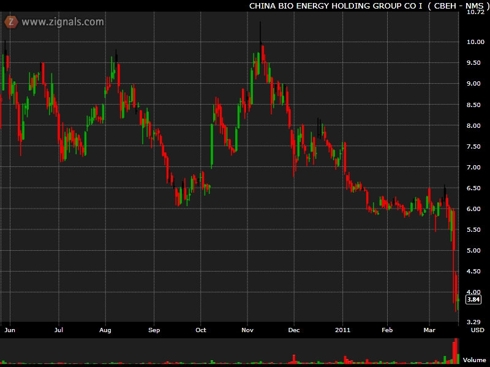 An anonymous, scathing instablog that claimed fraud by company management became the catalyst for an avalanche of selling. In response, CBEH authorized a $20 million stock share repurchase program. In addition, CBEH stated that China Integrated Energy will make available on its investor website "a detailed letter from its CEO, Mr. Gao Xincheng, on or before Wednesday, March 23, 2011…" The stock price did move up briefly during Monday's morning session, but at the time of this writing, was trading flat. The current short ratio is an eye-popping 33% of the shares available. Such a high short interest suggests a very high level of anticipation that the stock will continue lower from the last interest reporting date which was February 28, 2011.
China Education Alliance Inc. (CEU) is a $51 million market cap Internet education provider.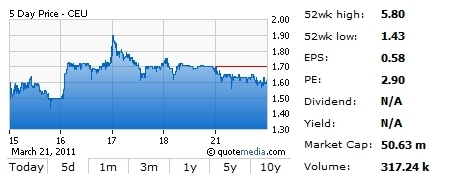 The current short ratio is slightly less than 5% of the total float.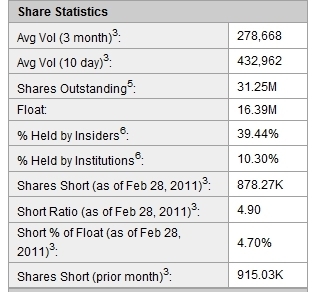 Such a low short interest ratio tends to reflect the opinion that there is not a big desire to be short this issue at this time. While the desire to short CEU has not been robust, the desire to own it has been dismal at best.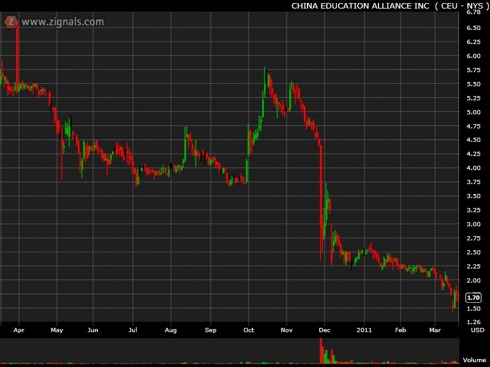 The current PE ratio is less than three, which can mean a very big payday for those who invest in CEU if it turns out that the
fraud allegations
are false. Even if it does come out that fraud is involved, I may be hesitant to short this issue due to the "low PE ratio" because the risk to reward equation may be skewed towards a short squeeze, at least temporarily. Options do trade with CEU, but the stock price is so low that the volume is almost zero and you have to go out to June to find any strike prices traded. This is a stock that you probably can only trade with the stock itself. As a result, I would probably avoid CEU and look for something that offers a better risk to reward opportunity.
Additional disclosure: I am long DEER for technical reasons but will be looking to short DEER, CEU perhaps even before this article gets published,