On Consumer Reports' January 2011 cover: "Best & Worst Providers (Sorry, AT&T)." An article, "Consumer Reports cell-service Ratings: AT&T is the worst carrier," leads off with:
"AT&T is the lowest-scoring cell-phone carrier in the U.S., according to a satisfaction survey of 58,000 ConsumerReports.org readers. Of all the carriers rated, AT&T was the only one to drop significantly in overall satisfaction."
Remember that fact: During this important time in the cell phone industry, low-ranked AT&T (T) dropped in competitiveness.
Now let's talk about what the merger means …
Following the announcement of AT&T's purchase of T-Mobile (OTCQX:DTEGY), a GigaOM article wrote "In AT&T & T-Mobile Merger, Everybody Loses."
"Who wins and who loses in this deal? It's hard to find winners, apart from AT&T and T-Mobile shareholders."
The article then goes on to describe the many parties the author believes will lose, such as consumers, suppliers and even Google (GOOG).
But what about that thought that shareholders are winners? Can you really combine the lowest-rated provider with the 4th-ranked competitor and emerge at the top? Common sense says no. So does this example:
Unisys (UIS) – A good example of what can go wrong
In 1986, Sperry and Burroughs, two of the computing industry's original companies, merged. The combination was renamed Unisys. The merger generated expectations of rebuilding the companies' former strengths and leadership positions.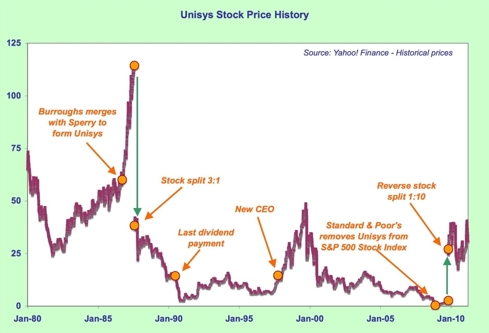 (Click to enlarge)
Initial excitement of new products, growth and earnings died out after a one-year run-up, topped by a 3:1 stock split. Following the 1987 stock crash, Unisys went into a prolonged slump. Losses, layoffs and a complete cut of the dividend (never reestablished) encouraged long-term investors to sell and stay away.
After a decade of weak results, the CEO was replaced in 1997. The new CEO focused on service (versus hardware sales) and created an e-commerce area. These changes helped Unisys ride the technology/internet bubble through early 2000.
Then, the weaknesses reemerged, driving the stock back down. In November 2008, Unisys was removed from the S&P 500 Stock Index when it fell below the minimum $4 billion in market cap.
After the stock hit 28 cents per share in March 2009, management decided on a reverse stock split of 1 share for every 10 held. The result? Those new, higher-priced shares continued to languish.
Will AT&T suffer the same fate?
While we won't know the answer to that question until the results are in, the initial send-off is not promising. AT&T Wireless (the name is officially defunct, but still used) has gone through many ownership and structural changes (remember Cingular?). But one thing remains consistent: Its service is poorly rated.
By taking on T-Mobile, AT&T's management and the staff will be busy trying to make the combination work. This activity will make them feel they are doing good work. However, those efforts will take away time and resources from what is really important: making the changes needed to compete with Verizon's current strengths and coming developments.
On top of all of that, AT&T does not have a war chest to be making a $39 billion dollar acquisition. JP Morgan (JPM) has arranged a one-year, $20 billion bridge loan that, of course, needs to be converted to permanent financing. Plus, AT&T admits they need to spend $8 billion to change over all of T-Mobile's cell towers (and then provide a way to convert every T-Mobile customer to a new phone without driving them out the door).
Already, AT&T's credit-default swaps [i.e., insurance against default] are becoming more expensive (Bloomberg: "AT&T Credit-Default Swaps Rise After T-Mobile Acquisition ").
What could happen to improve AT&T's position in the cell phone industry?
A combination of a culture change at AT&T and a major stumble at Verizon (VZ) could shift the balance. The odds of that occurring? Slim. Better to look at Unisys as the probable outcome at this time.
Is it time to sell AT&T?
My answer is "yes" because I have never thought it was a buy. To me, Verizon is setting the pace for the industry (see "4 Reasons Investors Should Now Consider Verizon a Growth Investment").
I'd like to say sell AT&T on its news-related rise, but it was actually up less than the stock market (1.2% vs. the market's 1.8%). Verizon matched the market, while Deutsche Telekom rose 11.4%. Clearly, those shareholders are happy to see T-Mobile go, and at the $39 billion price.
Others see the merger as beneficial to AT&T
A reason to wait to sell (or to buy for a trade) is that initial Unisys run-up. Before a merger's reality sets in, many are caught up in management's glowing visions.
Here's part of what AT&T has announced (from MarketWatch.com , "AT&T promises better service from merger," March 21):
"Saying 'we can't afford to wait,' AT&T Inc.'s chief executive on Monday framed the company's planned $39 billion acquisition of T-Mobile USA in terms of benefiting the entire U.S. economy, not just AT&T."

"Dallas-based AT&T has been long-criticized for performance across some of its wireless network, and [CEO Randall] Stephenson said both AT&T and T-Mobile customers would see better service upon the deal's completion."
Note: That last statement is mind-boggling. Does AT&T's CEO truly believe that"upon the deal's completion"service will improve? If not, does he actually think investors will accept such a forecast?
Looking at the newswires, many view the merger as a win-win combination. Reuters reported, "Investors cheer AT&T and T-Mobile USA deal"and "Analysts view: ATT deal to buy T-Mobile USA creates new leader."At least four analysts upgraded their AT&T ratings.
Even Jim Cramer is enthusiastic:
"While both AT&T and T-Mobile had quality problems, Cramer thinks the combined problems will make these issues disappear as AT&T can improve its infrastructure and increase its number of towers."

(Seeking Alpha,"Cramer's Stop Trading! AT&T Will Go From Worst to First (3/21/11)," March 22)
There it is again: The belief that a merger can make problems at both companies "disappear."
Mergers have a way of exciting investors – until the shiny vision becomes tarnished by actual results. Then, watch out. Even with a fat dividend, the stock can drop – especially if the company's earnings weaken when finances are stretched, thereby putting the dividend in jeopardy.
So … do not expect beneficial synergy from AT&T's acquisition of T-Mobile. In AT&T's case, 1+1 could equal less than 2. Any company that produces declining quality will not suddenly improve by taking on another company. Even if you believe T-Mobile is a quality leader, they will be the tail on this new dog.
Disclosure: I am long VZ, JPM.